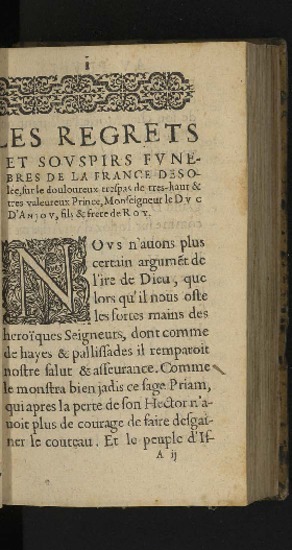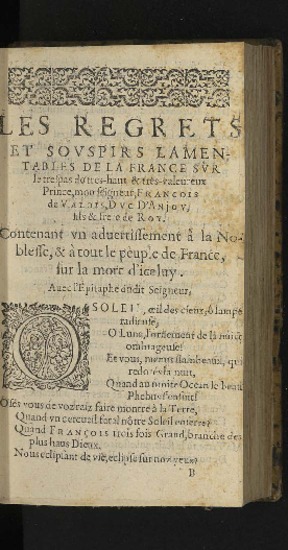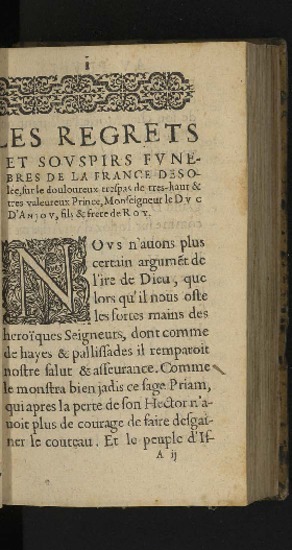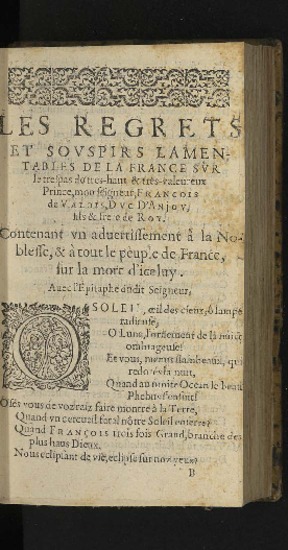 Les regrets et soupirs lamentables de la France sur le tres-pas de très-haut et très-valeureux Prince, mon Seigneur, François de Valois, duc d'Anjou fils &frère de Roy : contenant un advertissement à la noblesse, & à tout le peuple de France, sur la mort d'iceluy. Avec l'Epitaphe dudict Seigneur.
Author(s), creator(s), collaborator(s) :
Type of the represented object : Book
Détails
Original object location:
Réseau des Bibliothèques
Editor:
A Paris : par Francois Tabert
First publication of the original object:
1584
16th century
Modern times (1492-1789)
Place of creation of the original object:
Paris (France)
Identifiant(s):
XXII.87.8(R)(Poesie 1) (cote ULiège ; 3e partie du recueil)
700600523 (code-barres ULiège)
Original object language:
Middle French (ca. 1400—1600)
Material, support of the original object :
Papier
Dimensions, weight or duration:
16 cm
Physical description of the represented object :
11, [1] f. ; in-8°
CREF classification(s):
Histoire
Lettres
Classification(s):
Arts & humanities => History
Arts & humanities => Literature
Original object linked resource:
[Recueil sur la ligue. Poesie 1].
Other contributor(s):
Tabert, François (15..-15..) (printer-bookseller)
Part of:
Public domain
Permalink:
http://hdl.handle.net/2268.1/3964

Items in DONum are protected by copyright, with all rights reserved, unless otherwise indicated.