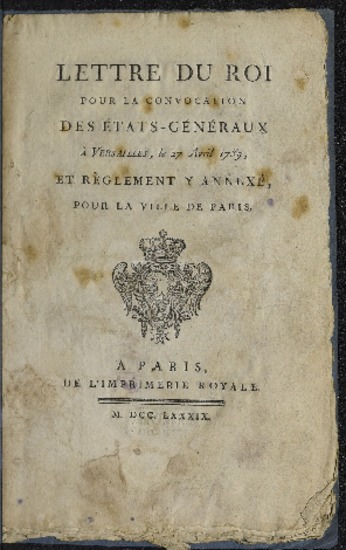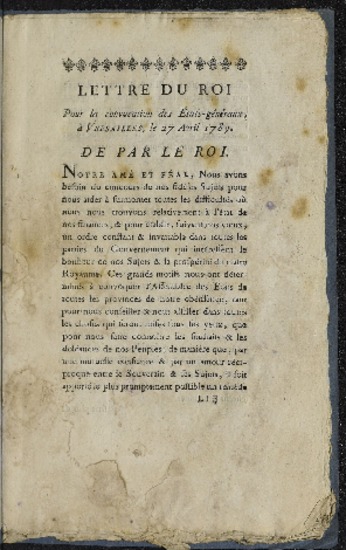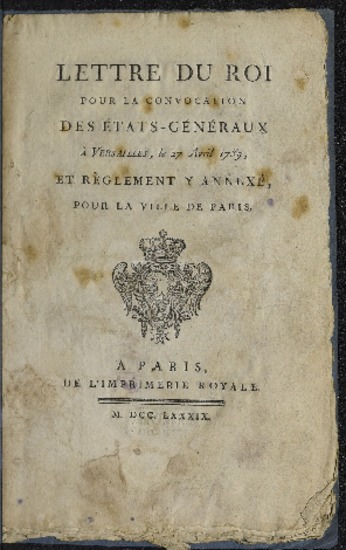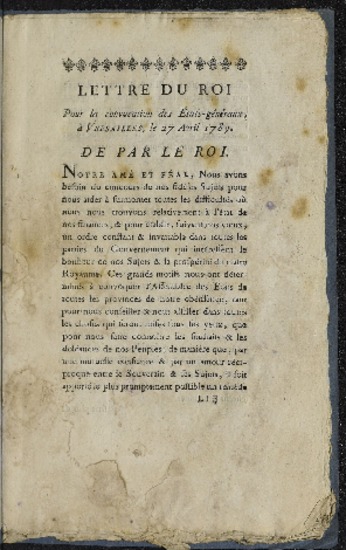 Lettre du Roi pour la convocation des Etats-généraux à Versailles, le 27 avril 1789. Et règlement y annexé.
Author(s), creator(s), collaborator(s) :
Type of the represented object : Book
Détails
Original object location:
Réseau des Bibliothèques
Editor:
A Paris, de l'imprimerie royale
First publication of the original object:
1789
18th century
Modern times (1492-1789)
Place of creation of the original object:
France - Paris
Identifiant(s):
R14069B (cote ULiège)
1848214-10 (code-barres)
Original object language:
French
Description:
Date de publication: M.DCC.LXXXIX [1789]
Signatures : 2L⁸
Empreinte: deit rsué uxer Déde (3) 1789 (R) (exemplaire ULiège)
Forme du document: Pamphlet, libelle
Material, support of the original object :
Papier
Dimensions, weight or duration:
in-8
Physical description of the represented object :
5, [1] p. (dernière page blanche)
Period or event mentioned:
Révolution française (1789)
Etats-généraux (France, Versaille,27 avril 1789 )
Keyword:
France -- 1774-1792 (Louis XVI); France -- 1789-1799 (Révolution); Pamphlet; libelle
CREF classification(s):
Histoire
Classification(s):
Arts & humanities => History
Organization that sponsored the digitization:
Université de Liège - ULiège
Other contributor(s):
Imprimerie royale (France 1640-1792)) (printer-bookseller)
Part of:
Public domain
Permalink:
http://hdl.handle.net/2268.1/3527
Items in DONum are protected by copyright, with all rights reserved, unless otherwise indicated.