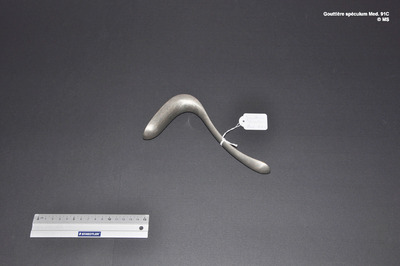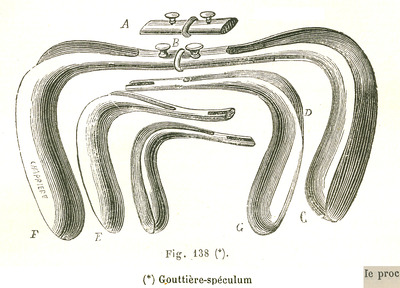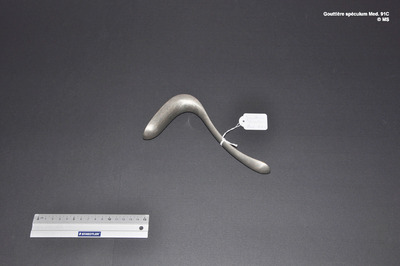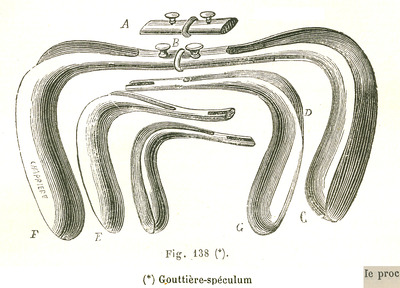 Gouttière speculum - Med. 091 C
Author(s), creator(s), collaborator(s) :
Type of the represented object : Artifact
Détails
Original object location:
Embarcadère du savoir
Identifiant(s):
Maison de la Science - Med. 091 C
Abstract:
Les speculums sont indispensables pour l'exploration ou le traitement des maladies du vagin et surtout des fistules vésico-vaginales pour lesquelles ils ont été inventés.
Material, support of the original object:
Acier
Dimensions, weight or duration:
180 X 95 (mm)
136 (g)
Keyword:
gouttière; speculum; instruments médicaux; gynécologie; obstétrique; médecine
CREF classification(s):
Histoire
Classification(s):
Human health sciences => Reproductive medicine (gynecology, andrology, obstetrics)
Original object linked resource:
In. Les maladies de l'utérus, A. Courty, éd. Asselin et Cie, Paris, 1879, p. 183.
Organization that sponsored the digitization:
LOTERIE NATIONALE
MAISON DE LA SCIENCE
Part of:
Public domain
Permalink:
https://hdl.handle.net/2268.1/909

???org.dspace.app.webui.jsptag.ItemTag.files.adjuvant???

Items in DONum are protected by copyright, with all rights reserved, unless otherwise indicated.