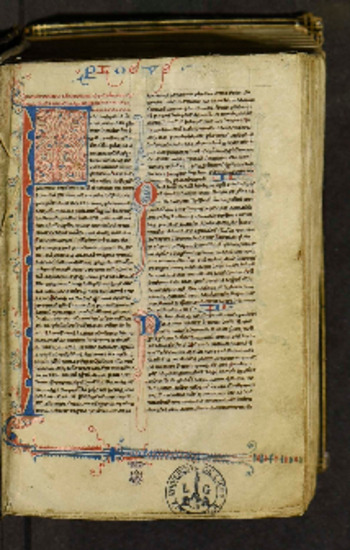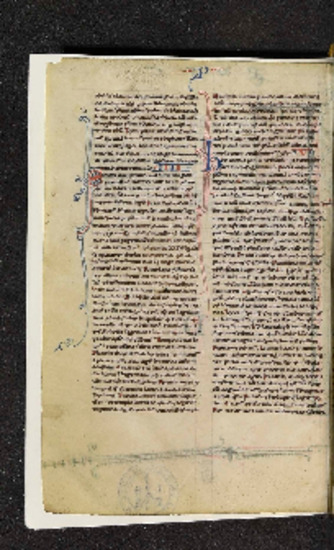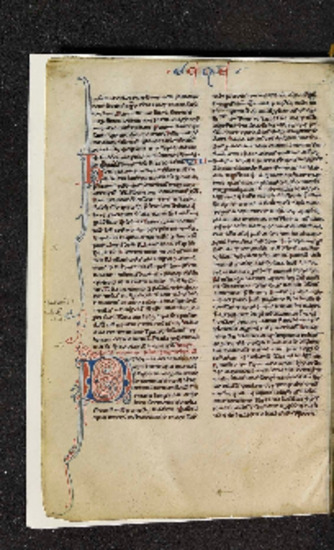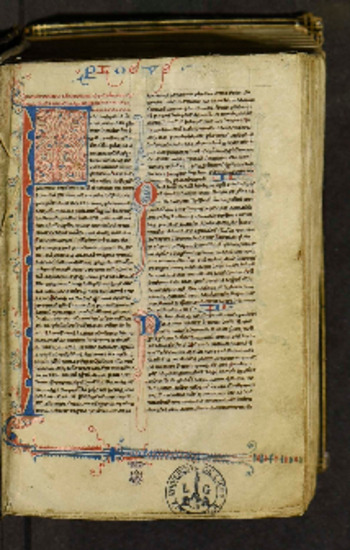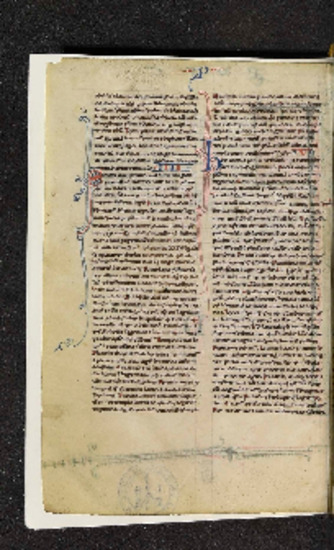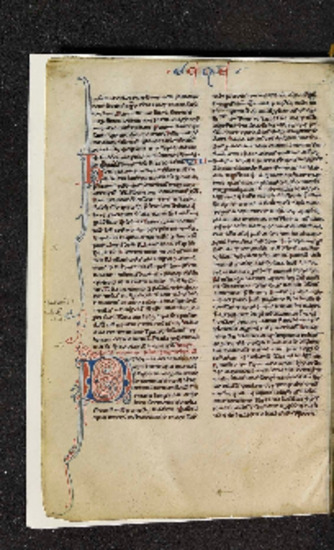 Bible (latin). XIVe s.
Author(s), creator(s), collaborator(s) :
Type of the represented object : Manuscript
Détails
Uniform title :
Bible (latin)
Creation of the original object:
14th century
Middle age (476-1492)
Original object location:
Réseau des Bibliothèques
Identifiant(s):
ALMA204290 (code-barres ULiège)
MsW2 (cote ULiège)
Original object language:
Latin
Material, support of the original object:
Vélin
Dimensions, weight or duration:
133 x 89 millimètres.
Physical description of the represented object :
iv, 567, iv feuillets
Ecriture mignonne.
2 colonnes de 45 lignes.
Réglure. Quelques gloses marginales. Lettrines ornées et initiales en rouge et bleu avec rinceaux ; titre en rouge ; titre courant en rouge et bleu.
Contents, Summary of the original document:
Prologue de saint Jérôme ; Pentateuque ; Josué ; les Juges ; Ruth ; les quatre livres des Rois ; les deux livres des Paralipomènes ; les deux livres d'Esdras ; Tobie ; Judith ; Esther ; Job ; Psaumes ; Proverbes ; Ecclésiaste ; Cantique des cantiques ; Sagesse ; Ecclésiastique ; Isaïe ; Jérémie ; Baruch ; Ezéchiel ; Daniel ; les douze petits Prophètes ; les deux livres des Machabées ; les quatre Evangiles ; les épîtres de saint Paul ; les actes des Apôtres ; les sept épîtres canoniques ; l'Apocalypse ; les différents livres sont précédés des préfaces et des prologues de saint Jérôme ; Les interpretationes.
Description:
Source d'acquisition : Legs Baron A. Wittert 1903
Propriété et historique de la conservation : Ce manuscrit a été acheté par le Baron Adrien Wittert à la vente Lavalleye faite à Bruxelles, en mai 1855 (n°191).
Identification de l'exemplaire : Cachet de l'Université de Liège au f. 1r°. Cachet du legs du Baron A. Wittert aux ff. 1r°, 25r°, 75r°, 250r°, 350r°, 400r°, 450r° et 567v°.
Reliure : Reliure romantique en maroquin bleu ; compartiments et filets dorés sur les plats et au dos ; filets intérieurs ; gardes en soie rose ; au dos, titré doré : Biblia sacra||manuscr.||in membranis. Autographum||Thomas||à Kempis.
Keyword:
Manuscrits Wittert du XIVe s.; Manuscrits enluminés du XIVe s.; Manuscrits enluminés
CREF classification(s):
Théologie
Classification(s):
Arts & humanities => Religion & theology
Part of:
Public domain
Permalink:
http://hdl.handle.net/2268.1/8819
???org.dspace.app.webui.jsptag.ItemTag.files.adjuvant???

MsW002-annexe.pdf
Description
: Feuillets annexes
Size
: 604.98 kB
Format
: Adobe PDF
Access type
: Open Access
Items in DONum are protected by copyright, with all rights reserved, unless otherwise indicated.