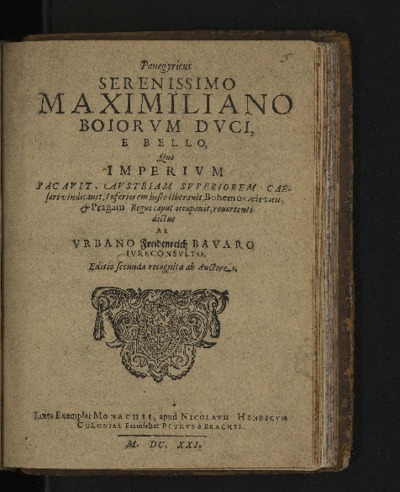 Panegyricus Serenissimo Maximiliano Boiorum Duci, e bello, quo imperium pacavit, Austriam superiorem Caesari vindicavit, inferiorem hoste liberavit, Bohemos acievicit, & Pragam Regni caput occupavit, revertenti dictus ab Urbano Freidenreich Bavaro jure consulto. Editio secunda recognita ab auctore.
Author(s), creator(s), collaborator(s) : Keller, Jakob
Type of the represented object : Book
Détails
Author(s), creator(s), collaborator(s):
Keller, Jakob (1568-1631) (author)
Editor:
[Cologne] Juxta exemplar Monachi, apud Nicolaum Henricum Coloniae excudebat Petrus à Brachel. M. DC. XXI.
Place of creation of the original object:
Cologne (Allemagne)
First publication of the original object:
1621
17th century
Modern times (1492-1789)
Original object location:
Réseau des Bibliothèques
Identifiant(s):
R04699A (Cote ULiège)
709301306 (Code-barres ULiège)
Original object language:
Latin
Material, support of the original object:
Papier 4°
Dimensions, weight or duration:
18 cm
Physical description of the represented object :
24 pages
Description:
Empreinte : s.o, i-e- sut. delu (3) 1621 (R)
Signatures : A-C⁴
L'exemplaire à la cote R4699A de la bibliothèque ALPHA est relié avec : "Translatio cathedralis capituli et tribunalium leodiensium ad oppidum huense"
Keyword:
Panégyriques -- 17e siècle
CREF classification(s):
Bases générales de la science et de la culture
Histoire
Classification(s):
Arts & humanities => Multidisciplinary, general & others
Arts & humanities => History
Part of:
Public domain
Permalink:
https://hdl.handle.net/2268.1/8420

R04699A_5.pdf
Description
: Partie concernée
Size
: 12.22 MB
Format
: Adobe PDF
Access type
: Open Access
Items in DONum are protected by copyright, with all rights reserved, unless otherwise indicated.