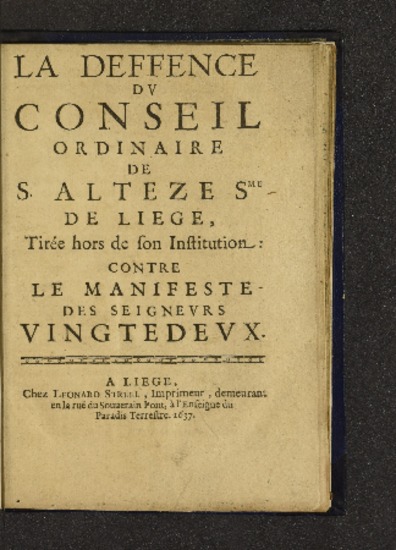 La deffence du conseil ordinaire de S. Alteze Sme de Liège, Tirée hors de son Institution contre le manifeste des seigneurs vingtedeux.
Author(s), creator(s), collaborator(s) :
Type of the represented object : Book
Détails
Editor:
[Liège] A Liege, Chez Léonard Streel, Imprimeur, demeurant en la ruë du Souverain Pont, à l'Enseigne du Paradis Terrestre. 1637.
Place of creation of the original object:
Liège (Belgique)
First publication of the original object:
1637
17th century
Modern times (1492-1789)
Original object location:
Réseau des Bibliothèques
Identifiant(s):
900949A (Cote ULiège)
706728483 (Code-barres ULiège)
Original object language:
French
Material, support of the original object:
Papier 4°
Dimensions, weight or duration:
19 cm
Physical description of the represented object :
90 pages
Description:
Empreinte : ree. i-re sàre gnEt (3) 1637 (A)
Signatures : A-G⁴ H³
Geographical Location represent or evoke:
Liège (Principauté)
Keyword:
Liège (Principauté) -- Politique et gouvernement -- 17e siècle
CREF classification(s):
Histoire
Classification(s):
Arts & humanities => History
Original object linked resource:
Universal short title catalogue 1121376
Theux, X. de. Bibliographie liégeoise (2. éd.) 127
Part of:
Public domain
Permalink:
http://hdl.handle.net/2268.1/8374
Items in DONum are protected by copyright, with all rights reserved, unless otherwise indicated.