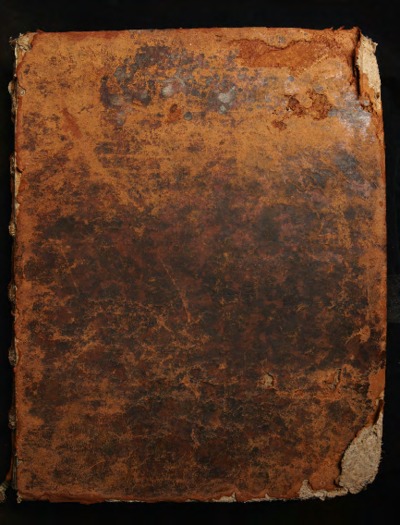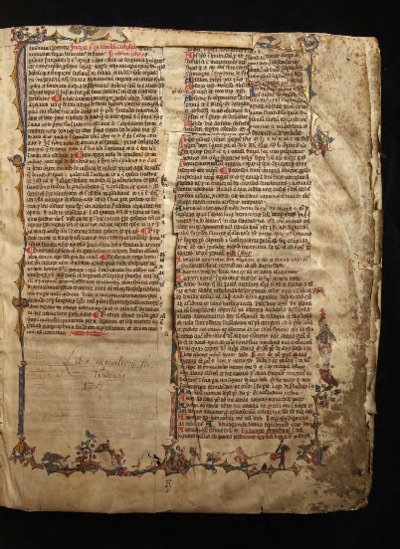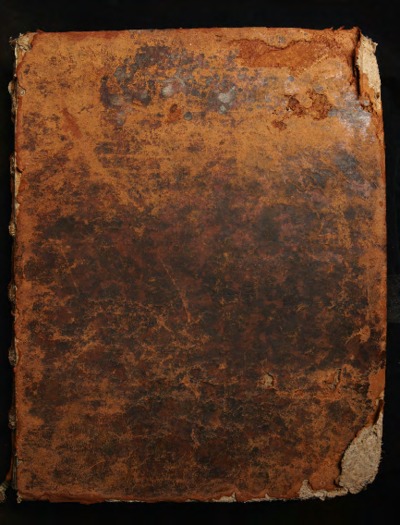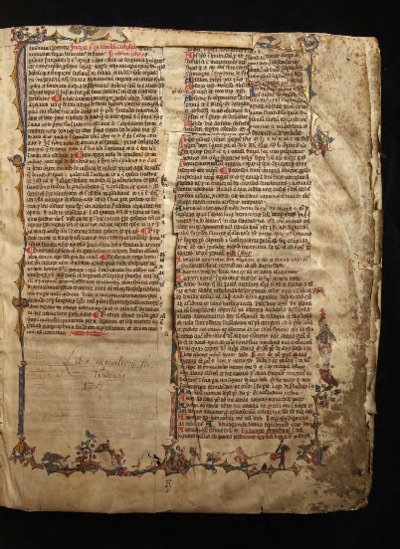 Johannes Balbi, Catholicon.
Author(s), creator(s), collaborator(s) : Jean de Gênes; Dycka, Guillaume de
Type of the represented object : Manuscript
Détails
Author(s), creator(s), collaborator(s):
Jean de Gênes (12..-1298) (author)
Dycka, Guillaume de (scribe)
Place of creation of the original object:
Belgique
Creation of the original object:
1301-1400
14th century
Middle age (476-1492)
Original object location:
Réseau des Bibliothèques
Identifiant(s):
Université de Liège. Bibliothèque, Manuscrit 223 (cote ULiège)
ALMA209461 (code-barres ULiège)
Original object language:
Latin
Abstract:
Incipit : "Iam divina potentia auxiliante" ; Colophon (f. 275v) : "Iste liber est monasterii sancti trudonis ordinis sancti benedicti , Leodiensis dyocesis quem fecit scribi Johannes de Myrle, prepositus ibidem in hospitio personalis habitationis de sua prebenda per manus Wilhelmi de Dycka ad honorem dei et eius genitricis ac beatorum confessorum Trudonis et Benedicti, nec non ad utilitatem tam praesentium quam futurorum pro perpetuo memoriali in remedium omnium suorum delictorum, qui scriptus et legatus ac in omnibus completus est anno Domini 1348, 15a mensis Decembris. Anno aetatis dicti praepositi in hoc mundo quinquagesimo nono, in ordine vero anno quadragesimo septimo. Reverendoque patre Amelio abbate, in dicto Monasterio presidente, anno creationis sue in abbatia decimo nono, praefatique praepositi in dicto officio anno decimo septimo.
Material, support of the original object:
Parchemin
Dimensions, weight or duration:
393 x 313 millimètres.
Physical description of the represented object :
276 feuillets. Une main de Guillaume de Dycka. Deux colonnes de 62 lignes. Premier feuillet orné d'un encadrement contenant quelques figures grotesques, l'initiale qui se trouvait sur ce feuillet a été coupé.
Description:
Marque d'appartenance manuscrite de l'Abbaye de Saint-Trond : "Liber monasterii Sancti Trudonis" (f. 1r).
Original object linked resource:
Manuscrits de l'abbaye de Saint-Trond
CICweb - http://www.cicweb.be/fr/manuscrit.php?id=172&idi=27
Organization that sponsored the digitization:
Fédération Wallonie-Bruxelles (plan PEP'S)
Part of:
Public domain
Permalink:
http://hdl.handle.net/2268.1/8261
Items in DONum are protected by copyright, with all rights reserved, unless otherwise indicated.