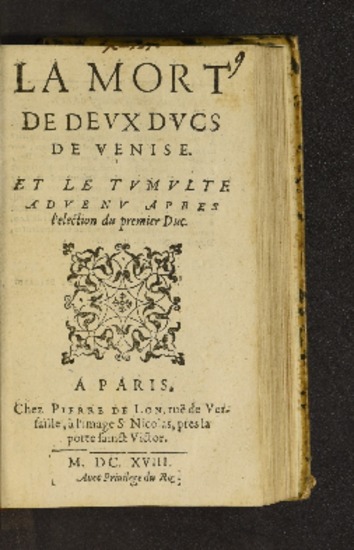 La mort de deux ducs de Venise. Et le tumulte advenu apres l'election du premier duc.
Author(s), creator(s), collaborator(s) :
Type of the represented object : Book
Détails
Original object location:
Réseau des Bibliothèques
Other title:
La mort de deux ducs de Venise et le tumulte advenu après l'élection du premier duc
Editor:
[Paris] A Paris, chez Pierre de Lon, ruë de Versaille, à l'image S. Nicolas, pres la porte sainct Victor. M.DC.XVIII. Avec privilege du Roy.
First publication of the original object:
1618
17th century
Modern times (1492-1789)
Place of creation of the original object:
Paris (France)
Identifiant(s):
XXII.87.8(Y)(Objets étranges) [16°] (cote ULiège)
700600495 (code-barres ULiège)
Original object language:
French
Abstract:
L'exemplaire à la cote XXII.87.8(Y)(Objets étranges) [16°] en ALPHA-Site central est relié avec "Advis tres certain de ce qui s'est passé entre l'armee chrestienne & celle des Turcs, depuis la prinse de la ville & forteresse de Raab, autrement Javarin, jusques au mois de juillet de l'annee presente 1598. Où sont contenues les prises de plusieurs places d'importance sur les Turcs."
Description:
Empreinte: lau- rsu- |b i-ue FIua (3) |c 1618 (R)
Signatures : A-B⁴
Material, support of the original object :
Papier
Dimensions, weight or duration:
16 cm
Physical description of the represented object :
14 pages, 2 pages blanches. 8°
Keyword:
Brochures
Original object linked resource:
Universal Short Title Catalogue - 6013365 (https://www.ustc.ac.uk/editions/6013365)
Other contributor(s):
Delon, Pierre (15..-16..) (printer-bookseller)
Part of:
Public domain
Permalink:
http://hdl.handle.net/2268.1/7994

Items in DONum are protected by copyright, with all rights reserved, unless otherwise indicated.