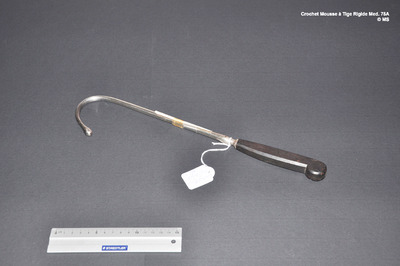 Crochet mousse à tige rigide - Med. 075 A
Author(s), creator(s), collaborator(s) :
Type of the represented object : Artifact
Détails
Original object location:
Embarcadère du savoir
Identifiant(s):
Maison de la Science - Med. 075 A
Abstract:
Le crochet mousse est une tige rigide, métallique, courbée à son extrémité et montée sur un manche de bois. Il est introduit dans le pli de l'aine en cas de présentation du siège et sert de tracteur dans l'axe de dégagement de la présentation. Les nombreux crochets instrumentaux préconisés pour remplacer les doigts sont mauvais, car ils produisent des lésions plus ou moins graves sur les tissus mous du fœtus. Charles recommandait de ne les employer que sur un enfant mort.
Delore, de Lyon, a créé un crochet flexible qui peut se courber dans tous les sens et qui est garni à son extrémité d'un bouton olivaire. Ce crochet permet l'extraction fœtale en cas de présentation du siège. Il est introduit jusqu'au pli de l'aine antérieure, on exécute un mouvement de rotation de façon à accrocher la partie inguinale. Les tractions doivent être prudentes et modérées selon les axes à parcourir.
Ces deux types de crochets sont présents dans la collection transférée au CHU.
Material, support of the original object:
Acier
Bois
Dimensions, weight or duration:
350 X 15 X 70 (mm)
178 g
Keyword:
crochet mousse; santé; instruments médicaux; gynécologie; obstétrique; médecine
CREF classification(s):
Histoire
Classification(s):
Human health sciences => Reproductive medicine (gynecology, andrology, obstetrics)
Original object linked resource:
In. Cours d'accouchements, N. Charles, Ed. G. Bertrand, Liège, 1892, p. 378-379.
Organization that sponsored the digitization:
LOTERIE NATIONALE
MAISON DE LA SCIENCE
Part of:
Public domain
Permalink:
https://hdl.handle.net/2268.1/778

Items in DONum are protected by copyright, with all rights reserved, unless otherwise indicated.