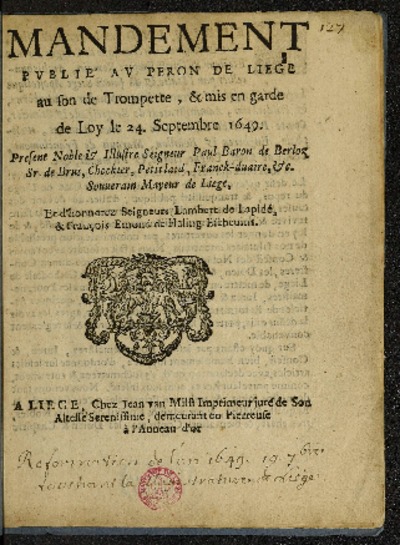 Mandement publié au peron de Liège au son de trompette, & mis en garde de Loy le 24 septembre 1649. Present noble & illustre seigneur Paul Baron de Berloz, Sr. de Brus, Chockier, Petit laid, Franck-duaire, etc. Souverain mayeur de Liège, et d'honnorez seigneurs Lambert de Lapidé, & François Emond de Haling Eschevins.
Author(s), creator(s), collaborator(s) :
Type of the represented object : Book
Détails
Editor:
[Liège] : A Liège, chez Jean van Milst
Place of creation of the original object:
Belgique Liège
First publication of the original object:
1649
17th century
Modern times (1492-1789)
Original object location:
Réseau des Bibliothèques
Identifiant(s):
709607884 (code-barres ULiège)
R00915B(31) (cote ULiège)
Original object language:
French
Material, support of the original object:
Papier
Dimensions, weight or duration:
19 cm
4°
Physical description of the represented object :
[8] pages
Description:
Empreinte : N.l. E.E, t.e, lete (C) 1649 (A)
Référence : De Theux (2e éd.) 180
Signatures : A⁴
Brochures
Classification(s):
Arts & humanities => History
Original object linked resource:
De Theux (2e éd.) 180
Part of:
Public domain
Permalink:
http://hdl.handle.net/2268.1/7608
Items in DONum are protected by copyright, with all rights reserved, unless otherwise indicated.