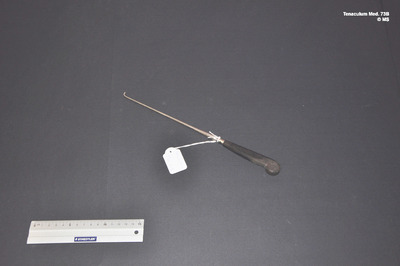 Tenaculum - Med. 073 B
Author(s), creator(s), collaborator(s) :
Type of the represented object : Artifact
Détails
Original object location:
Embarcadère du savoir
Identifiant(s):
Maison de la Science - Med. 073 B
Abstract:
e tenaculum permet de saisir le col et l'amener à la vue mais aussi pour fixer l'utérus pour les examens ou les applications thérapeutiques intra-utérines.
L'instrument de base est le tenaculum de Sims qui présente une courbe douce et qui a été modifié par Emmet en une angulation quasi droite avec le manche ; il ne se recourbe que très légèrement à l'extrémité.
La collection comprend un tenaculum d'Emmet ainsi que trois modèles à très petites courbures. Ces crochets étaient également des stylets d'acier, employés dans la recherche des petits trajets fistuleux.
Material, support of the original object:
Acier
Bois
Dimensions, weight or duration:
280 X 10 (mm)
36 g
Keyword:
tenaculum; santé; instruments médicaux; gynécologie; obstétrique; médecine
CREF classification(s):
Histoire
Classification(s):
Human health sciences => Reproductive medicine (gynecology, andrology, obstetrics)
Organization that sponsored the digitization:
LOTERIE NATIONALE
MAISON DE LA SCIENCE
Part of:
Public domain
Permalink:
https://hdl.handle.net/2268.1/759
Items in DONum are protected by copyright, with all rights reserved, unless otherwise indicated.