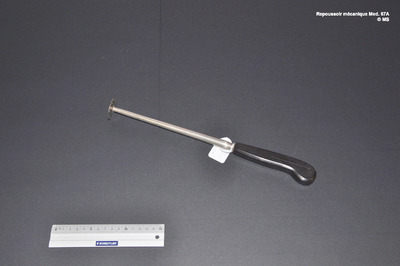 Repoussoir mécanique - Med. 067 A
Author(s), creator(s), collaborator(s) :
Type of the represented object : Artifact
Détails
Original object location:
Embarcadère du savoir
Identifiant(s):
Maison de la Science - Med. 067 A
Abstract:
Dans le cas d'une inversion utérine, l'organe s'étant retourné soit partiellement soit totalement, une portion plus ou moins étendue de la surface interne formant le canal utérin fait saillie dans le vagin à travers l'orifice cervical dilaté. La réduction doit se faire rapidement sous anesthésie, le plus souvent à l'aide de la pression de la main qui s'exerce sur la partie centrale de l'utérus dans le but de ramener graduellement la partie inversée à travers le col jusque dans l'abdomen.
Le gynécologue doit s'aider parfois d'un repoussoir mécanique qui peut remplacer la main.
Material, support of the original object:
Acier
Bois
Dimensions, weight or duration:
335 x 30 x 33 (mm)
204 (g)
Keyword:
repoussoir; mécanique; instruments médicaux; gynécologie; obstétrique; médecine
CREF classification(s):
Histoire
Classification(s):
Human health sciences => Reproductive medicine (gynecology, andrology, obstetrics)
Original object linked resource:
In. Maladies des femmes, Th. A. Emmet, Ed. Baillière, Paris, 1887, p.408.
Organization that sponsored the digitization:
LOTERIE NATIONALE
MAISON DE LA SCIENCE
Part of:
Public domain
Permalink:
https://hdl.handle.net/2268.1/747
Items in DONum are protected by copyright, with all rights reserved, unless otherwise indicated.