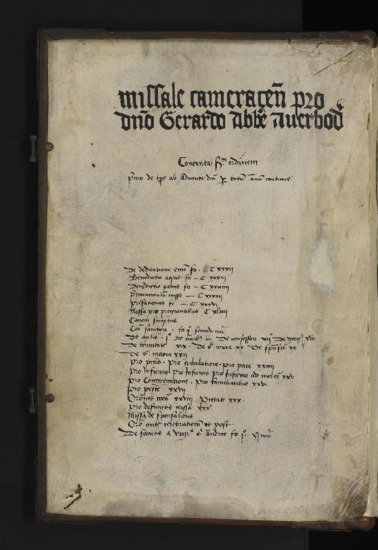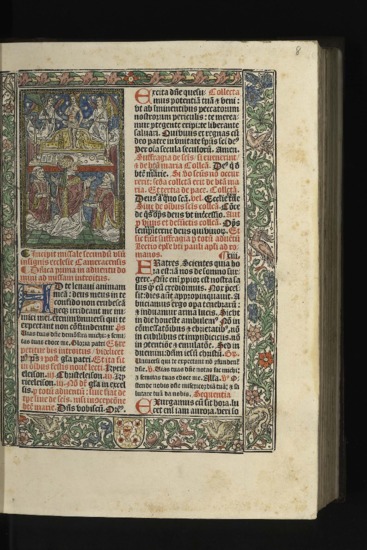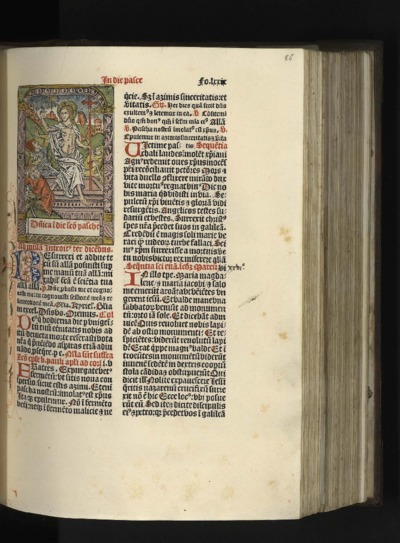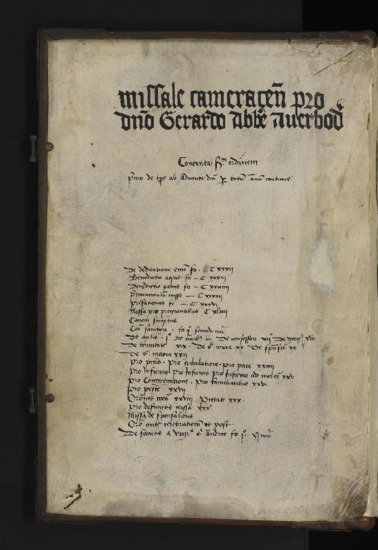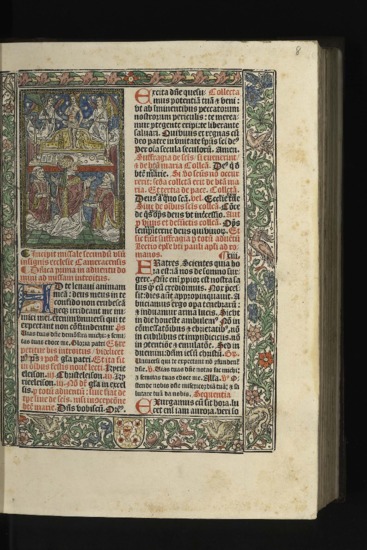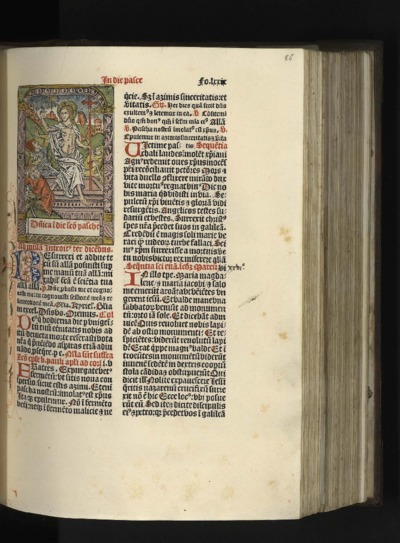 Missale Cameracense.
Author(s), creator(s), collaborator(s) : Église catholique. Diocèse
Type of the represented object : Incunabula
Détails
Collection:
Incunabula
Original object location:
Réseau des Bibliothèques
Author(s), creator(s), collaborator(s):
Église catholique. Diocèse (Cambrai, Nord) (author)
Editor:
In preclara urbe parisiana : per Iohanne[m] hygma[n] gemrmanu[m] expe[n]sis honesti viri Ioha[n]nis de campis ...
First publication of the original object:
[27 février 1495]
15th century
Modern times (1492-1789)
Place of creation of the original object:
Paris (France)
Identifiant(s):
XV.A44 (cote ULiège)
1725502-10 (code-barres ULiège)
Original object language:
Latin
Description:
Empreinte: 9.ne e-ie etin ruUb (3) 1495-1496 (T)

Titre pris à l'ISTC
Mention de publication prise au colophon.
Signatures : 2A⁶ a-r⁸ s¹⁰ A-D⁸ E⁴ 2a-2h⁸ 2i⁶ 2k⁸

Marque d'appartenance manuscrite de Gérard van der Scaeft, abbé d'Averbode en 1504.
Reliure monastique en veau fauve (XVIe s.) montée sur ais de bois biseautés, ornée de roulettes et de fer estampés à froid. Fermoirs et cornières en laiton.
Apport d'un canon manuscrit sur parchemin, indépendant du missel (15ff.) entre les feuillets 153 et 154.
Encadrement et gravure de la messe de S. Grégoire peints (lavis) ; lettrines décorées à la main en bleu ouvragent un chapitre (présence de lettre d'attente) ; lettrines imprimées en rouges annoncent le début d'un paragraphe ; lettres majuscules partiellement rehaussées à la main de rouge.
Titre de l'ouvrage et certaines fêtes inscrits sur le contre-plat avant, également sur contre-plat arrière (main de Gérard vander Scaeft). Au 6 des calendes d'octobre, inscription ms. : Rumoldi epī et marĩs (fol. 5v). Sur le plat avant, titre de l'ouvrage écrit à la main.
Material, support of the original object :
Papier
Physical description of the represented object :
[8], cxliiii, [15], xxxii, [4], lxxviii feuillets : ill. ; in-fol. 2 col. de 40 lignes ; caractères gothiques. Texte en rouge et noir. Gravures en couleurs
Keyword:
Missels
CREF classification(s):
Théologie
Classification(s):
Arts & humanities => Religion & theology
Original object linked resource:
Polain(B) 2718
ISTC im00653400
Other contributor(s):
Higman, Johannes (14..-1500?) (printer-bookseller)
Van der Schaeft, Gérard (former owner)
Part of:
Public domain
Permalink:
http://hdl.handle.net/2268.1/6923
Items in DONum are protected by copyright, with all rights reserved, unless otherwise indicated.