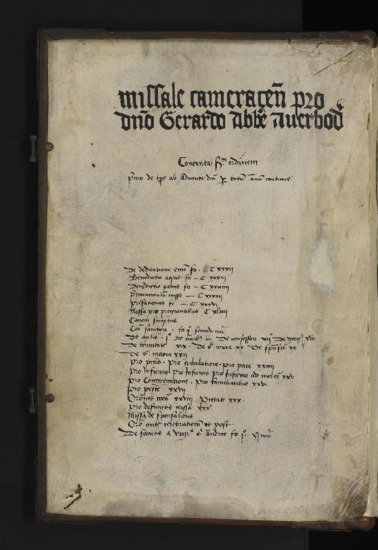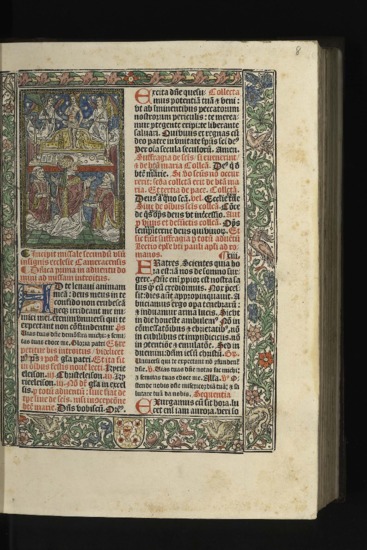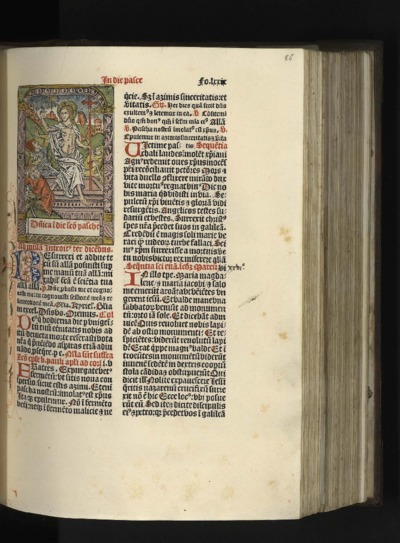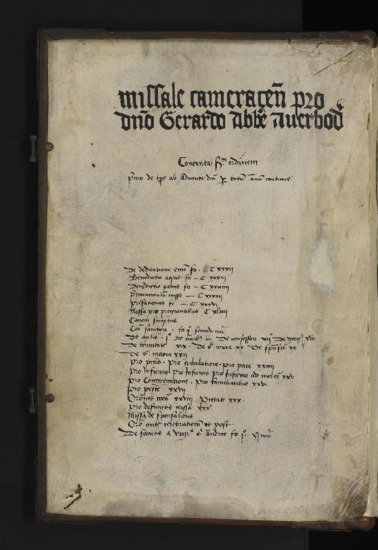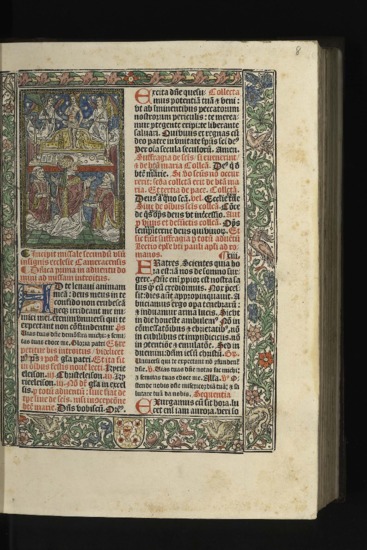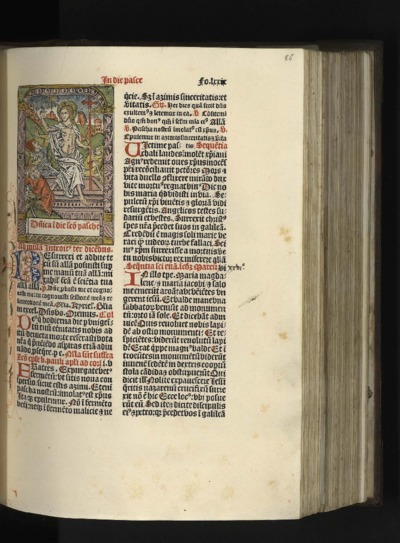 Missale Cameracense.
Author(s), creator(s), collaborator(s) : Église catholique. Diocèse
Type of the represented object : Incunabula
Détails
Author(s), creator(s), collaborator(s):
Église catholique. Diocèse (Cambrai, Nord) (author)
Editor:
In preclara urbe parisiana : per Iohanne[m] hygma[n] gemrmanu[m] expe[n]sis honesti viri Ioha[n]nis de campis ...
Place of creation of the original object:
Paris (France)
First publication of the original object:
[27 février 1495]
15th century
Modern times (1492-1789)
Original object location:
Réseau des Bibliothèques
Collection:
Incunabula
Identifiant(s):
XV.A44 (cote ULiège)
1725502-10 (code-barres ULiège)
Original object language:
Latin
Material, support of the original object:
Papier
Physical description of the represented object :
[8], cxliiii, [15], xxxii, [4], lxxviii feuillets : ill. ; in-fol. 2 col. de 40 lignes ; caractères gothiques. Texte en rouge et noir. Gravures en couleurs
Description:
Empreinte: 9.ne e-ie etin ruUb (3) 1495-1496 (T)

Titre pris à l'ISTC
Mention de publication prise au colophon.
Signatures : 2A⁶ a-r⁸ s¹⁰ A-D⁸ E⁴ 2a-2h⁸ 2i⁶ 2k⁸

Propriété et historique de la conservation : Marque d'appartenance manuscrite de Gérard van der Scaeft, abbé d'Averbode en 1504

Identification de l'exemplaire : Apport d'un canon manuscrit sur parchemin, indépendant du missel (15ff.) entre les feuillets 153 et 154.
Encadrement et gravure de la messe de S. Grégoire peints (lavis) ; lettrines décorées à la main en bleu ouvragent un chapitre (présence de lettre d'attente) ; lettrines imprimées en rouges annoncent le début d'un paragraphe ; lettres majuscules partiellement rehaussées à la main de rouge.
Titre de l'ouvrage et certaines fêtes inscrits sur le contre-plat avant, également sur contre-plat arrière (main de Gérard vander Scaeft). Au 6 des calendes d'octobre, inscription ms. : Rumoldi epī et marĩs (fol. 5v). Sur le plat avant, titre de l'ouvrage écrit à la main.

Reliure : Reliure monastique en veau fauve (XVIe s.) montée sur ais de bois biseautés, ornée de roulettes et de fer estampés à froid. Fermoirs et cornières en laiton.
Keyword:
Missels
CREF classification(s):
Théologie
Classification(s):
Arts & humanities => Religion & theology
Original object linked resource:
Polain, M.-L. Catalogue des livres imprimés au quinzième siècle des bibliothèques de Belgique, 2718
Incunabula Short Title Catalogue im00653400 - http://data.cerl.org/istc/im00653400
Part of:
Public domain
Permalink:
https://hdl.handle.net/2268.1/6923
Items in DONum are protected by copyright, with all rights reserved, unless otherwise indicated.