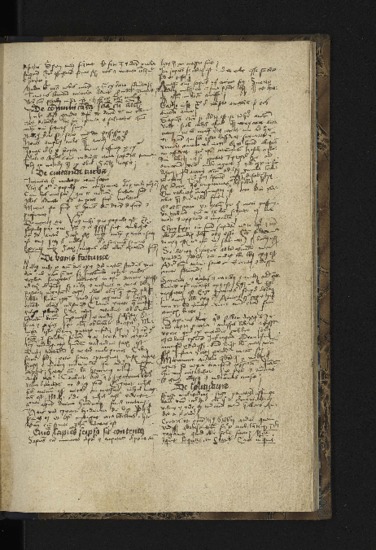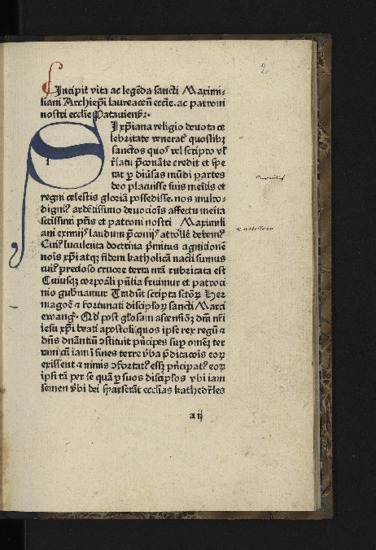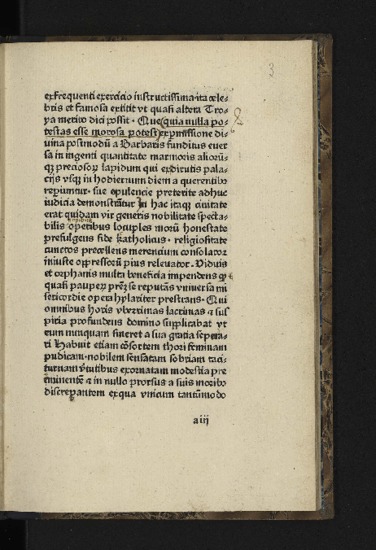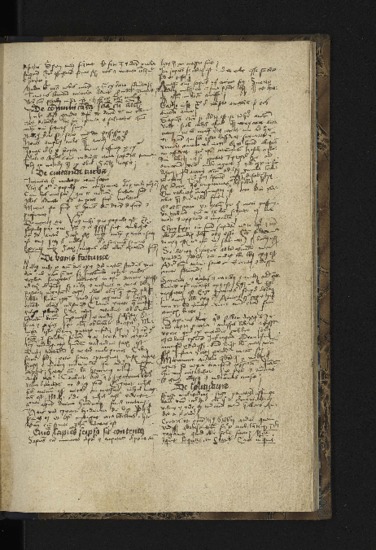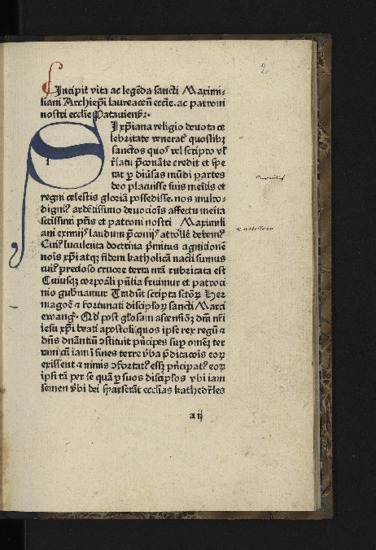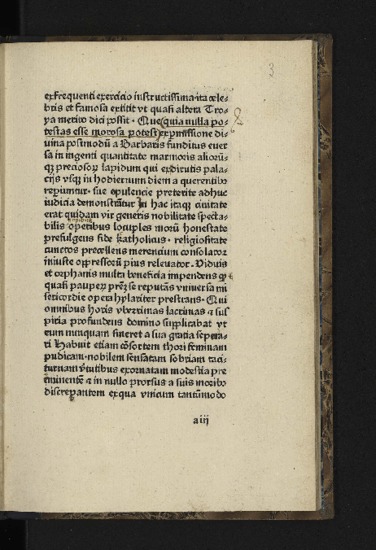 Incipit vita ac lege[n]da sancti Maximiliani Archiep[iscop]i laureacen[sis] ecc[les]ie. ac patroni nostri eccl[es]ie Patavien[em?].
Author(s), creator(s), collaborator(s) :
Type of the represented object : Incunabula
Détails
Editor:
[Cologne] : [Bartholomäus von Unckel]
Place of creation of the original object:
Cologne (Allemagne)
First publication of the original object:
[ca 1480]
15th century
Middle age (476-1492)
Original object location:
Réseau des Bibliothèques
Collection:
Incunabula
Identifiant(s):
XV.C26 (cote ULiège)
1733191-10 (code-barres ULiège)
Original object language:
Latin
Material, support of the original object:
Papier
Physical description of the represented object :
[16] feuillets ; in-8. 26 lignes ; caractères gothiques.
Description:
Titre pris à l'incicpit
Mention de publication prise à l'ISTC
Signatures : a-b⁸
Texte en rouge, bleu et noir.
Reliure : Reliure de papier marbré

Propriété et historique de la conservation : Marque d'appartenance manuscrite de Johannes Duffhusius Xantensis, 1589
Identification de l'exemplaire : Notes manuscrites

Empreinte: esam ilin utua (C) 1480 (Q) (exemplaire ULiège)
Keyword:
Saints chrétiens; Vie chrétienne
CREF classification(s):
Théologie
Classification(s):
Arts & humanities => Religion & theology
Original object linked resource:
Polain, M.-L. Catalogue des livres imprimés au quinzième siècle des bibliothèques de Belgique, 3987
Incunabula Short Title Catalogue im00382500 - http://data.cerl.org/istc/im00382500
Part of:
Public domain
Permalink:
https://hdl.handle.net/2268.1/5353
Items in DONum are protected by copyright, with all rights reserved, unless otherwise indicated.