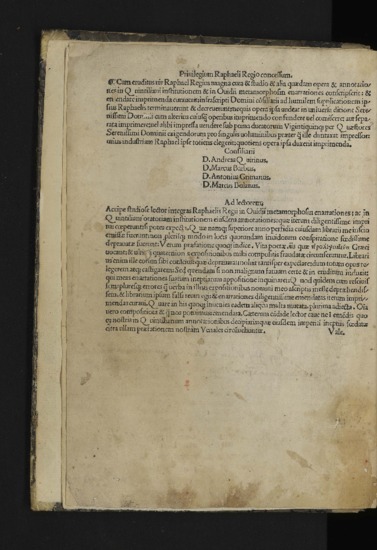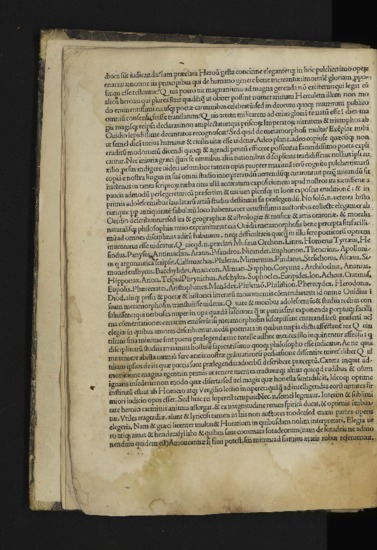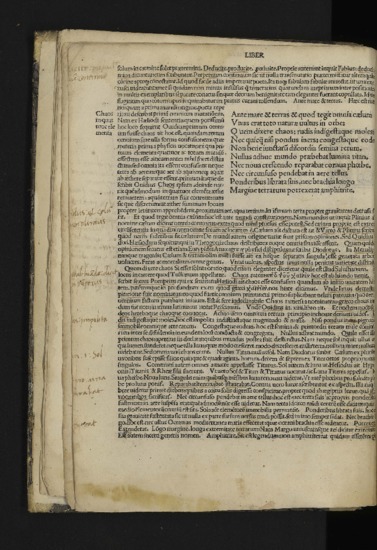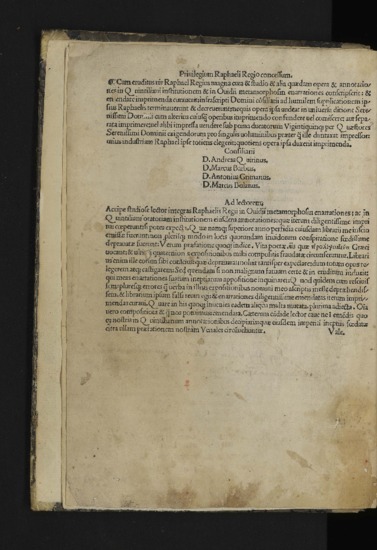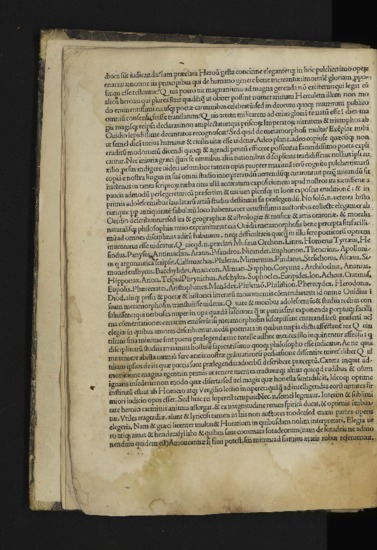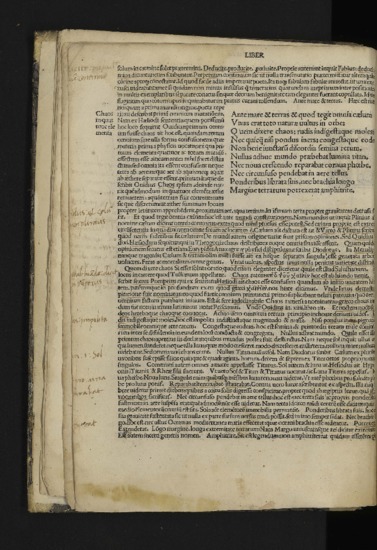 P. Ovidii Metamorphosis cum integris ac emendatissimis Raphaelis Regii enarrationibus [et] repraehensione illaru[m] ineptiarum : quibus ultimus Quarternio primae editionis fuit inquinatus.
Author(s), creator(s), collaborator(s) : Ovide; Regio, Raffaele
Type of the represented object : Incunabula
Détails
Collection:
Incunabula
Original object location:
Réseau des Bibliothèques
Uniform title :
Métamorphoses
Author(s), creator(s), collaborator(s):
Ovide (0043 av. J.-C.-0017) (author)
Regio, Raffaele (1450-1520) (commentator for written text)
Editor:
Simon Ticine[n]sis cognome[n]to bibilaqua : ovius i[n]dustria Raphael Regius in hoc opere describe[n]do usus est Venetiis Principe felicis
First publication of the original object:
[8 juillet 1497]
15th century
Modern times (1492-1789)
Place of creation of the original object:
Venise (Italie)
Identifiant(s):
XV.B243 (cote ULiège)
1725971-10 (code-barres ULiège)
Original object language:
Latin
Description:
Mention de publication prise au colophon.
45 lignes pour le texte ; 58 lignes pour le commentaire ; caractères romains.
Signatures : A⁶ a-t⁸ s¹⁰

Marque d'appartenance manuscrite de Hippolite Piecioli..., Florence 1793 et de S.P.

Reliure en papier marbré

Empreinte: moue m.s. ceum (C) 1497 (R) (exemplaire ULiège)
Material, support of the original object :
Papier
Physical description of the represented object :
[198] feuillets ; in-8
Keyword:
Poésie latine
CREF classification(s):
Lettres
Classification(s):
Arts & humanities => Literature
Original object linked resource:
Polain(B) 2954
ISTC : http://data.cerl.org/istc/io00193000
Other contributor(s):
Bevilacqua, Simone (1450?-1518?) (printer-bookseller)
Part of:
Public domain
Permalink:
http://hdl.handle.net/2268.1/5345
Items in DONum are protected by copyright, with all rights reserved, unless otherwise indicated.