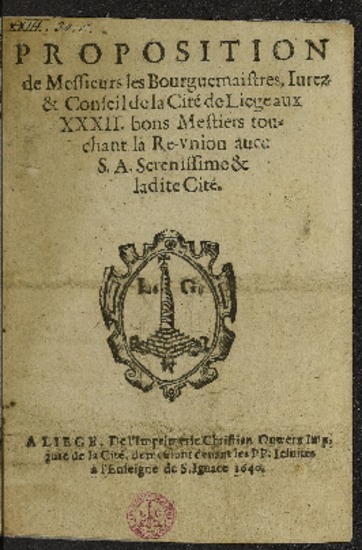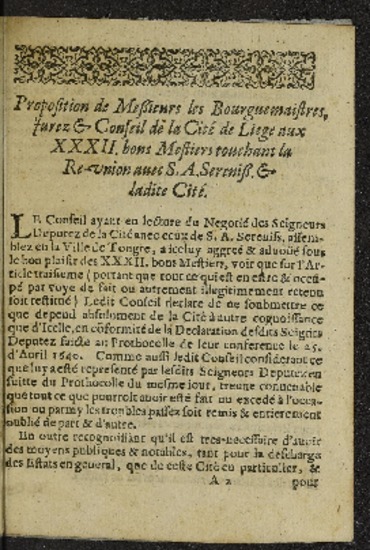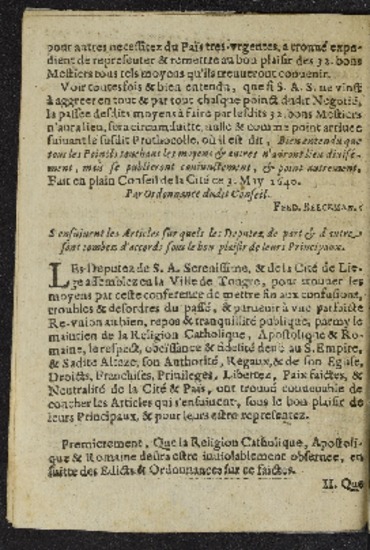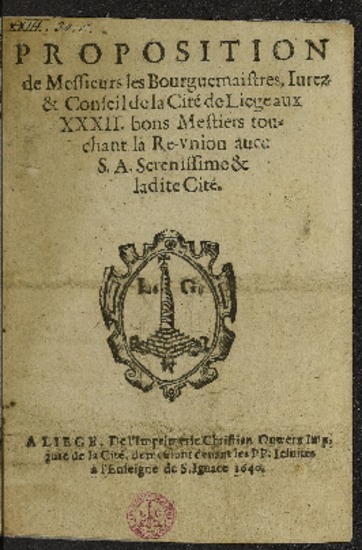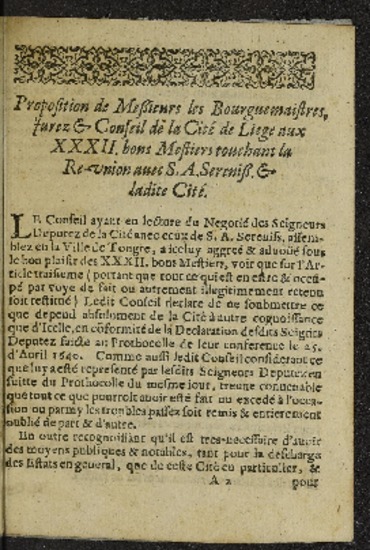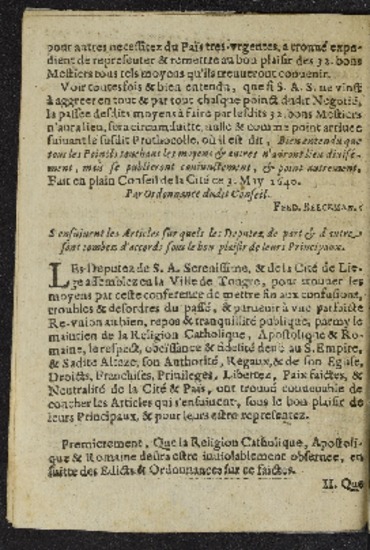 Proposition de Messieurs les Bourguemaistres, jurez & Conseil de la cité de Liège aux XXXII bons mestiers touchant la réunion avec S. A. Serenissime & ladite cité.
Author(s), creator(s), collaborator(s) :
Type of the represented object : Book
Détails
Original object location:
Réseau des Bibliothèques
Editor:
A Liège : Christian Ouwerx
First publication of the original object:
1640
17th century
Modern times (1492-1789)
Place of creation of the original object:
Belgique - Liège
Identifiant(s):
709604397 (code-barres ULiège)
R16805B (cote ULiège)
Original object language:
French
Description:
Citation: De Theux (2e éd.) 142
Signatures : A⁴
Empreinte: ,&ge ire. nta- leen 1640 (A) (exemplaire ULg)
Material, support of the original object :
Papier
Dimensions, weight or duration:
in-4
Physical description of the represented object :
[8] p.
Keyword:
Liège (Belgique) -- 17e siècle
CREF classification(s):
Histoire
Classification(s):
Arts & humanities => History
Original object linked resource:
De Theux (2e éd.) 142
Organization that sponsored the digitization:
Université de Liège
Other contributor(s):
Ouwrez, Christian (15..-16..) (printer-bookseller)
Part of:
Public domain
Permalink:
http://hdl.handle.net/2268.1/5299
Items in DONum are protected by copyright, with all rights reserved, unless otherwise indicated.