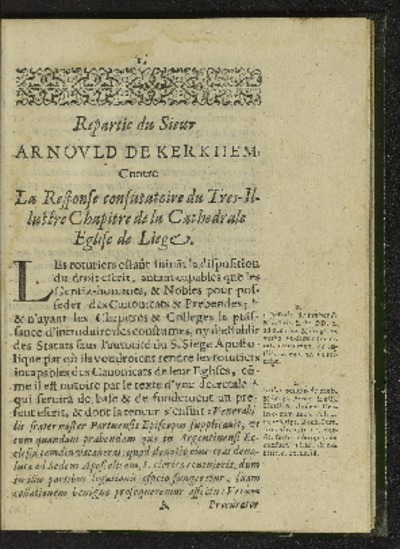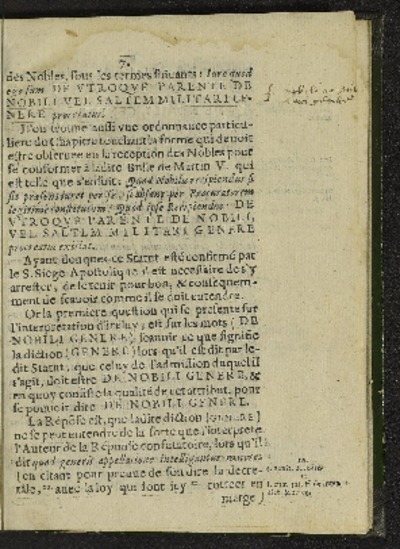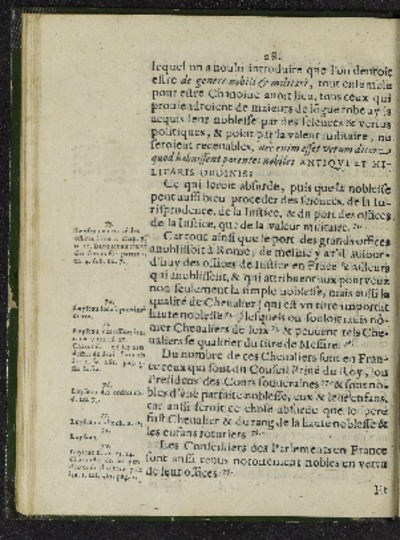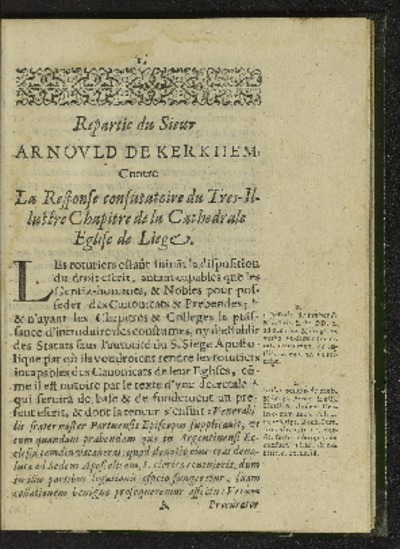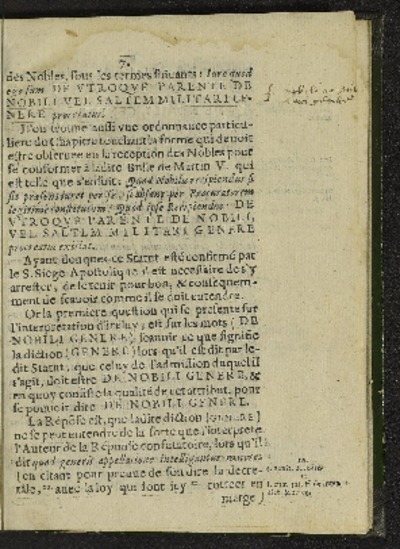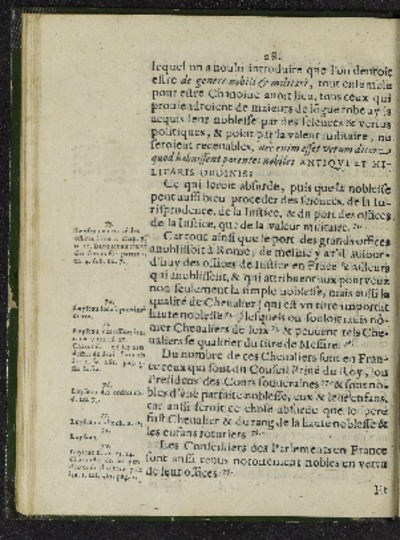 Répartie du sieur Arnould de Kerkhem contenante la resolution de plusieurs belles [et] remarquables questions en matière de noblesse, d'armoiries, de bastardise, de légitimation [et] autres sommaireme[n]t cottées par les feuillets suivants. Contre la réponse confutatoire du tres-illustre Chapitre de la Cathedrale Eglise de Liege.
Author(s), creator(s), collaborator(s) :
Type of the represented object : Book
Détails
Editor:
A Liege : de l'imprimerie Christian Ouwerx
Place of creation of the original object:
Belgique - Liège
First publication of the original object:
1636
17th century
Modern times (1492-1789)
Original object location:
Réseau des Bibliothèques
Identifiant(s):
709603317 (code-barres ULiège)
R4598A (cote ULiège)
Original object language:
French
Material, support of the original object:
Papier
Dimensions, weight or duration:
in-4
Physical description of the represented object :
[6], 118 page
Description:
Citation: De Theux (2e éd.) 122
Signatures : *⁴ 2*² A-P⁴
Provenance(s): Acquisition par l'Université de Liège : Legs Baron A. Wittert 1903 (R4598A)
Wittert, Adrien, 1823-1903, [donateur]
Empreinte: ùmam u-is sade some (3) 1636 (A) (exemplaire ULg)
CREF classification(s):
Histoire
Classification(s):
Arts & humanities => History
Original object linked resource:
De Theux (2e éd.) 122
Organization that sponsored the digitization:
Université de Liège
Part of:
Public domain
Permalink:
https://hdl.handle.net/2268.1/5296
Items in DONum are protected by copyright, with all rights reserved, unless otherwise indicated.