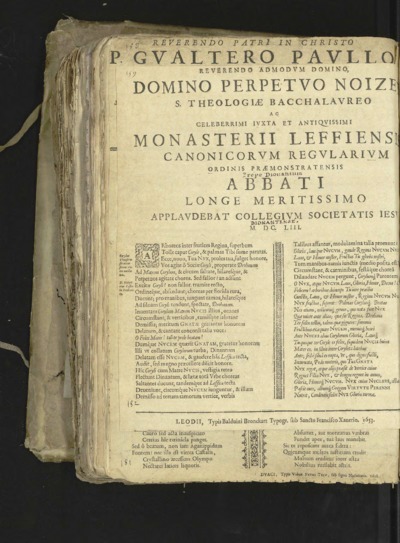 Reverendo admondum domino, domino perpetuo Noizet S. Theologiae bacchalaureo ac celeberrimi iuxta et antiquissimi monasterii leffiensis canonicorum regularium ordinis praemonstratensis abbati longe meritissimo applaudebat collegium societatis Iesu M.DC.LIII.
Author(s), creator(s), collaborator(s) :
Type of the represented object : Poster
Détails
Collection:
Posters
Original object location:
Réseau des Bibliothèques
Editor:
Leodii, Typis Baduini Bronckart Typogr. sub Sancto Francisco Xaverio
First publication of the original object:
1653
17th century
Modern times (1492-1789)
Place of creation of the original object:
Liège (Belgique)
Identifiant(s):
R00177E (cote ULiège)
709314733 (code-barres ULiège)
Original object language:
Latin
Material, support of the original object :
Papier
Dimensions, weight or duration:
40 x 27 cm
Physical description of the represented object :
1 placard. 2 colonnes.
CREF classification(s):
Histoire
Classification(s):
Arts & humanities => History
Original object linked resource:
[Recueil factice] - http://hdl.handle.net/2268.1/4323
Other contributor(s):
Broncart, Baudouin (printer-bookseller)
Part of:
Public domain
Permalink:
http://hdl.handle.net/2268.1/5278
Items in DONum are protected by copyright, with all rights reserved, unless otherwise indicated.