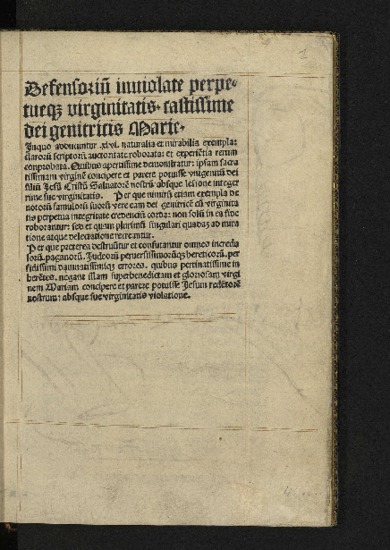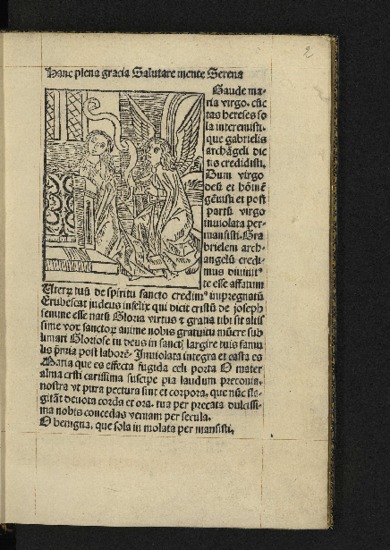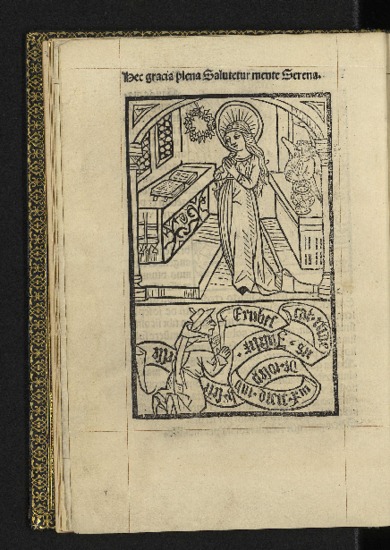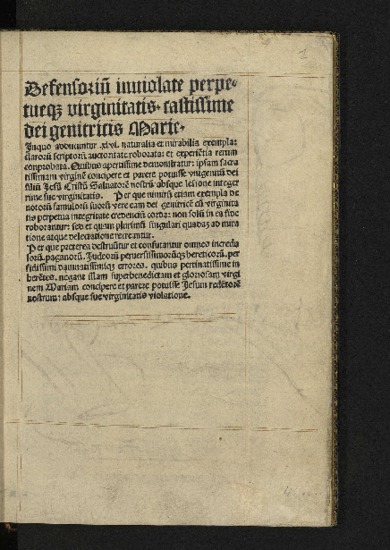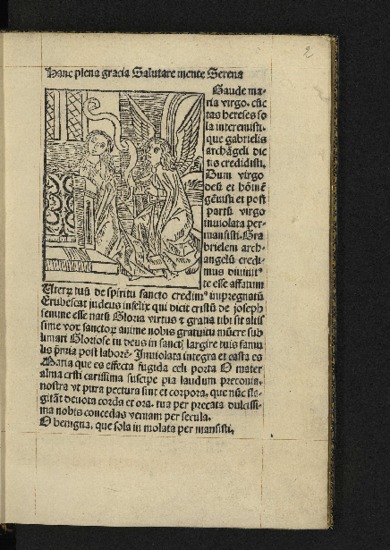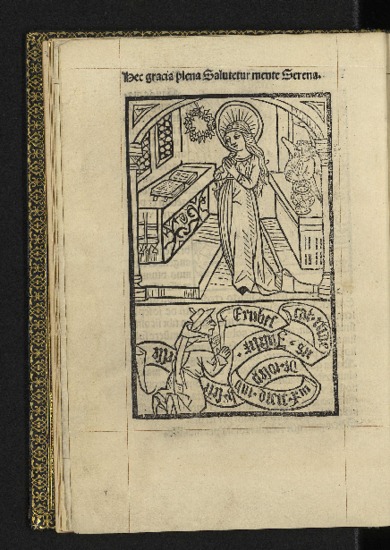 Defensoriu[m] inviolate perpetueq[ue] virginitatis castissime dei genitricis Marie.
Author(s), creator(s), collaborator(s) : Franciscus de Retza
Type of the represented object : Incunabula
Détails
Collection:
Incunabula
Original object location:
Réseau des Bibliothèques
Uniform title :
Defensorium inviolatae virginitatis beatae Mariae
Author(s), creator(s), collaborator(s):
Franciscus de Retza (1343-1427) (author)
Editor:
[Bâle] : [Léonard Eisenhut]
First publication of the original object:
[ca 1487-1488]
15th century
Middle age (476-1492)
Place of creation of the original object:
Bâle (Suisse)
Identifiant(s):
XV.C99 (Cote ULiège)
1723634-10 (Code-barres ULiège)
Original object language:
Latin
Description:
Mention de publication prise à l'ISTC
32 lignes ; caractères gothiques.
Signatures : a-c⁸ d⁶
Gravures sur bois

Reliure en maroquin vert fonc signée Hardy-Mennil. Au centre des plats, un fer doré. Chasse ornée de oulettes et filets dorés. Tranches dorées. Le contre-plat supérieur porte l'ex-libris H.I.

Empreinte: i.a. t.ue e.i- pete (C) 1487-1488 (Q) (exemplaire ULg)
Material, support of the original object :
Papier
Dimensions, weight or duration:
in-8
Physical description of the represented object :
[30] feuillets : ill.
Keyword:
Marie (sainte) (personnage du Nouveau Testament) -- Virginité -- Ouvrages avant 1800
CREF classification(s):
Théologie
Classification(s):
Arts & humanities => Religion & theology
Original object linked resource:
Polain(B) 1518
Other contributor(s):
Ysenhut, Lienhart (printer-bookseller)
Part of:
Public domain
Permalink:
http://hdl.handle.net/2268.1/5121
Items in DONum are protected by copyright, with all rights reserved, unless otherwise indicated.