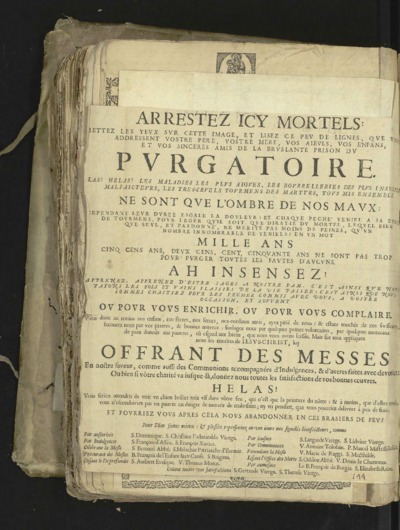 Arrestez icy mortels : jettez les yeux sur cette image, et lisez ce peu de lignes, que vous adressent vostre pere, vostre mere, vos aieuls, vos enfans, et vos sinceres amis de la bruslante prison du purgatoire.
Author(s), creator(s), collaborator(s) :
Type of the represented object : Poster
Détails
Collection:
Posters
Original object location:
Réseau des Bibliothèques
Editor:
[S.l.] : [s.n.]
First publication of the original object:
17th century
Modern times (1492-1789)
Identifiant(s):
R00177E (cote ULiège)
709314733 (code-barres ULiège)
Original object language:
French
Material, support of the original object :
Papier
Dimensions, weight or duration:
32 x 30 cm
Physical description of the represented object :
1 placard.
CREF classification(s):
Théologie
Classification(s):
Arts & humanities => Religion & theology
Original object linked resource:
[Recueil factice] - http://hdl.handle.net/2268.1/4323
Part of:
Public domain
Permalink:
http://hdl.handle.net/2268.1/5108
Items in DONum are protected by copyright, with all rights reserved, unless otherwise indicated.