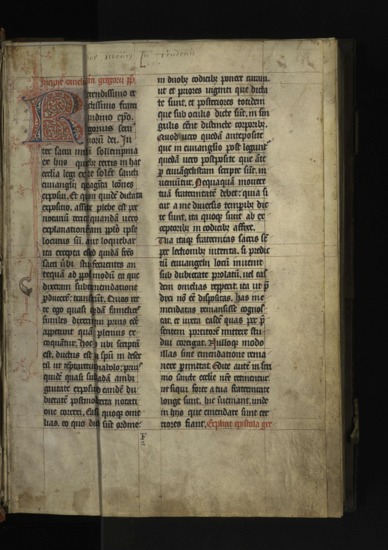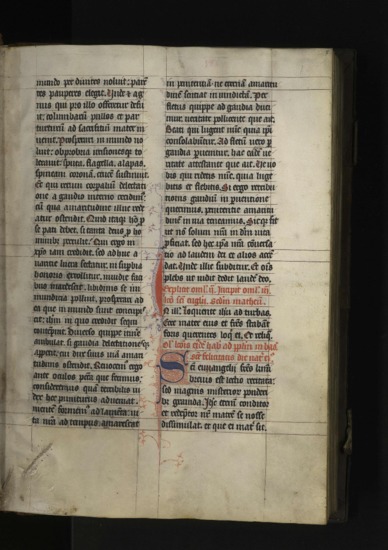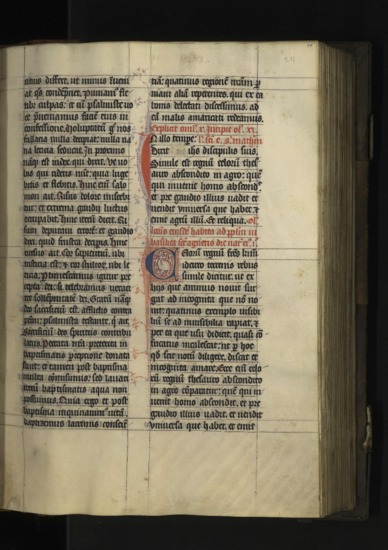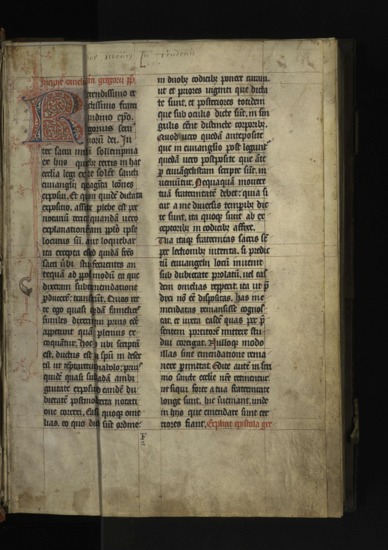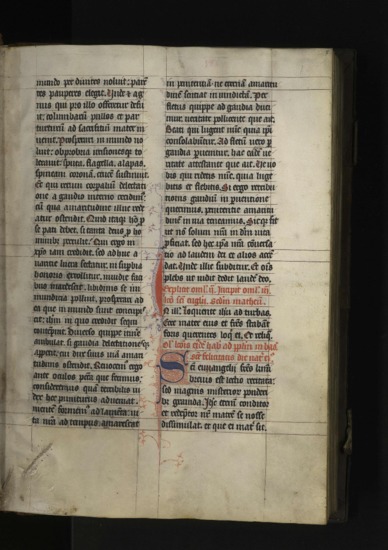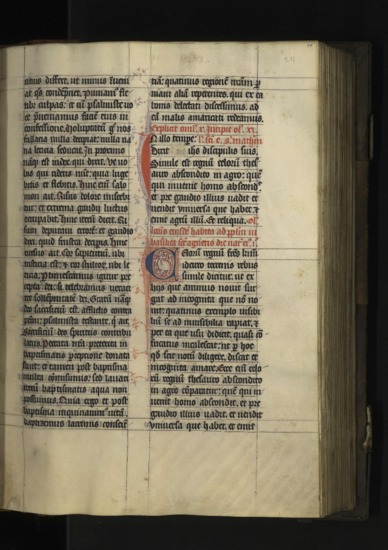 Gregorius I, Homeliae in evangelia, lib. II.
Author(s), creator(s), collaborator(s) : Grégoire I, pape; Martin de Venne
Type of the represented object : Manuscript
Détails
Author(s), creator(s), collaborator(s):
Grégoire I, pape (0540?-0604) (author)
Martin de Venne (13..?-13..?) (scribe)
Place of creation of the original object:
Saint-Trond (Belgique)
Creation of the original object:
14th century
Middle age (476-1492)
Original object location:
Réseau des Bibliothèques
Identifiant(s):
Ms138 (cote ULiège)
ALMA209066 (code-barres ULiège)
Original object language:
Latin
Material, support of the original object:
Parchemin
Dimensions, weight or duration:
364 x 257 millimètres.
Physical description of the represented object :
145 feuillets. Une main de Martin de Venne. Deux colonnes de 31 lignes. Initiale ornée mi-parti rouge et bleue, à grotesque blanc au f. 2v.
Contents, Summary of the original document:
Incipit : "Reuerendissimo et sanctissimo fratri Secundino coepiscopo Gregorius seruus seruorum Dei".
F. 1r : epistola gregorii papae urbis romae ad taurominitanum episcopum ;
ff. 1v-2r: capitula libri sancti gregorii omeliarum super evangelia numero quadraginta.
Commence par une lettre de Grégoire I adressée à l'évêque Secundinus ; suivent 40 homélies dont chacune est précédée du texte de l'écriture sainte.
Description:
Propriété et historique de la conservation : Marque d'appartenance manuscrite de l'Abbaye de Saint-Trond : "Liber monasterii sancti trudonis" (f. 1r°).
Keyword:
Homélies
CREF classification(s):
Théologie
Classification(s):
Arts & humanities => Religion & theology
Original object linked resource:
Manuscrits de l'abbaye de Saint-Trond
Fiess-Grandjean. Bibliothèque de l'Université de Liège : catalogue des manuscrits. Liège, 1875, n°137.
Art mosan et arts anciens du pays de Liège : catalogue de l'exposition. Liège, septembre 1951, p. 233.
Handschriften uit de abdij van Sint-Truiden. Leuven, 1986, p. 241-242, n°49.
Organization that sponsored the digitization:
Fédération Wallonie-Bruxelles (plan PEP'S)
Part of:
Public domain
Permalink:
https://hdl.handle.net/2268.1/4964
Items in DONum are protected by copyright, with all rights reserved, unless otherwise indicated.