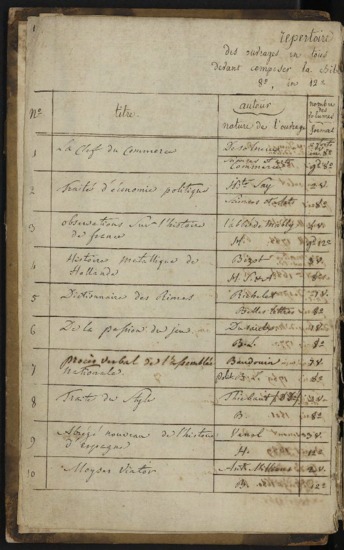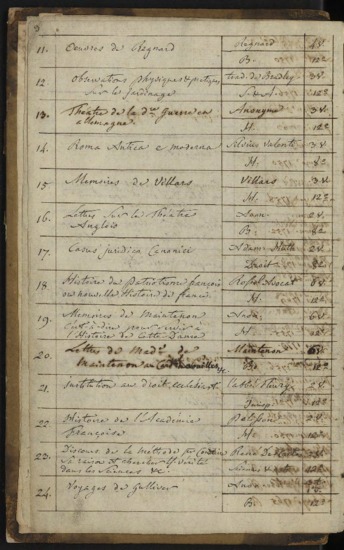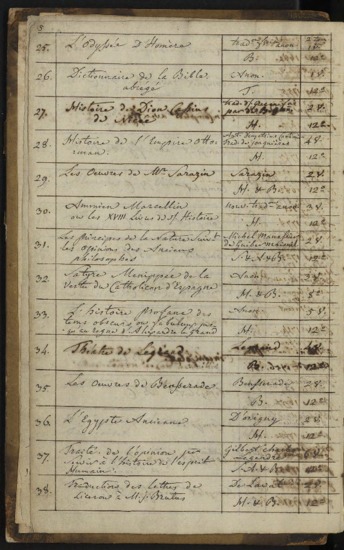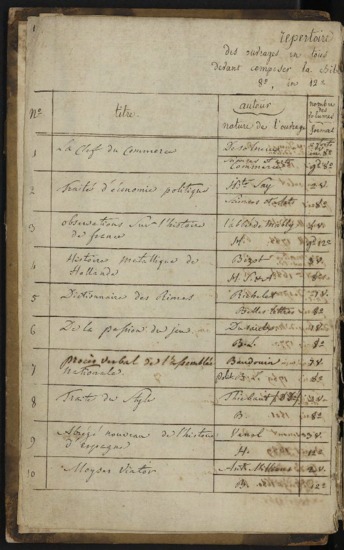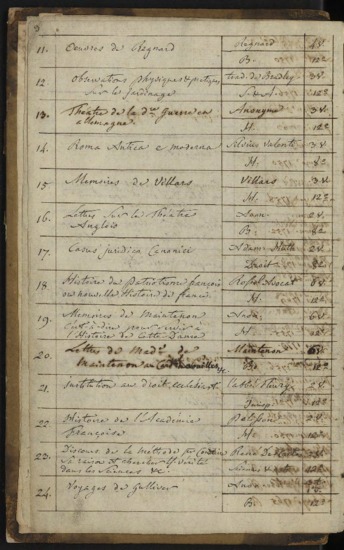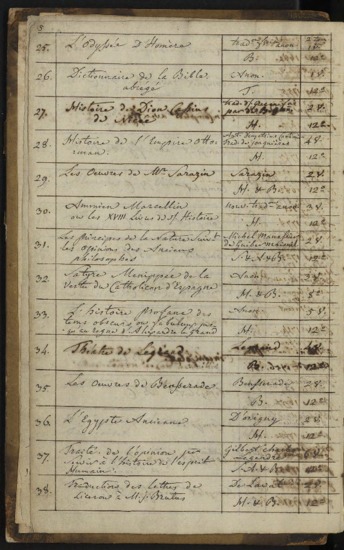 J.P.J. Terwangne, Répertoire des ouvrages devant composer la bibliothèque de la Ville de Liège
Author(s), creator(s), collaborator(s) :
Type of the represented object : Manuscript
Détails
Place of creation of the original object:
Liège (Belgique)
Creation of the original object:
1812-1813
19th century
Contemporary time (1789-20..)
Original object location:
Réseau des Bibliothèques
Identifiant(s):
Ms2290 (cote ULiège)
ALMA214886 (code-barres ULiège)
Original object language:
French
Material, support of the original object:
Papier
Dimensions, weight or duration:
313 x 195 millimètres.
Physical description of the represented object :
i, 292, i feuillets.
Main unique de J.P.J. Terwangne. Les ff. 1, 31v°, 32, 51v°, 52, 75v°, 76, 95v°, 96, 111v°-120, 155v°, 156, 179v°-184, 213v°, 214, 226v°, 286-292v° sont blancs.
Description:
Reliure : Demi-reliure, dos et coins de basane brune.
Manuscrit autographe de Terwangne. Il s'agit de l'inventaire des ouvrages de la bibliothèque de la ville classés par format.
Ouvrages groupés d'après leur format : ff. 1v°-111 : ouvrages in-8 et in-12, numérotés de 1 à 1469 ; ff. 120v°-179 : ouvrages in-4, numérotés de 1 à 803 ; ff. 184v°-286 : ouvrages in-folio, numérotés de 1 à 1416.
Keyword:
Bibliothèques -- Catalogues; Bibliothèques -- Liège (Belgique)
CREF classification(s):
Information et communication
Classification(s):
Social & behavioral sciences, psychology => Library & information sciences
Original object linked resource:
Hoyoux (Jean). Inventaire des manuscrits de la Bibliothèque de l'Université de Liège. Liège, 1970, 1, n°1452.
Opsomer (Carmélia). Nouveaux matériaux pour l'histoire des bibliothèques liégeoises. In : Bulletin de la société royale le Vieux-Liège, n° 267, 1994, p.206-215.
Part of:
Public domain
Permalink:
https://hdl.handle.net/2268.1/4903
Items in DONum are protected by copyright, with all rights reserved, unless otherwise indicated.