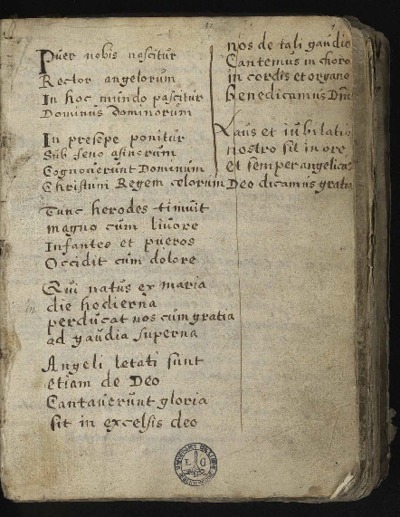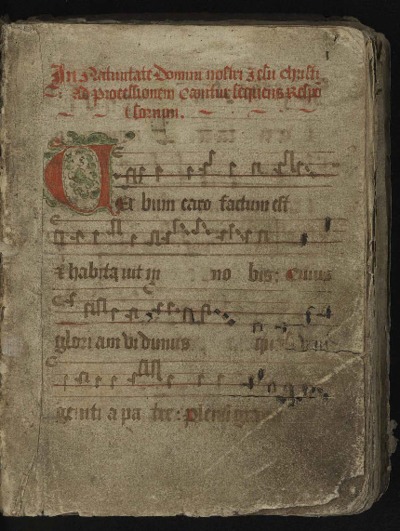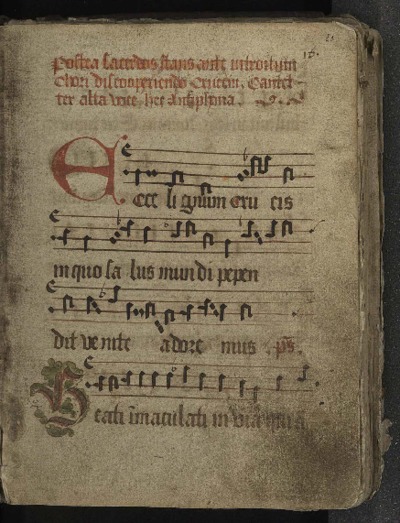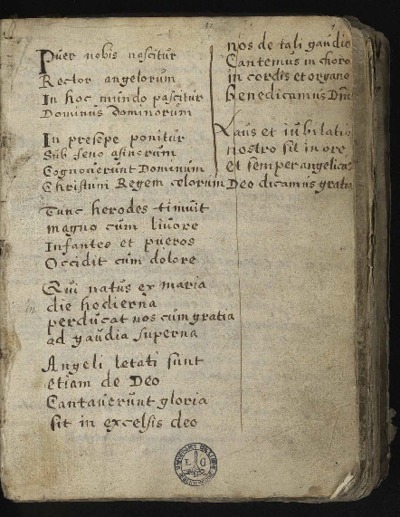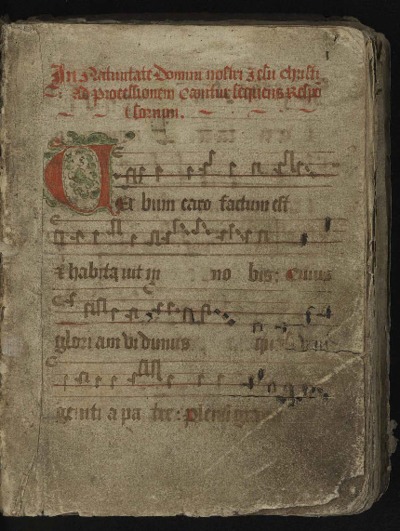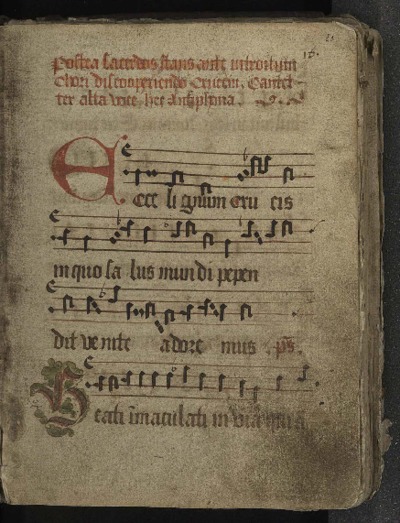 Processional de la cathédrale Saint-Lambert de Liège.
Author(s), creator(s), collaborator(s) :
Type of the represented object : Manuscript
Détails
Place of creation of the original object:
Liège (Belgique)
Creation of the original object:
16th century
Modern times (1492-1789)
Original object location:
Réseau des Bibliothèques
Identifiant(s):
Université de Liège. Bibliothèque, Manuscrit 2122 (cote ULiège)
ALMA214838 (code-barres ULiège)
Original object language:
Latin
Material, support of the original object:
Papier
Dimensions, weight or duration:
193 x 140 millimètres.
Physical description of the represented object :
120 feuillets. Six mains non identifiées : première main : f. 1v°, deuxième main : ff.1v°-7v°, troisième main : ff. 8-104, quatrième main : ff. 104v°-110v°, cinquième main : ff. 111-117, sixième main : ff. 118-120. Nombre de lignes variable. Feuillets disparus entre les ff. 74 et 75, 107 et 108. Ancienne foliotation erronée de 1 à 104. Lettrines en rouge ; majuscules en noir ornées de vert et de rouge ; rubriques.
Contents, Summary of the original document:
F. 1 : Noël en latin ;
ff. 1v°-7v° : abrégé du processional ;
ff. 8-81v° : processional avec notation du plain-chant ;
ff. 82-104 : Officium mortuorum ; ff. 104v°-110v° : antiphonaire ;
ff. 111-117 : Absolutis confratrum et sororum sacri Rosarii B. M. V. in articulo mortis ;
ff. 118-119 : Jubilus ad elevationem ; ff. 119v°-120 : formules d'absolution pour des membres de confréries.
Description:
On lit au f. 81v° : "Finis. 1588".
Achat: rente Wittert (1928)
Marque d'appartenance au contreplat supérieur : "Processionale Leodiense ad usum Bertrandi de Waseige canonici Molhaniensis".
Reliure de veau brun, plats ornés de filets à froid formant un encadrement, coins ornés de fers à froid représentant une couronne de lauriers.
CREF classification(s):
Théologie
Classification(s):
Arts & humanities => Religion & theology
Part of:
Public domain
Permalink:
http://hdl.handle.net/2268.1/4902
Items in DONum are protected by copyright, with all rights reserved, unless otherwise indicated.