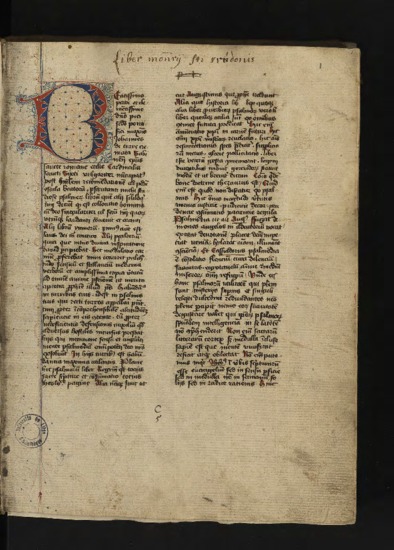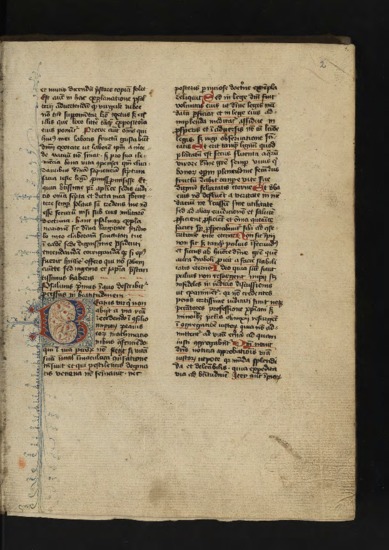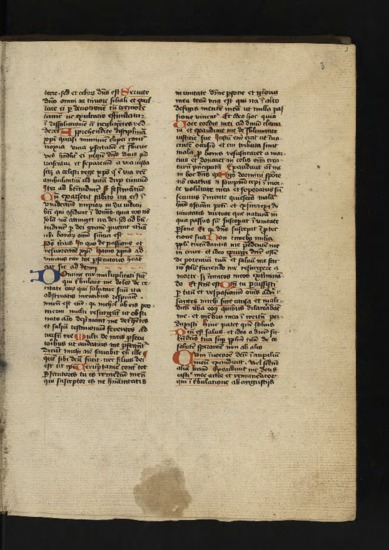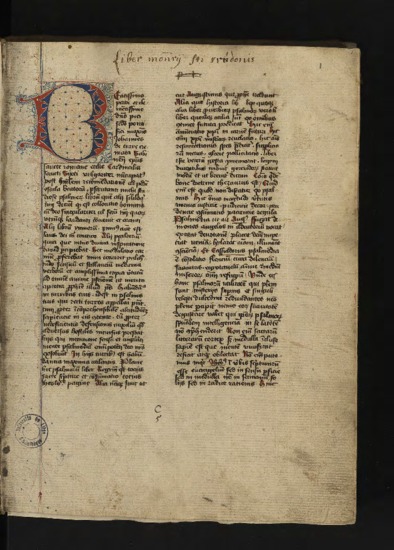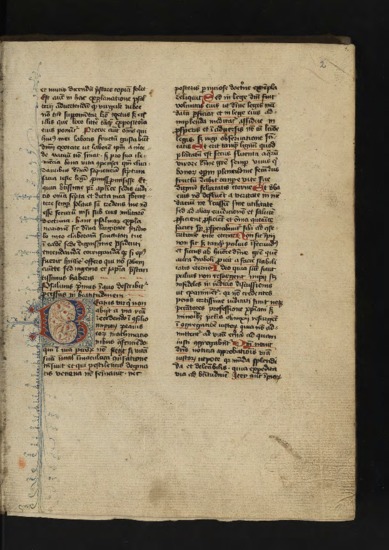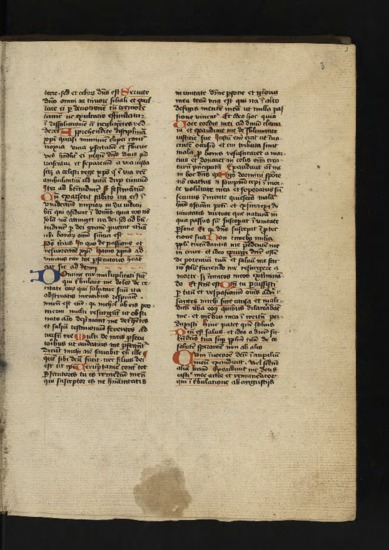 Johannes de Turrecremata, Expositio brevis super Psalterium sive Psalmos.
Author(s), creator(s), collaborator(s) : Torquemada, Juan de
Type of the represented object : Manuscript
Détails
Author(s), creator(s), collaborator(s):
Torquemada, Juan de (1388-1468) (author)
Place of creation of the original object:
Belgique
Creation of the original object:
1471
15th century
Middle age (476-1492)
Original object location:
Réseau des Bibliothèques
Identifiant(s):
Ms11 (cote ULiège)
ALMA206757 (code-barres ULiège)
Original object language:
Latin
Abstract:
Incipit : "Beatissimo patri et clementissimo domino pio secundo pontifici maximo Johannes de Turrecremata Sabinensis Episcopus sanctae romanae ecclesiae cardinalis sancti sixti vulgariter nuncupatur" ; Colophon : F. 165r : "1471. Finitur opus expositionis brevis super psalterium compilatum per reverendissimum (?) patrem dominum Johannem de Turrecremata episcopum Sabinensem ac sacrosanctae romanae ecclesiae Cardinalem sancti sixti vulgariter nuncupatum pro quo in gratiarum actiones dicamus sanctissimae trinitati id quod post christum quemque psalmum in ecclesia decantatur. Gloria patri et filio et spiritui sancto sicut erat in principio et nunc et semper et in secula seculorum. Amen. Amen.".
Material, support of the original object:
Papier
Dimensions, weight or duration:
265 x 195 millimètres.
Physical description of the represented object :
165 feuillets. Une main non identifiée. Deux colonnes de 31 lignes. Réclames. Lettrines.
Description:
Propriété et historique de la conservation : Marque d'appartenance manuscrite de l'Abbaye de Saint-Trond : "Liber monasterii Sancti Trudonis" (f. 1r°).
Reliure : Reliure en basane brune sur carton, dos à 5 nerfs, entre-nerfs décorés de fleurons dorés.

Version numérique disponible en haute résolution couleur ainsi que microfilm noir et blanc.
CREF classification(s):
Théologie
Classification(s):
Arts & humanities => Religion & theology
Original object linked resource:
Manuscrits de l'abbaye de Saint-Trond
Fiess-Grandjean. Bibliothèque de l'Université de Liège : catalogue des manuscrits. Liège, 1875, n°19.
Stegmüller (F.) et Reinhardt (N.). Repertorium Biblicum Medii Aevi, Matriti, 1950-1980, n°5003.
CICweb - http://www.cicweb.be/fr/manuscrit.php?id=163&idi=27
Organization that sponsored the digitization:
Fédération Wallonie-Bruxelles (plan PEP'S)
Part of:
Public domain
Permalink:
https://hdl.handle.net/2268.1/4835

Items in DONum are protected by copyright, with all rights reserved, unless otherwise indicated.