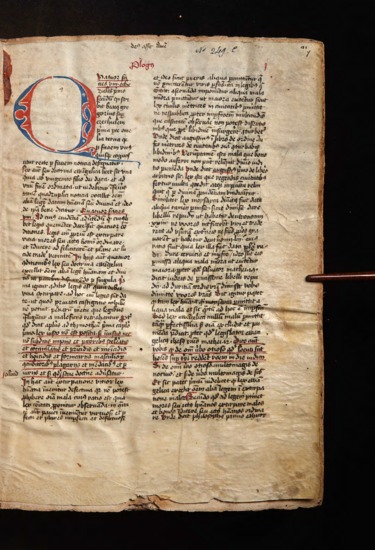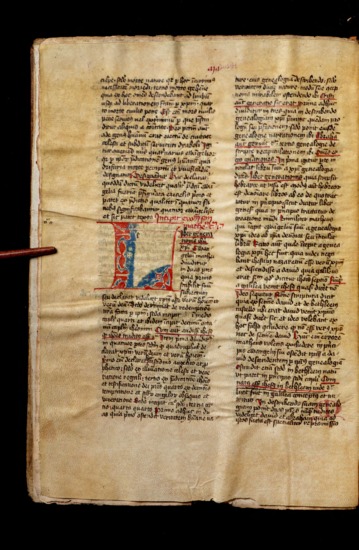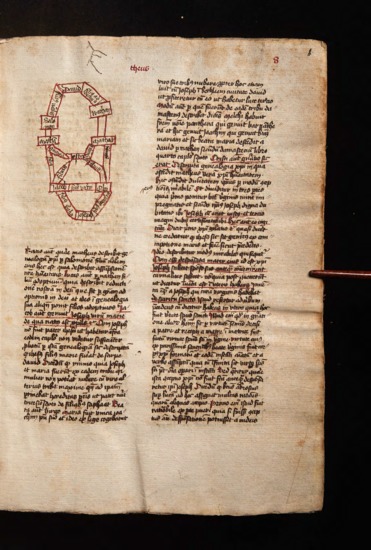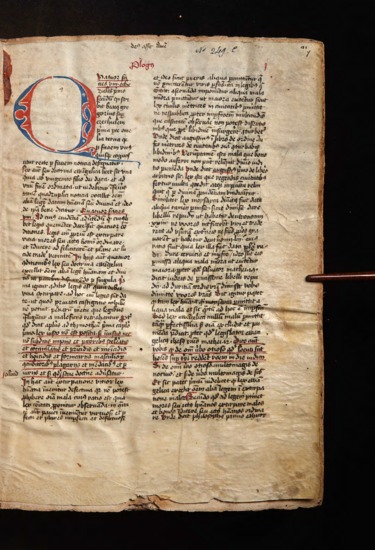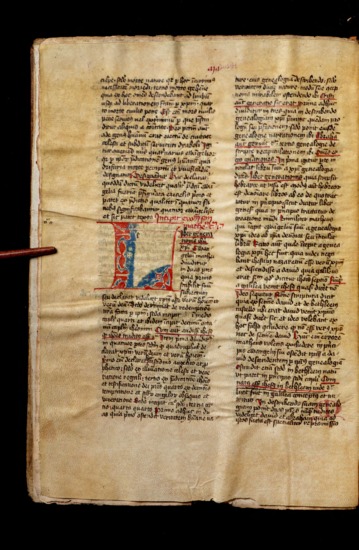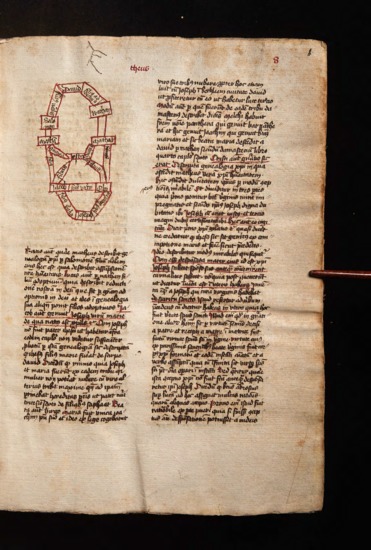 Nicolaus de Lyra, Postilla super quatuor Evangelistas.
Author(s), creator(s), collaborator(s) : Nicolas de Lyre; Adam
Type of the represented object : Manuscript
Détails
Author(s), creator(s), collaborator(s):
Nicolas de Lyre (1270?-1340?) (author)
Adam (scribe)
Place of creation of the original object:
Huy (Belgique)
Creation of the original object:
17 novembre 1432
15th century
Middle age (476-1492)
Original object location:
Réseau des Bibliothèques
Identifiant(s):
Université de Liège. Bibliothèque, Manuscrit 249 (cote ULiège)
ALMA201725 (code-barres ULiège)
Original object language:
Latin
Material, support of the original object:
Papier et parchemin.
Dimensions, weight or duration:
300 x 219 millimètres.
Physical description of the represented object :
209 feuillets. Une main de Adam. 2 colonnes de 45 lignes. Foliotation ancienne. Titre courant. Lettrines peintes. Reliure originale à filets, étiquette.
Contents, Summary of the original document:
Ff. 1r°-3v° : Prologus in quatuor Evangelia ;
ff. 3v°-208r° : Postilla super quatuor Evangelia.
Description:
Marques d'appartenance manuscrites du Couvent des Croisiers : "Iste liber pertinet conventui fratrem sancte crucis declaro loco in suburbio hoyensis leodiensis dyocesis" (f. Ar°) ; "Et sriptus presentem librum quidam frater adam nomine ordinis fratrum sancte crucis licet indignus atque finivit ipsum librum anno domini mccccxxxii feria secunda in vigilia octave sancti martini episcopi et confessoris desiderans suffragia orationum fratrum in eo studentium pro labore" (f. 208r°).
Keyword:
Bible. N.T. Évangiles -- Commentaires
CREF classification(s):
Théologie
Classification(s):
Arts & humanities => Religion & theology
Original object linked resource:
Manuscrits des Croisiers de Huy.
Organization that sponsored the digitization:
Fédération Wallonie-Bruxelles (plan PEP'S)
Part of:
Public domain
Permalink:
https://hdl.handle.net/2268.1/4542
Items in DONum are protected by copyright, with all rights reserved, unless otherwise indicated.