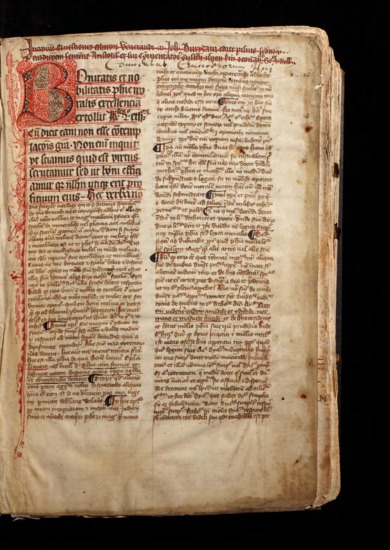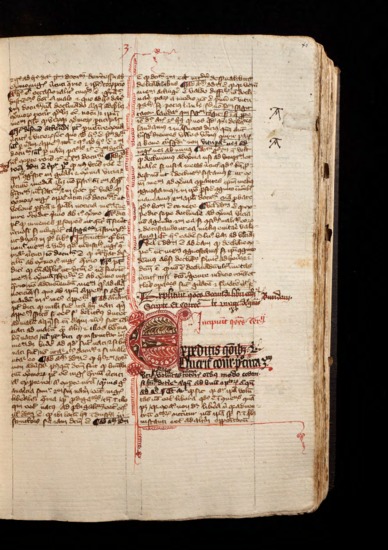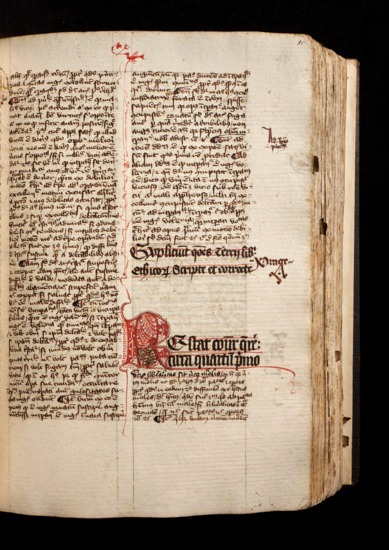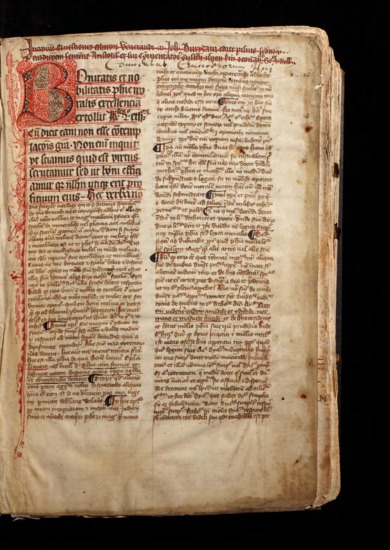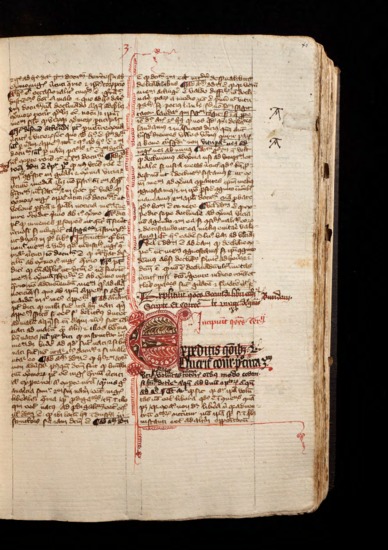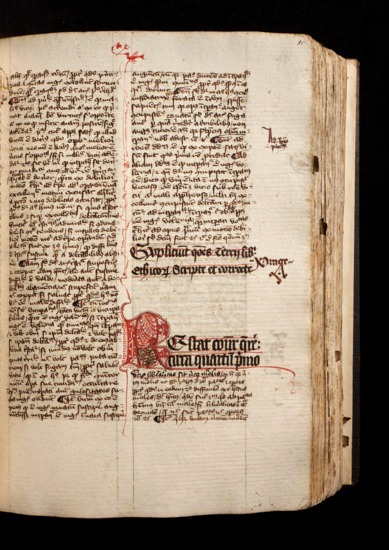 Johannes Buridanus, Quaestiones super decem libros Ethicorum Aristoteles.
Author(s), creator(s), collaborator(s) : Buridan, Jean
Type of the represented object : Manuscript
Détails
Author(s), creator(s), collaborator(s):
Buridan, Jean (1300?-1358) (author)
Place of creation of the original object:
Huy (Belgique)
Creation of the original object:
15th century
Middle age (476-1492)
Original object location:
Réseau des Bibliothèques
Identifiant(s):
Université de Liège. Bibliothèque, Manuscrit 116 (cote ULiège)
ALMA200827 (code-barres ULiège)
Original object language:
Latin
Abstract:
L'indication figurant dans la marge en tête du f. 1 « Incipiunt Questiones ethicorum venerandi M. Joh. Buridani edite Parisius » révèle que le ms. est une copie de l'édition faite par Aegidius Delfus (Paris, s. typ. [Jean Higman] pour Wolfgang Hopyl, 14 juillet 1489 - Polain 928).
Material, support of the original object:
Papier et parchemin.
Dimensions, weight or duration:
297 x 205 millimètres.
Physical description of the represented object :
321 feuillets. Une main non identifiée. 2 colonnes de 39 lignes. Lettrines peintes.
Reliure moderne en percaline noire sur ais de bois, dos à 4 nerfs couvert de cuir, les ais ne sont pas d'origine, de même que les trois boulons de cuivre du plat inférieur, les contre-gardes en parchemin de récupération sont conservées ; signets de parchemin.
Description:
Marque d'appartenance manuscrite du Couvent des Croisiers : "liber Conventus fratrum sancte Crucis huyensis leodiensis dyocesis" (f. 321v°).

Titre associé : complete edition : reproduction de (manifestation) : Gilles de Delft, 14..-1515. Quaestiones in Aristotelis Ethica Nicomachea
Keyword:
Morale antique; Aristote (0384-0322 av. J.-C.) -- Critique et interprétation -- Ouvrages avant 1800; Aristote (0384-0322 av. J.-C.). Éthique à Nicomaque
CREF classification(s):
Philosophie
Classification(s):
Arts & humanities => Philosophy & ethics
Original object linked resource:
Manuscrits des Croisiers de Huy.
Depaire Jean-Paul. La bibliothèque des Croisiers de Huy, de Liège et de Namur. Liège : Université de Liège, 1970, 3 vol.
Fiess-Grandjean. Bibliothèque de l'Université de Liège : catalogue des manuscrits. Liège, 1875, n°646.
CICweb : http://www.cicweb.be/fr/manuscrit.php?id=689&idi=27
Organization that sponsored the digitization:
Fédération Wallonie-Bruxelles (plan PEP'S)
Part of:
Public domain
Permalink:
https://hdl.handle.net/2268.1/4495

Items in DONum are protected by copyright, with all rights reserved, unless otherwise indicated.