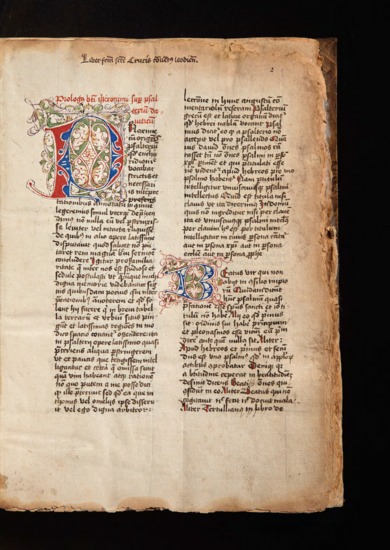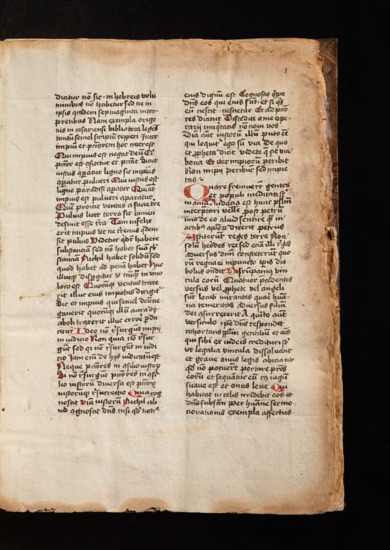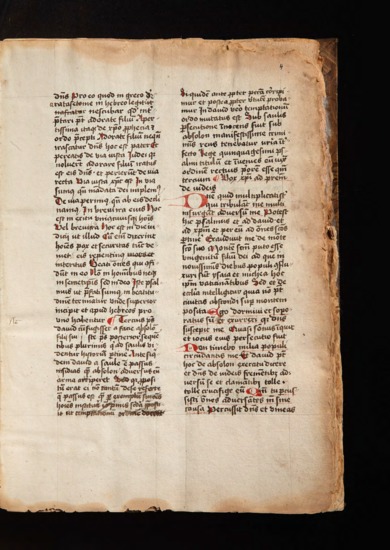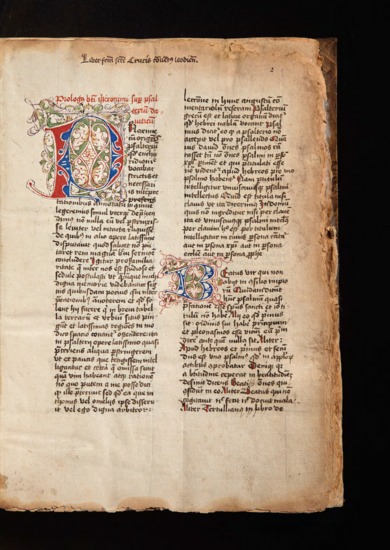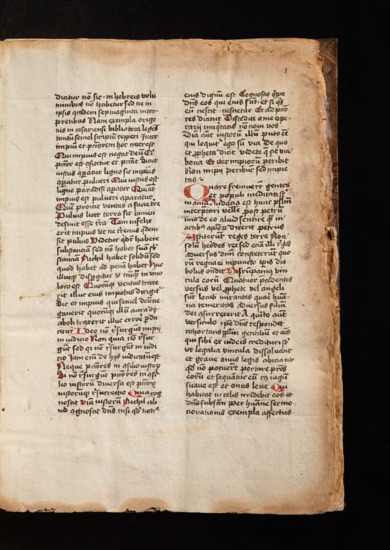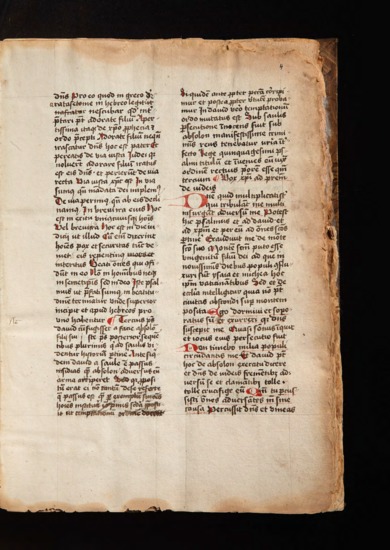 Hieronymus, Commentarii in Psalmos.
Author(s), creator(s), collaborator(s) : Jérôme, saint; Jean de Cervo
Type of the represented object : Manuscript
Détails
Uniform title :
Commentaire abrégé sur les Psaumes
Author(s), creator(s), collaborator(s):
Jérôme, saint (0345?-0420) (author)
Jean de Cervo (scribe)
Place of creation of the original object:
Liège (Belgique)
Creation of the original object:
10 novembre 1498
15th century
Modern times (1492-1789)
Original object location:
Réseau des Bibliothèques
Identifiant(s):
Université de Liège. Bibliothèque, Manuscrit 113 (cote ULiège)
ALMA202500 (code-barres ULiège)
Original object language:
Latin
Material, support of the original object:
Papier.
Dimensions, weight or duration:
272 x 194 millimètres.
Physical description of the represented object :
236 feuillets. Une main de Jean de Cervo. 2 colonnes de 32 lignes. Lettres peintes.
Marques d'appartenance manuscrites du Couvent des Croisiers : "Liber fratrum sancte Crucis convetus leodiensis" (f. 2r°) ; "Explicit... Scripta per fratrum johannem de cervo conventualem conventus sancte crucis leodiensis. Anno incarnationis dominice MCCCCXCVIII in profesto sancti martini" (f. 136v°).
Description:
Version numérique disponible en haute résolution couleur ainsi que microfilm noir et blanc.
Keyword:
Bible. A.T. Psaumes
CREF classification(s):
Théologie
Classification(s):
Arts & humanities => Religion & theology
Original object linked resource:
Manuscrits des Croisiers de Liège.
Depaire Jean-Paul. La bibliothèque des Croisiers de Huy, de Liège et de Namur. Liège : Université de Liège, 1970, 3 vol.
Fiess-Grandjean. Bibliothèque de l'Université de Liège : catalogue des manuscrits. Liège, 1875, n°78.
Hermans (C.R.). Annales canonicorum regularium S. Augustini ordinis S. Crucis. Bois-le-Duc, 1558, p. 165.
CICweb : http://www.cicweb.be/fr/manuscrit.php?id=1510&idi=27
Organization that sponsored the digitization:
Fédération Wallonie-Bruxelles (plan PEP'S)
Part of:
Public domain
Permalink:
https://hdl.handle.net/2268.1/4493

Items in DONum are protected by copyright, with all rights reserved, unless otherwise indicated.