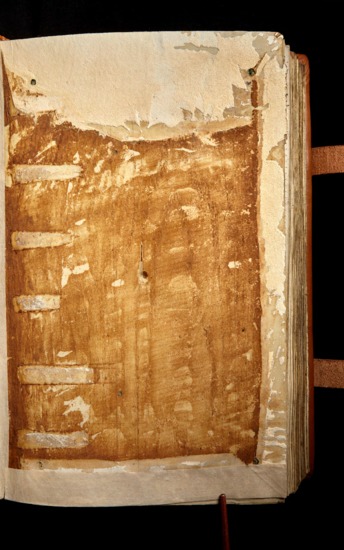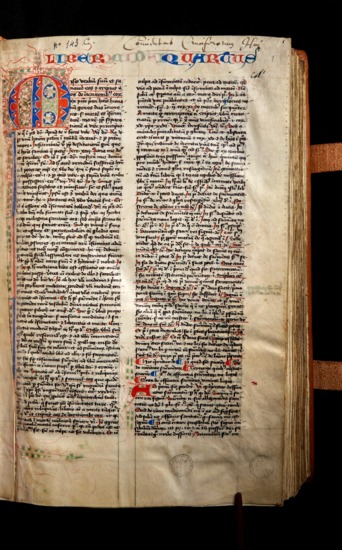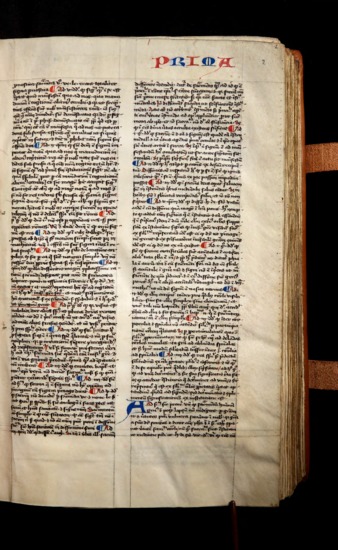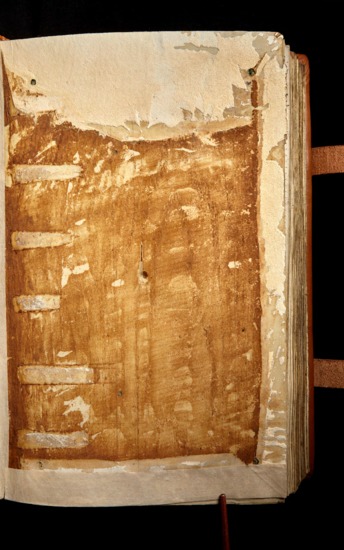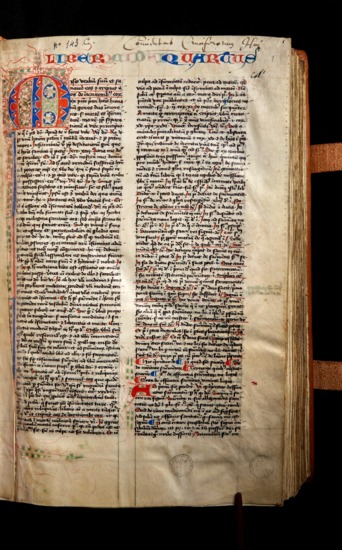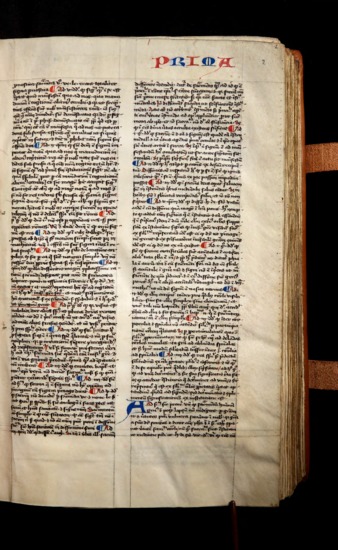 Thomas Aquinas, Liber quartus sententiarum.
Author(s), creator(s), collaborator(s) : Thomas d'Aquin, saint; Vinchin, Jean
Type of the represented object : Manuscript
Détails
Uniform title :
In quattuor libros Sententiarum P. Lombardi. Extraits
Author(s), creator(s), collaborator(s):
Thomas d'Aquin, saint (1225?-1274) (author)
Vinchin, Jean (scribe)
Place of creation of the original object:
Huy (Belgique)
Creation of the original object:
1462
15th century
Middle age (476-1492)
Original object location:
Réseau des Bibliothèques
Identifiant(s):
Université de Liège. Bibliothèque, Manuscrit 143 (cote ULiège)
ALMA200929 (code-barres ULiège)
Original object language:
Latin
Material, support of the original object:
Parchemin.
Dimensions, weight or duration:
330 x 220 millimètres.
Physical description of the represented object :
258 feuillets. Une main de Jean Vinchin. 2 colonnes de 59 lignes. Initiales ornementées (figuratives ou non).
Reliure ancienne : reliure de ais de bois recouvert de parchemin gaufré, jaune. L'ornementation est composée de filets déterminant un rectangle où s'inscrivent des losanges et des triangles de deux espèces et de cinq fers : un fer carré posé en pointe donnant un dragon passant ; un fer carré posé en pointe donnant un aigle bicéphale, entre les deux têtes une fleur de lys ; un petit fer circulaire donnant un écureuil ; un fer carré posé en pointe portant un cercle donnant un oeillet ; un fer rectangulaire donnant un motif décoratif. Reliure moderne.
Description:
Marques d'appartenance manuscrites du Couvent des Croisiers : "Pretium pergameni istius libri sex patri aurei pretium scripturae sine illuminatione sive rubricatione decem cum quatuor florenis renensis aurei quos salvit magister wolterus Hoeryon pretium illuminationis sive rubricationis permicationis formationis correctionis et legaturae non est taxatum" (f. de garde) ; "liber fratrum sancte crucis huyensis leodiensis dyocesis, quem scripsit dominus johannes investitus capellae sancti jacobi supra portam opidi huyensis pro decem cum quatuor florenis aureis renensis quos eidem domino johanni solvit ad perpetuam memoriam suam venerabilis et devotus vir magister Wolterus hoeryon presbyter capellanus ecclesie nostre domine ac confessor sororum sancti quirini opidi huyensis anno domini 1462" (f. de garde).
Keyword:
Pierre Lombard (1095?-1160?). Sententiae
CREF classification(s):
Théologie
Classification(s):
Arts & humanities => Religion & theology
Original object linked resource:
Manuscrits des Croisiers de Huy.
Organization that sponsored the digitization:
Fédération Wallonie-Bruxelles (plan PEP'S)
Part of:
Public domain
Permalink:
http://hdl.handle.net/2268.1/4490
Items in DONum are protected by copyright, with all rights reserved, unless otherwise indicated.