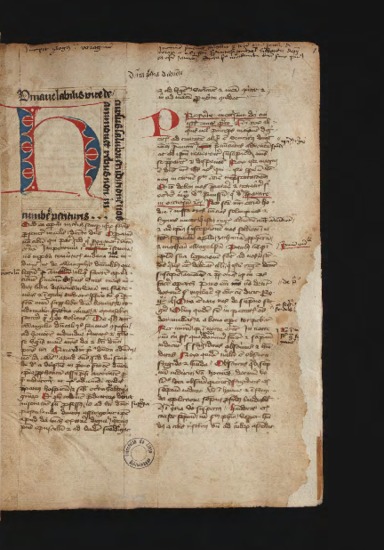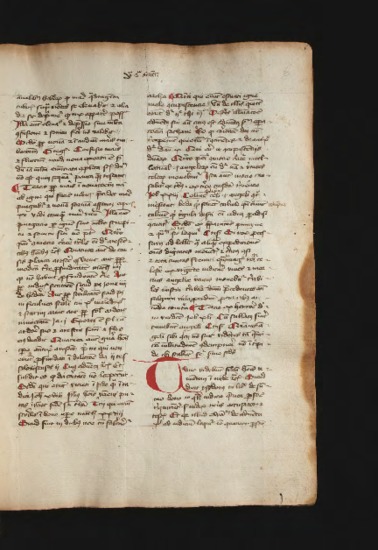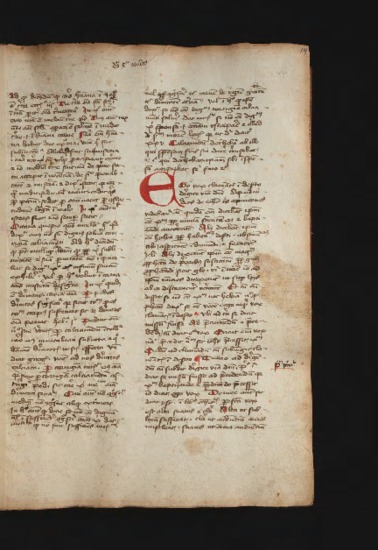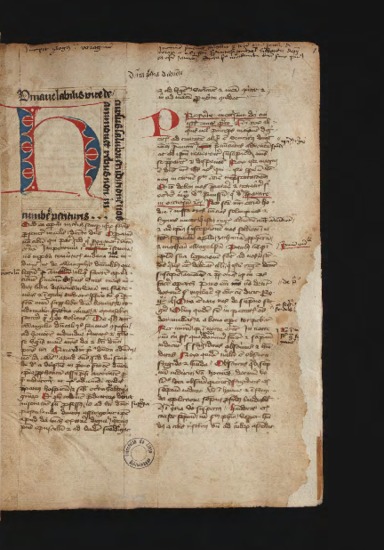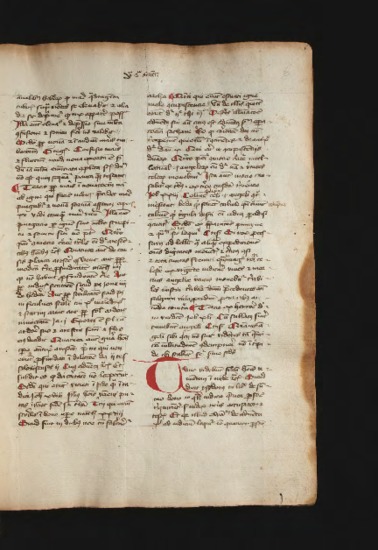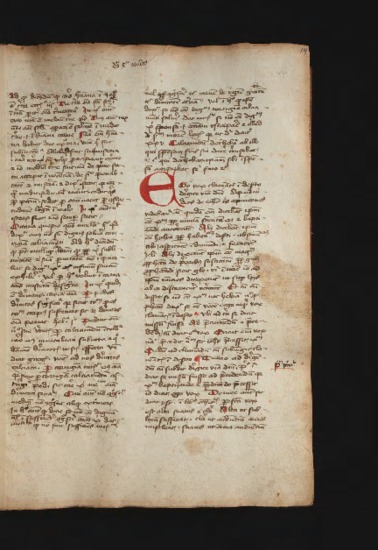 Jacobus a Varagine, Sermones dominicales per totum annum.
Author(s), creator(s), collaborator(s) : Jacques de Voragine; Henri Tulpeti
Type of the represented object : Manuscript
Détails
Author(s), creator(s), collaborator(s):
Jacques de Voragine (1228?-1298) (author)
Henri Tulpeti (scribe)
Place of creation of the original object:
Liège (Belgique)
Creation of the original object:
13 septembre 1435 et août 1443
15th century
Middle age (476-1492)
Original object location:
Réseau des Bibliothèques
Identifiant(s):
Université de Liège. Bibliothèque, Manuscrit 96 (cote ULiège)
ALMA202444 (code-barres ULiège)
Original object language:
Latin
Material, support of the original object:
Papier et parchemin
Dimensions, weight or duration:
298 x 212 millimètres
Physical description of the represented object :
244 feuillets. Une main de Henri Tulpeti. 2 colonnes de 39 lignes. Reliure du XXe siècle, plein cuir blond sur carton, une contre-garde en parchemin de récupération conservée.
Description:
Marques d'appartenance manuscrites du Couvent des Croisiers : "Iste iber sermonum pertinet conventum fratrum sancte crucis leodiensis" (f. 1r°) ; "Et sic est finitus et completuis per me henricum tulpeti feria secunda in profesto sancte crucis anno domini mccccxxxv. Iste liber comparatus seu emptus fuit pro iiiii gr. fol. de bonis magistris Franconis de Oeteren doctoris in medecina et canonici sancti johannis leodiensis anno domini 1443 in augusto. Et pertinet fratribus cruciferos in leodio" (f. 244v°).

Version numérique disponible en haute résolution couleur ainsi que microfilm noir et blanc.

CICweb - http://www.cicweb.be/fr/manuscrit.php?id=747&idi=27
Keyword:
Sermons pour l'année liturgique
CREF classification(s):
Théologie
Classification(s):
Arts & humanities => Religion & theology
Original object linked resource:
Manuscrits des Croisiers de Liège.
Depaire Jean-Paul. La bibliothèque des Croisiers de Huy, de Liège et de Namur. Liège : Université de Liège, 1970, 3 vol.
Fiess-Grandjean. Bibliothèque de l'Université de Liège : catalogue des manuscrits. Liège, 1875, n°413.
Hermans (C.R.). Annales canonicorum regularium S. Augustini ordinis S. Crucis. Bois-le-Duc, 1558, p. 193.
Organization that sponsored the digitization:
Fédération Wallonie-Bruxelles (plan PEP'S)
Part of:
Public domain
Permalink:
https://hdl.handle.net/2268.1/4458

Items in DONum are protected by copyright, with all rights reserved, unless otherwise indicated.