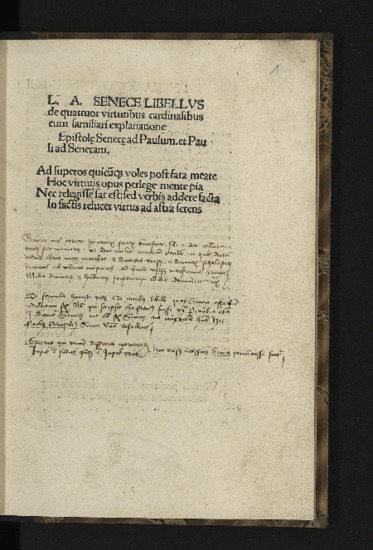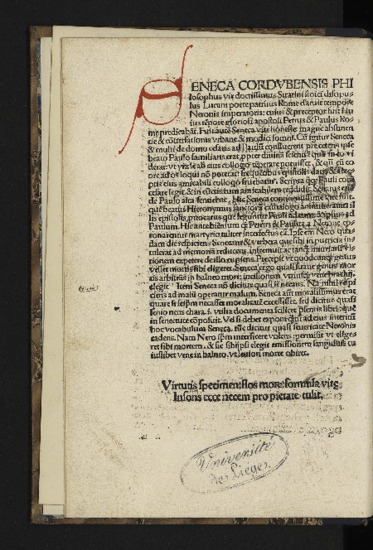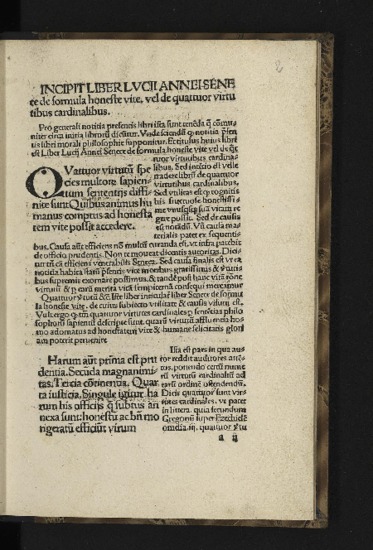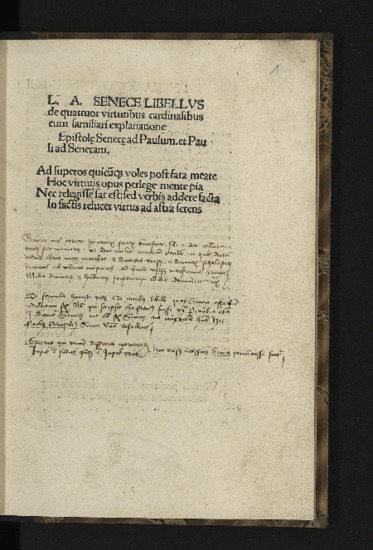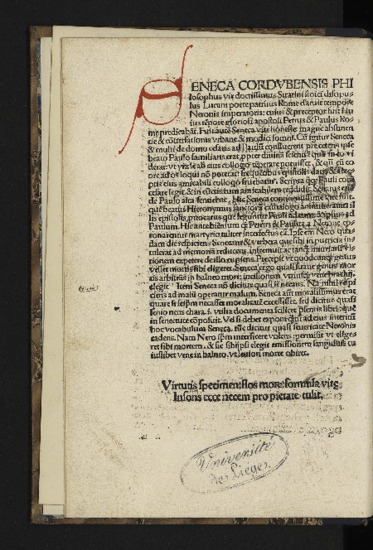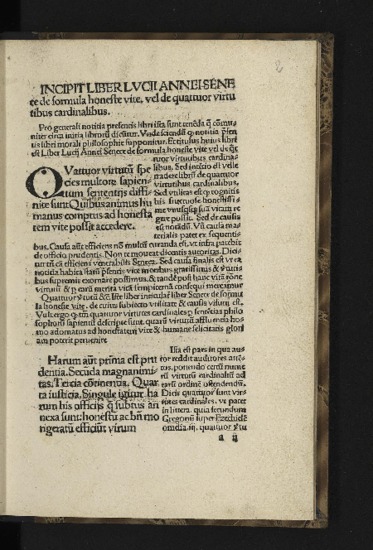 L.A. Senece libellus || de quattuor virtutibus cardinalibus || cum familiari explanatione || Epsitol[a]e Senec[a]e ad Paulum. et Pau||li ad Senecam. || Ad superos quicu[m]q[ue] voles post fata meare || Hoc virtutis opus perlege mente pia || Nec relegisse sat est : sed verbis addere sa[n]cta || In sa[n]ctis relucet virtus ad astra ferens.
Author(s), creator(s), collaborator(s) : Martin [saint]
Type of the represented object : Incunabula
Détails
Uniform title :
Formula vitae honestae
Author(s), creator(s), collaborator(s):
Martin [saint] (05..--0580?) (author)
Editor:
Impressum Coloni[a]e : per providum virum Henricum Quentell
Place of creation of the original object:
Cologne (Allemagne)
First publication of the original object:
Anno saludis.M.cccc.xcix.die iouis post theophanie celebritatem [10 janvier 1499]
15th century
Modern times (1492-1789)
Original object location:
Réseau des Bibliothèques
Collection:
Incunabula
Identifiant(s):
XV.C19 (Cote ULiège)
1732493-10 (Code-barres ULiège)
Original object language:
Latin
Material, support of the original object:
Papier
Dimensions, weight or duration:
in-6
Physical description of the represented object :
[22] feuillets
Description:
Mention de publication prise au colophon.
40 lignes ; caractères romains.
Signatures : a-b⁶ c⁴ d⁶
Texte en rouge et noir.

Notes sur l'exemplaire: Notes manuscrites

Reliure: Reliure de papier marbré

Empreinte: tule m&um stud amvi (C) 1499 (R) (exemplaire ULg)
Keyword:
Morale chrétienne -- Ouvrages avant 1800
CREF classification(s):
Théologie
Classification(s):
Arts & humanities => Religion & theology
Original object linked resource:
Polain(B) 3498
Organization that sponsored the digitization:
Université de Liège
Part of:
Public domain
Permalink:
https://hdl.handle.net/2268.1/4372
Items in DONum are protected by copyright, with all rights reserved, unless otherwise indicated.