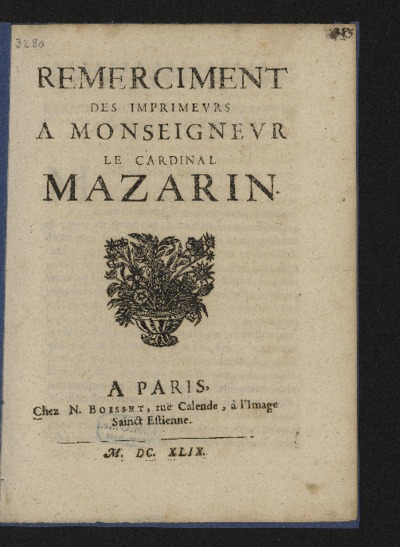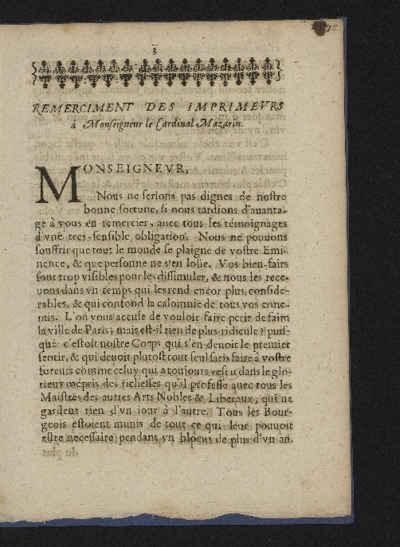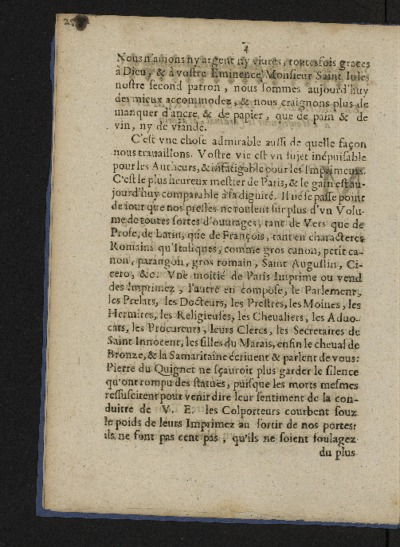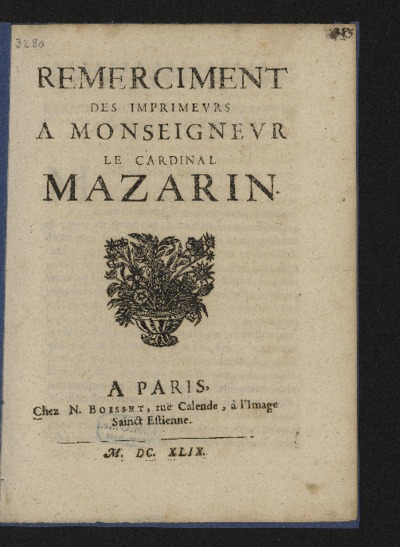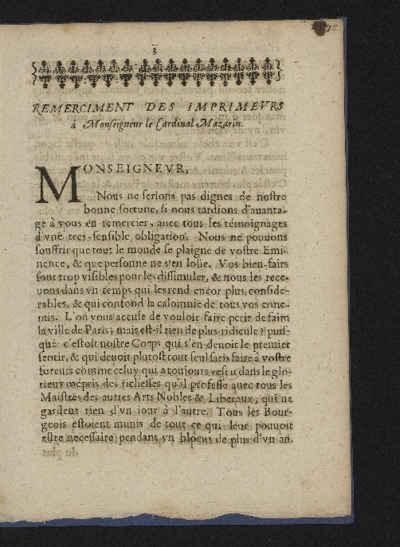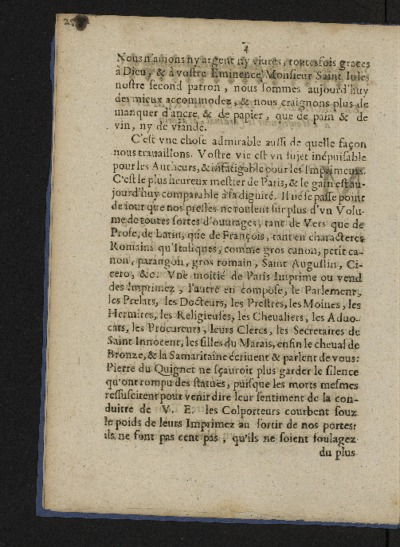 Remerciment des imprimeurs à Monseigneur le Cardinal Mazarin.
Author(s), creator(s), collaborator(s) :
Type of the represented object : Book
Détails
Editor:
A Paris, Chez N. Boisset
Place of creation of the original object:
Paris (France)
First publication of the original object:
M.DC.XLIX [1649]
17th century
Modern times (1492-1789)
Original object location:
Réseau des Bibliothèques
Identifiant(s):
R11640B (Cote ULiège)
1821856-10 (Code-barres ULiège)
Original object language:
French
Material, support of the original object:
Papier
Dimensions, weight or duration:
in-4
Physical description of the represented object :
7, [1] pages
Description:
Signatures : A-B²

Empreinte: n.it r-ne eso- reer (C) 1649 (R) (exemplaire ULg)

Forme du document: Mazarinade ; Pamphlet, libelle
Geographical Location represent or evoke:
France
Period or event mentioned:
17e siècle
Keyword:
France -- 1648-1653 (Fronde); France -- 1643-1715 (Louis XIV)
CREF classification(s):
Histoire
Classification(s):
Arts & humanities => History
Original object linked resource:
Moreau (Célestin). Bibliographie des mazarinades. 3 vols. Paris : J. Renouard, 1850-1851 3280
Organization that sponsored the digitization:
Université de Liège
Part of:
Public domain
Permalink:
https://hdl.handle.net/2268.1/4344
Items in DONum are protected by copyright, with all rights reserved, unless otherwise indicated.