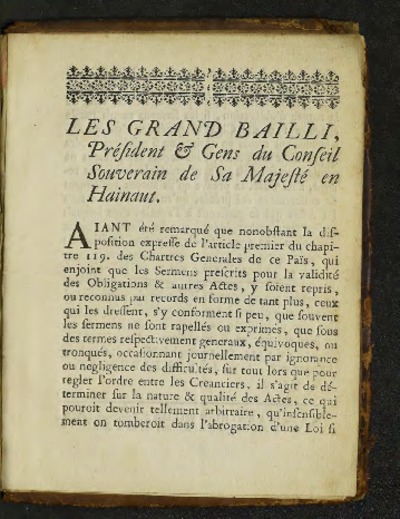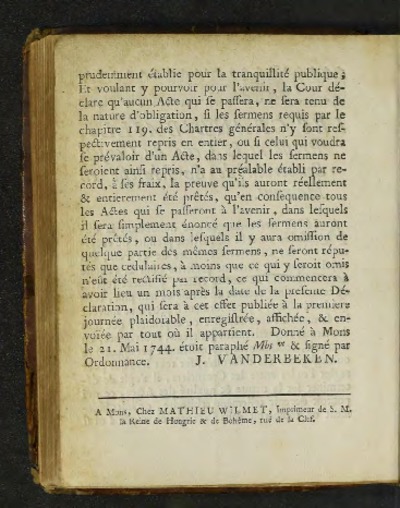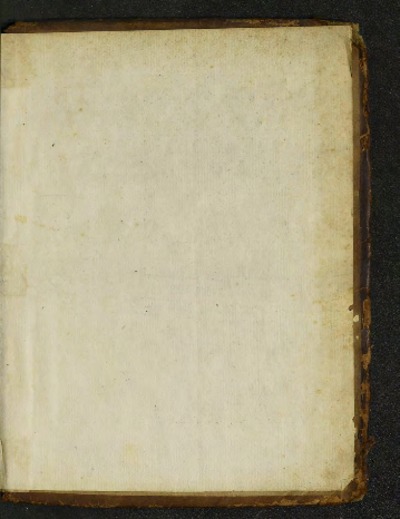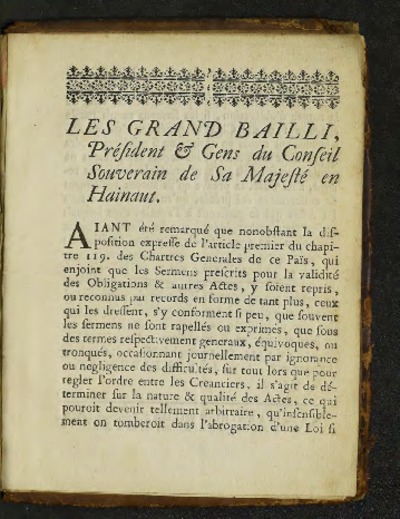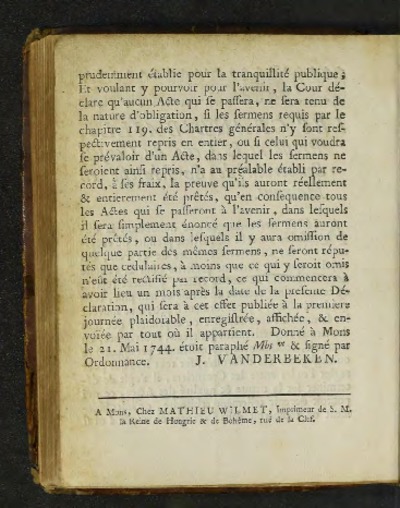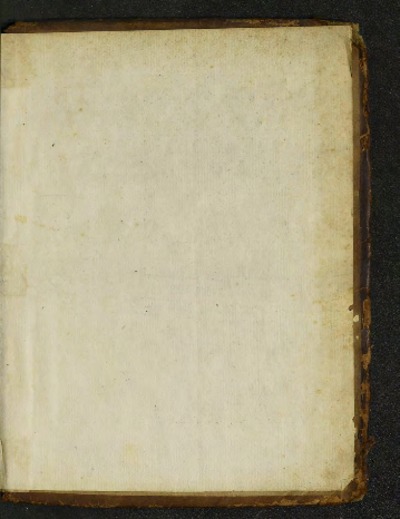 Les grands bailli, président & gens du conseil souverain de Sa Majesté en Hainaut.
Author(s), creator(s), collaborator(s) :
Type of the represented object : Book
Détails
Editor:
[Mons] A Mons, chez Mathieu Wilmet, imprimeur de S.M. la Reine de Hongrie & de Bohême, ruë de la Clef.
Place of creation of the original object:
Belgique - Mons
First publication of the original object:
1744
18th century
Modern times (1492-1789)
Original object location:
Réseau des Bibliothèques
Identifiant(s):
809000598 (code-barres ULiège)
Fonds précieux (Bibliothèque Graulich)
Original object language:
French
Abstract:
Date de publication: [1744]
Material, support of the original object:
Papier
Dimensions, weight or duration:
20 cm
4°
Physical description of the represented object :
2 pages non numérotées, 2 pages blanches
Contents, Summary of the original document:
L'exemplaire de la Bibliothèque Graulich est relié avec
Recueil de plusieurs placarts fort utiles au pays de Haynau, et qui conduisent à l'éclaircissement de plusieurs chartes dudis païs. Avec le decret de l'an 1601. l'edit perpetuel, le reglement de la navigation, les mesures des heritages du susdits païs & d'autres circonvoisins, aussi la largeur des chemins & voïes du même païs. Reglement de l'office de la depositairerie, &c. le tout fait pour l'utilité des praticiens
Geographical Location represent or evoke:
Hainaut (province; Belgique)
CREF classification(s):
Droit
Classification(s):
Law, criminology & political science => Political science, public administration & international relations
Original object linked resource:
Ordonnance ulterieure de Sa Majesté pour la levée du droit sur le petit seel ou papier timbré, pour la province de Haynau
Organization that sponsored the digitization:
Université de Liège
Part of:
Public domain
Permalink:
https://hdl.handle.net/2268.1/4332

809000598-part2.pdf
Description
: vol. 2
Size
: 382.03 kB
Format
: Adobe PDF
Access type
: Open Access
Items in DONum are protected by copyright, with all rights reserved, unless otherwise indicated.