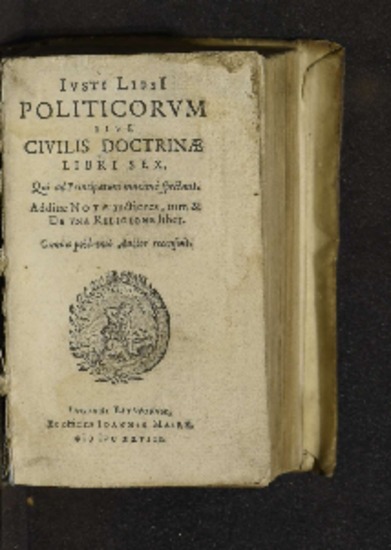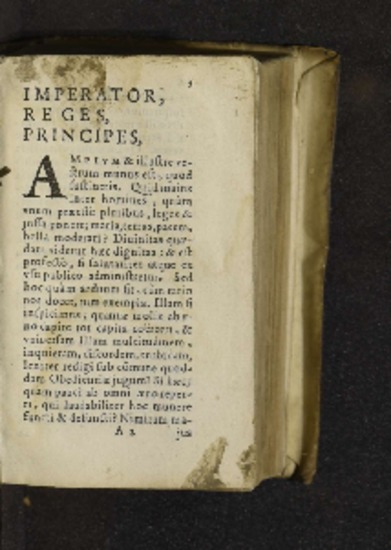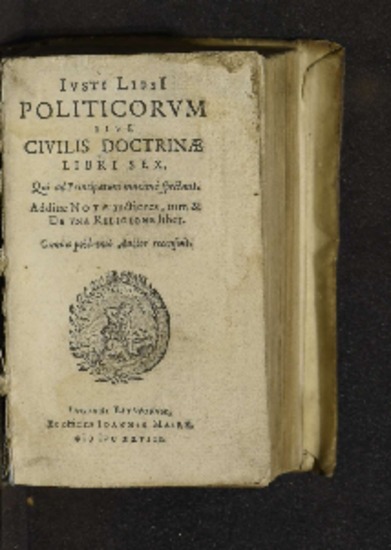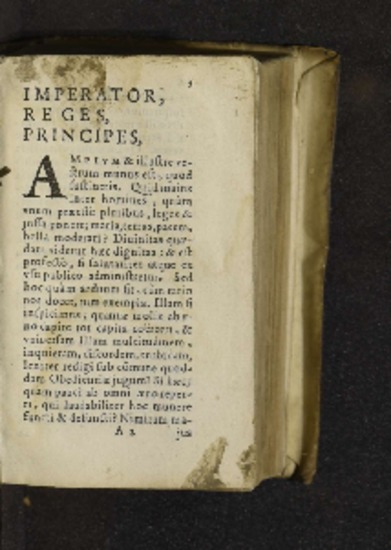 Iusti Lipsi Politicorum sive civilis doctrina libri sex. Qui ad principatum maximem spectant. Additae notae auctiores, tum & de una religione liber. Omnia postremo auctor recensuit.
Author(s), creator(s), collaborator(s) : Lipse, Juste
Type of the represented object : Book
Détails
Author(s), creator(s), collaborator(s):
Lipse, Juste (1547-1606) (author)
Editor:
[Leyde] Lugduni Batavorum, ex officina Ioannis Maire
Place of creation of the original object:
Leyde (Pays-Bas)
First publication of the original object:
MDCXXVIII
17th century
Modern times (1492-1789)
Original object location:
Réseau des Bibliothèques
Identifiant(s):
ALMA189377 (code-barres ULiège)
Fonds précieux (Bibliothèque Graulich)
Original object language:
Latin
Material, support of the original object:
Papier
Dimensions, weight or duration:
12 cm (Papier, 12°)
Physical description of the represented object :
605 pages, 3 pages blanches
Description:
Signatures : A-2Z⁶ 3A-3D⁶ 3E⁴

Empreinte: a-re usa- lei-SeCr (3) 1628 (R) (exemplaire ULg)
Keyword:
Stoïcisme politique -- 17e siècle -- Ouvrages avant 1800
CREF classification(s):
Science politique et administrative
Histoire
Classification(s):
Law, criminology & political science => Political science, public administration & international relations
Arts & humanities => History
Original object linked resource:
USTC 1024556
Organization that sponsored the digitization:
Université de Liège
Part of:
Public domain
Permalink:
https://hdl.handle.net/2268.1/4301
Items in DONum are protected by copyright, with all rights reserved, unless otherwise indicated.