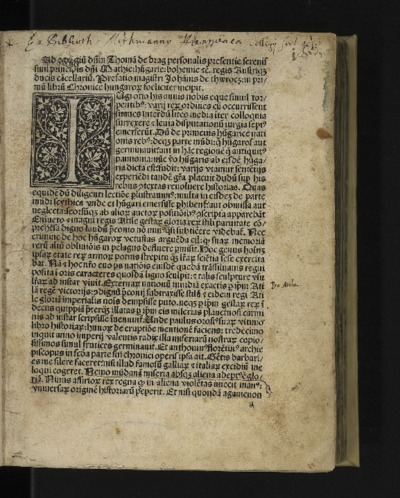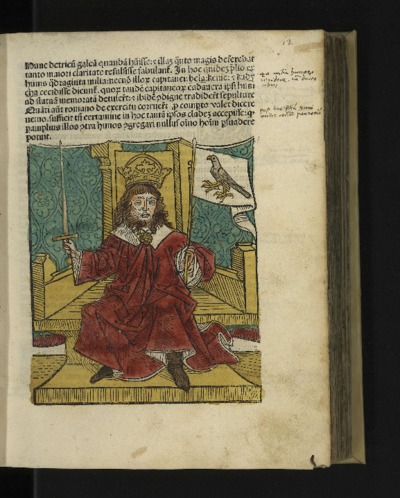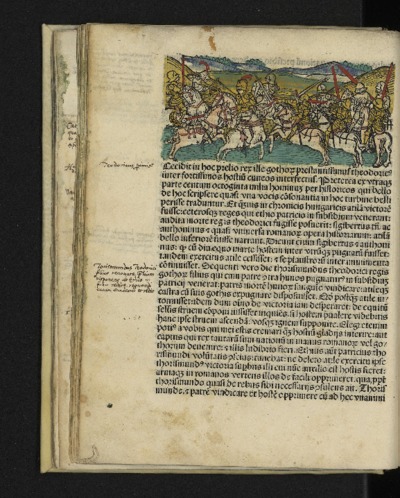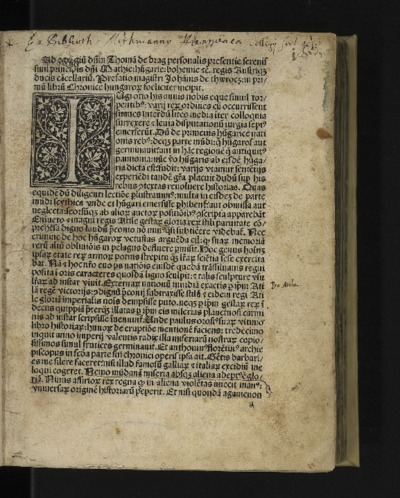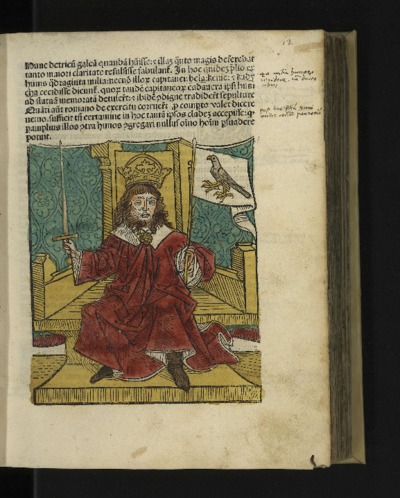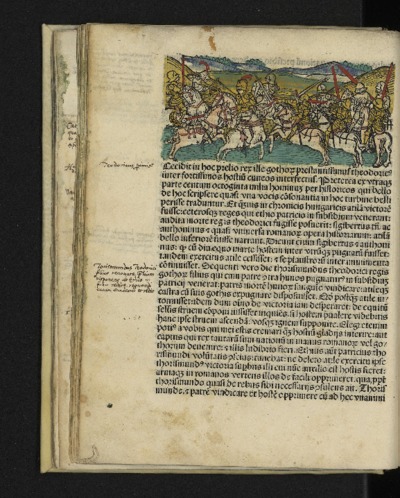 Ad egregiu[m] d[omi]n[u]m Thoma[m] de drag personalis presentie serenis||simi principis d[omi]ni Mathie : hu[n]garie : bohemie [et]c. regis Austriq[ue] || ducis ca[n]cellariu[m]. Prefatio magistri Joha[n]nis de thwroc[ue] : in pri||mu[m] libru[m] Chronice Hungaro[rum] foeliciter incipit. [Suivi de] Epistola magistri rogerii in miserabile carmen sup[er] destructio[n]e || regni Hu[n]garie per Trataros facta editum ad Reverendu[m] d[omi]n[u]m || Johanne[m] pestheniensis ecclesie episcopu[m] feliciter incipit.
Author(s), creator(s), collaborator(s) : Thuróczy, János
Type of the represented object : Incunabula
Détails
Uniform title :
Chronica Hungarorum
Author(s), creator(s), collaborator(s):
Thuróczy, János (1435?-1490?) (author)
Editor:
Impressa erhardi ratdolt ... Auguste ... impensis siquidem Theobaldi feger concivis Budensis
Place of creation of the original object:
Augsbourg (Allemagne)
First publication of the original object:
Anno salutifere incernatio[n]is millesimo q[ua]dringentesimo octogesimooctavo tertio nonas Junii [3 juin 1488]
15th century
Middle age (476-1492)
Original object location:
Réseau des Bibliothèques
Collection:
Incunabula
Identifiant(s):
XV.C17 (Cote ULiège)
1724910-10 (Code-barres ULiège)
Original object language:
Latin
Material, support of the original object:
Papier
Dimensions, weight or duration:
in-8
Physical description of the represented object :
[174] feuillets : ill.
Description:
Description: Rogerius magister, 1201?-1266 Carmen miserabile

Notes: Titres pris à l'incipit
Mention de publication prise au colophon.
La deuxième partie commence au feuillet 156.
38 lignes ; caractères gothiques.
Signatures : a-x⁸ y¹⁰
Marque de Theobald Feger au dernier feuillet.
Lettrines et gravures sur bois en couleurs

Notes sur l'exemplaire: Incomplet : les feuillets 1-2 manquent

Provenance(s): Jean-Jacques Mectovick annonce au f. 172 qu'il a acheté ce livre ainsi qu'un autre à un Hollandais le 10 août 1619. Au f. 3, on trouve successivement mention de l'appartenance à la Bibliothèque Mohmann, de Hanau et au Collège des Jésuites de Liège

Reliure: Reliure de parchemin avec traces de lacets. Tranches vertes

Empreinte: on*: e.t. uaie plim (C) 1488 (T) (exemplaire ULg)
Geographical Location represent or evoke:
Hongrie
Keyword:
Hongrie -- Histoire -- Ouvrages avant 1800; Chroniques hongroises -- Ouvrages avant 1800
CREF classification(s):
Histoire
Classification(s):
Arts & humanities => History
Original object linked resource:
Polain(B) 2319
Organization that sponsored the digitization:
Université de Liège
Part of:
Public domain
Permalink:
https://hdl.handle.net/2268.1/4252
Items in DONum are protected by copyright, with all rights reserved, unless otherwise indicated.