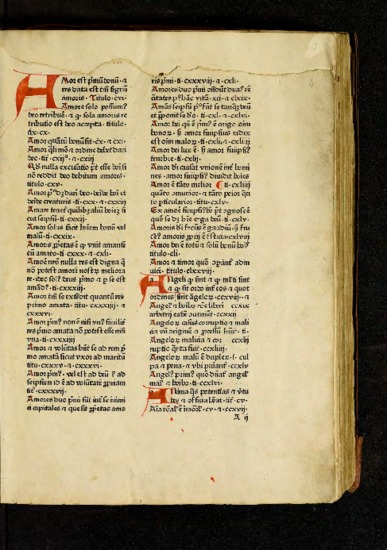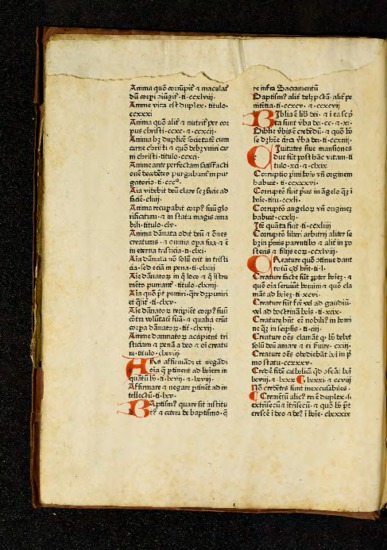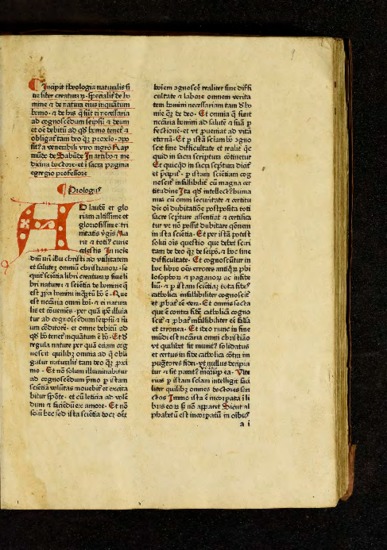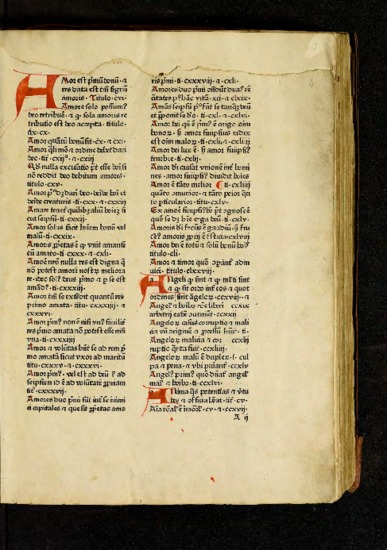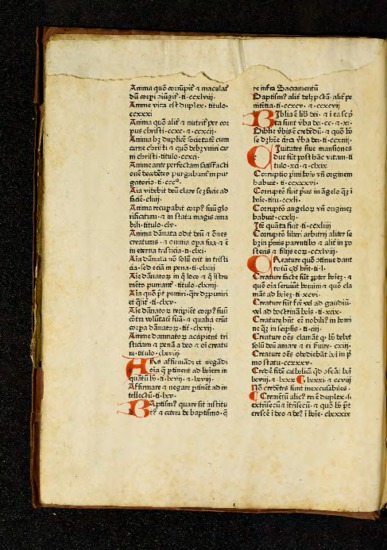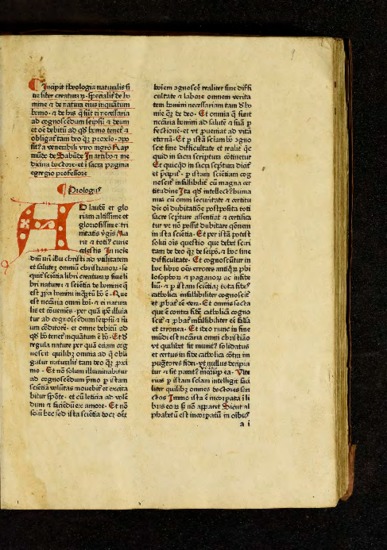 Incipit theologia naturalis si||ve liber creaturarum specialit[er] de ho||mine [et] de natura eius in qua[n]tum || homo, [et] de his q[ue] su[n]t ei necessaria || ad cognosce[n]dum seipsu[m] [et] Deum || et o[mn]e debitu[m] ad q[uo]d homo tenet[ur] [et] || obligat[ur] tam deo q[uam] proxi[m]o. [com]po||sit[us] a venerabili viro m[a]g[ist]ro Ray||mu[n]do de Sabu[n]de In artibo [et] me||dicina doctore. et i[n] sacra pagina || egregio professore.
Author(s), creator(s), collaborator(s) : Sebonde, Raymond de
Type of the represented object : Incunabula
Détails
Uniform title :
Theologia naturalis
Author(s), creator(s), collaborator(s):
Sebonde, Raymond de (13..-1436) (author)
Editor:
[Deventer] : [Richard Paffraet]
Place of creation of the original object:
Deventer (Pays-Bas)
First publication of the original object:
[avant 1485]
15th century
Middle age (476-1492)
Original object location:
Réseau des Bibliothèques
Collection:
Incunabula
Identifiant(s):
XV.B102 (Cote ULiège)
1732215-10 (Code-barres ULiège)
Original object language:
Latin
Material, support of the original object:
Papier
Physical description of the represented object :
[256] feuillets ; in-8.
Description:
Titre pris à l'incipit
Mention de publication prise à l'ISTC
2 col. de 39 lignes ; caractères gothiques
Signatures : A⁸ a-z⁸ 2a-2h⁸
Texte en rouge et noir.

Notes sur l'exemplaire: Incomplet : le colophon a été découpé

Empreinte: eznz u*us i.e. diin (C) 1485 (Q) (exemplaire ULg)
Keyword:
Théologie naturelle -- Ouvrages avant 1800
CREF classification(s):
Théologie
Classification(s):
Arts & humanities => Religion & theology
Original object linked resource:
Polain(B) 3312
Organization that sponsored the digitization:
Université de Liège
Part of:
Public domain
Permalink:
https://hdl.handle.net/2268.1/4149
Items in DONum are protected by copyright, with all rights reserved, unless otherwise indicated.