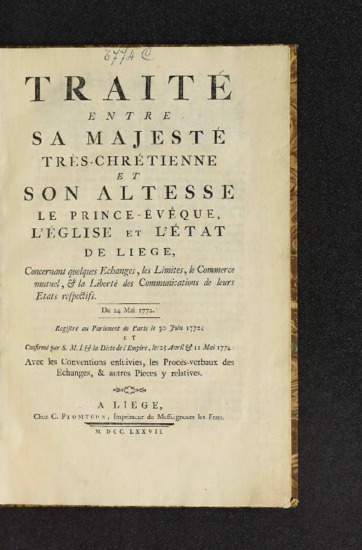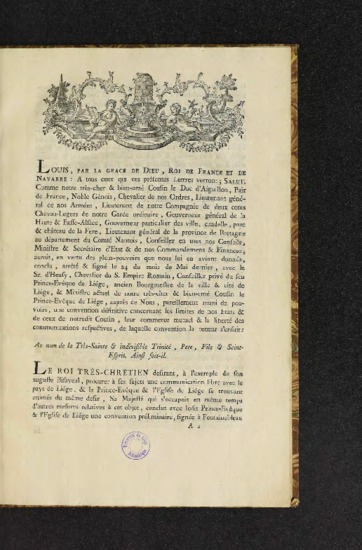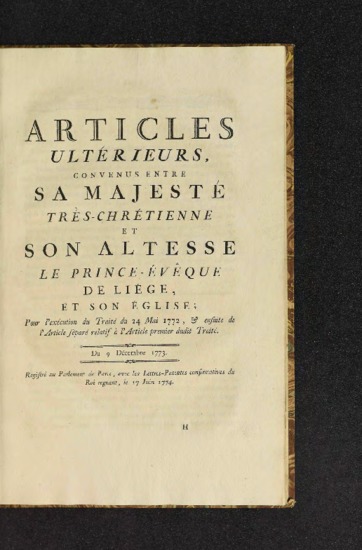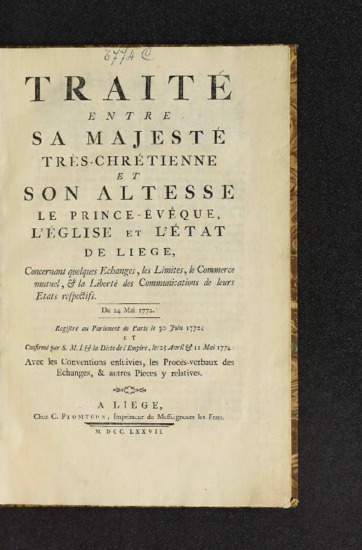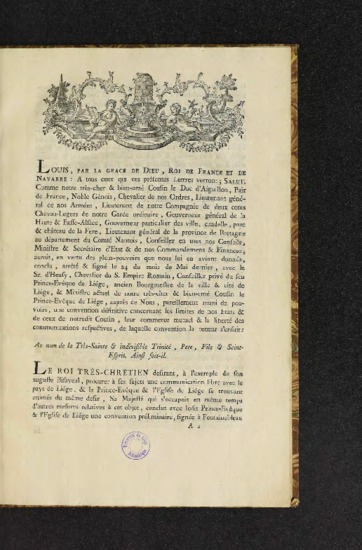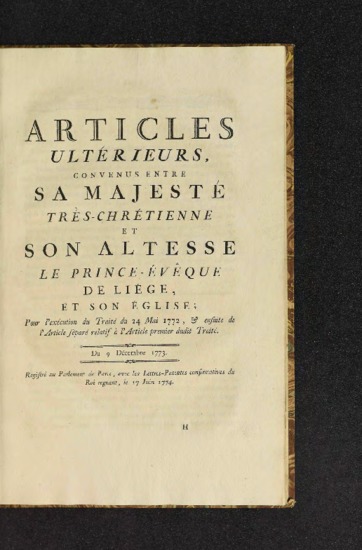 Traité entre sa Majesté très-chrétienne et son Altesse le Prince-évêque, l'Église et l'État de Liege, concernant quelques échanges, les limites, le commerce mutuel, & la liberté des communications de leurs états respectifs. Du 24 mai 1772. Registré au Parlement de Paris le 30 juin 1772; et confirmé par S.M.I. & la Diete de l'Empire, les 25 avril & 11 mai 1774 : avec les conventions ensuivies, les procès-verbaux des échanges, & autres pieces y relatives.
Author(s), creator(s), collaborator(s) :
Type of the represented object : Book
Détails
Editor:
[Liège] : A Liege, chez C. Plomteux, imprimeur de Messeigneurs les Etats.
Place of creation of the original object:
Liège (Belgique)
First publication of the original object:
1777
18th century
Modern times (1492-1789)
Original object location:
Réseau des Bibliothèques
Identifiant(s):
006774C (cote ULiège)
709210753 (code-barres ULiège)
Original object language:
French
Material, support of the original object:
Papier
Dimensions, weight or duration:
32 cm
2°
Physical description of the represented object :
160 pages
Description:
Citation : De Theux 652

Signatures : Signatures: A²-2R²

Empreinte : auue rees s-e. buvi (3) 1777 (R)
CREF classification(s):
Science politique et administrative
Classification(s):
Law, criminology & political science => Political science, public administration & international relations
Organization that sponsored the digitization:
Université de Liège
Part of:
Public domain
Permalink:
https://hdl.handle.net/2268.1/4054
Items in DONum are protected by copyright, with all rights reserved, unless otherwise indicated.