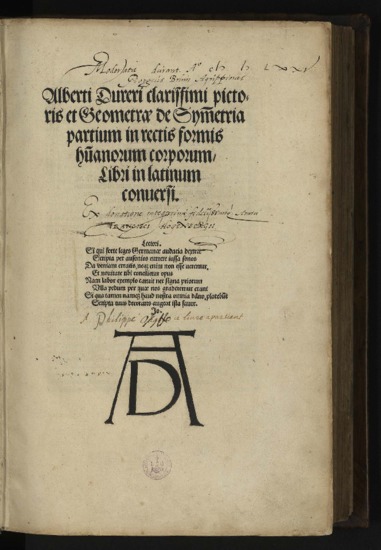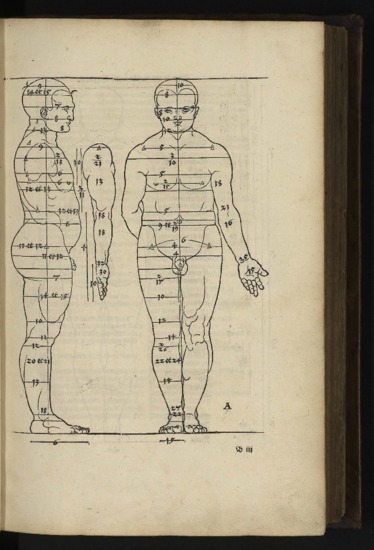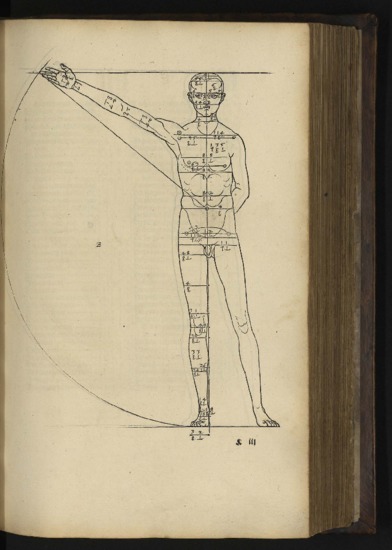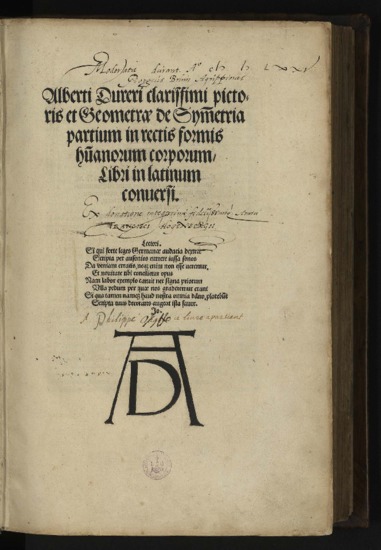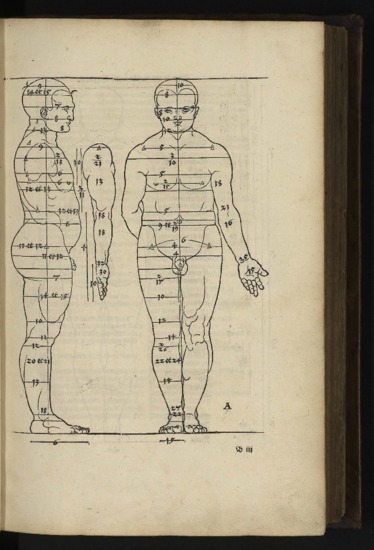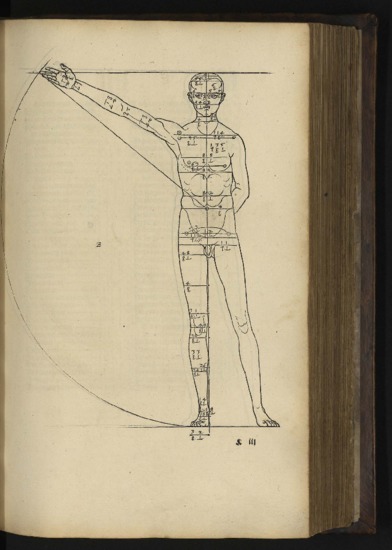 Alberti Dureri clarissimi pictoris et geometrae de sym[m]etria partium in rectis formis hu[m]anorum corporum libri in latinum converti.
Author(s), creator(s), collaborator(s) : Dürer, Albrecht
Type of the represented object : Book
Détails
Original object location:
Réseau des Bibliothèques
Author(s), creator(s), collaborator(s):
Dürer, Albrecht (1471-1528) (author)
Editor:
[Nuremberg] : Norimbergae excudebatur opus aestate Anni a Christo seruatore genito M.D.XXXII. In aedib. viduae Durerianae
First publication of the original object:
1532
16th century
Modern times (1492-1789)
Place of creation of the original object:
Nuremberg (Allemagne)
Identifiant(s):
XIX.24.24B in-fol (cote ULiège)
709803163 (code-barres ULiège)
Original object language:
Latin
Contents, Summary of the original document:
Relié avec :
Clariss. Pictoris et geometrae Alberti Dureri de varietate figurarum et flexuris partium ac gestib. imaginum libri duo qui priorib. de symmetria quondam editis nunc primum in latinum conversi accesserunt. - [Nuremberg] : Finitum opus Anno a salutifero partu. 1534, 9 Cal. Decemb. Impensis viduae Durerianae, per Hieronymum Formschneyder Norinbergae, [9 décembre 1534].;
Albertus Durerus Nurembergensis pictor huius aetatis celeberrimus, versus è Germanica lingua in Latinam, Pictoribus, Fabris, aerariis ac lignariis, Lapicidis, Statuariis, [et] universis demum qui circino, gnomone, libella, aut alioqui certa mensura opera sua examinant, propè necessarius : adeò exactè Quatuor his suaru[m] Institutionum Geometricarum libris, lineas, superficies [et] solida corpora tractauit, adhibitis designationibus ad eam rem accommodatissimis. Denuo ad scripti exemplaris fidem omnia diligenter recognita, emendatius iam in lucem exeunt. - [Paris] : Parisiis Ex officina Christiani Wecheli, sub scuto Basiliensi, M.D.XXXIIII. [1534].;
Alberti Dureri pictoris et architecti praestantissimi de urbibus, arcibus, castellísque condendis, ac muniendis rationes aliquot, praesenti bellorum necessitati accommodatissimae : nunc recens è lingua germanica in latinam traductae. - [Paris] : Parisiis, ex officina Christiani Wecheli, sub Scuto Basiliensi, M.D.XXXV.[1535].
Description:
Signatures : A-E⁶ F⁴ G-I⁶ K-N⁶ O⁴

Gravures sur bois

Empreinte: uiia t.s. r.ad adti (3) 1532 (R) (exemplaire ULg)
Material, support of the original object :
Papier
Physical description of the represented object :
[160] p. (deux dernières pages blanches) : ill. ; in-fol.
Keyword:
Corps humain -- Dans l'art -- Ouvrages avant 1800; Proportions (art) -- Ouvrages avant 1800
CREF classification(s):
Arts
Classification(s):
Arts & humanities => Art & art history
Original object linked resource:
USTC 610604
Part of:
Public domain
Permalink:
http://hdl.handle.net/2268.1/4020
Items in DONum are protected by copyright, with all rights reserved, unless otherwise indicated.