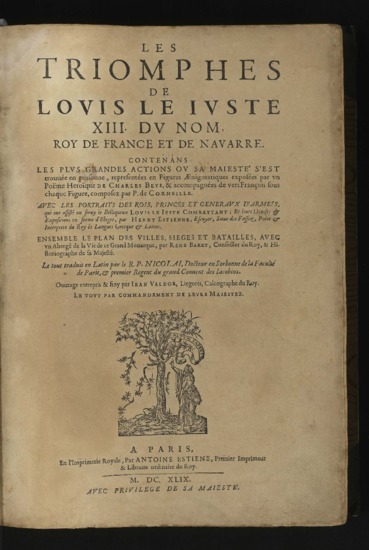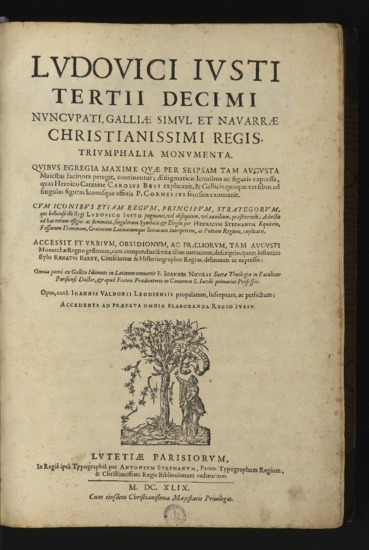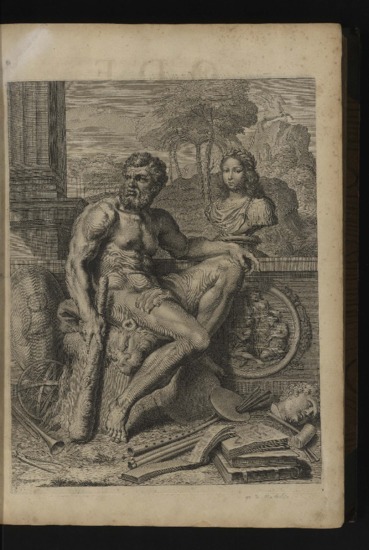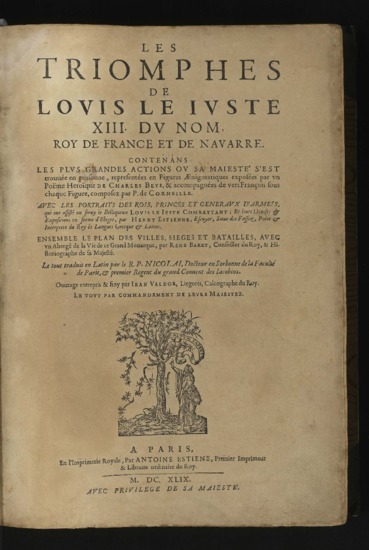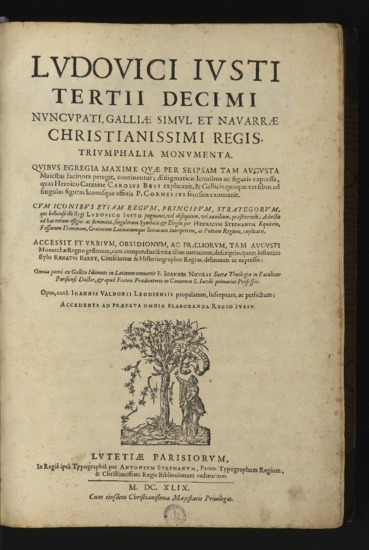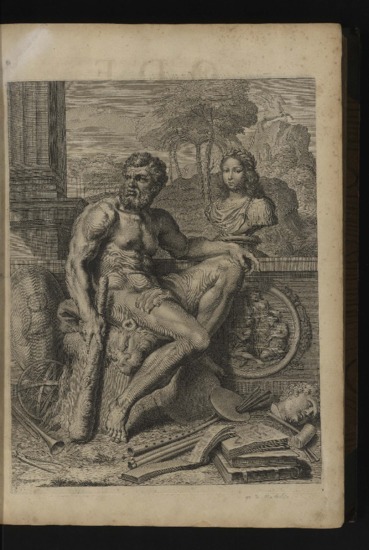 Les triomphes de Louis le Juste XIII du nom, Roy de France et de Navarre. Contenans les plus grandes actions ou Sa Majesté s'est trouvée en personne, representées en figures Ænigmatiques exposées par un poëme heroïque de Charles Beys, & accompagnées de vers françois sous chaque figure, composez par P. de Corneille. Avec les portraits des rois, princes et generaux d'armees, qui ont assisté ou servy ce belliqueux Louis le Juste combattant ; et leurs devises & expositions en forme d'eloges, par Henry Estienne, escuyer, sieur des Fossez, poëte & interprete du roy és langues grecque & latine. Ensemble le plan des villes, sieges et batailles, avec un abregé de la vie de ce grand monarque, par René Barry, conseiller du roy, & historiographe de sa Majesté. Le tout traduit en latin par le R.P. Nicolai, Docteur en Sorbonne de la Faculté de Paris, & premier regent du grand couvent des Jacobins. Ouvrage entrepris & fini par Jean Valdor, liegeois, calcographe du roy. Le tout par commandement de Leurs Majestez.
Author(s), creator(s), collaborator(s) : Valdor, Jean; Corneille, Pierre; Estienne, Henry [sieur des Fossez]; ...
Type of the represented object : Book
Détails
Original object location:
Réseau des Bibliothèques
Author(s), creator(s), collaborator(s):
Valdor, Jean (1616-1670) (author)
Corneille, Pierre (1606-1684) (author)
Estienne, Henry [sieur des Fossez] (author)
Beys, Charles de (1610-1659) (author)
Bary, René (author)
Ladame, Gabriel (1613?-1682?) (engraver)
Nicolai, r.p. (Jean) (1594-1673) (translator)
Editor:
[Paris] : A Paris, en l'Imprimerie royale, par Antoine Estiene, premier imprimeur & libraire ordinaire du Roy
First publication of the original object:
1649
17th century
Modern times (1492-1789)
Place of creation of the original object:
Paris (France)
Identifiant(s):
XXII.89.I(Bis) (cote ULiège)
709315114 (code-barres ULiège)
Original object language:
French
Description:
Porte la mention : "Avec privilege de Sa Majesté"
Gravures sur bois.

Provenance(s): Marque d'appartenance manuscrite : "Oratorii Parisiensis catalogo inscriptus" (XXII.89.1 )
Acquisition par l'Université de Liège : Don Baron A. Wittert 1903 (XXII)89)I(Bis))
Material, support of the original object :
Papier
Dimensions, weight or duration:
41 cm
Physical description of the represented object :
3 parties en 1 volume : illustrations ; 2°
Keyword:
Louis XIII (roi de France; 1601-1643) -- Ouvrages avant 1800
CREF classification(s):
Histoire
Classification(s):
Arts & humanities => History
Other contributor(s):
Estienne, Antoine (1592-1674) (printer-bookseller)
Wittert, Adrien (1823-1903) (donator)
Part of:
Public domain
Permalink:
http://hdl.handle.net/2268.1/3960
Items in DONum are protected by copyright, with all rights reserved, unless otherwise indicated.