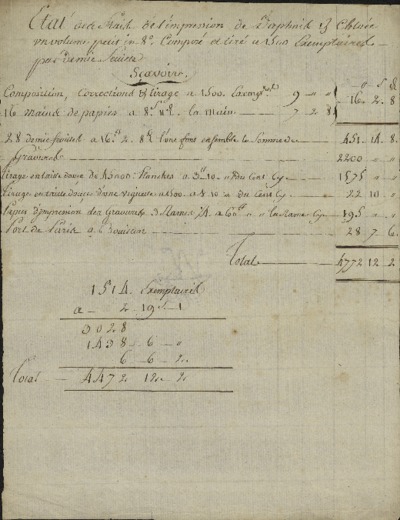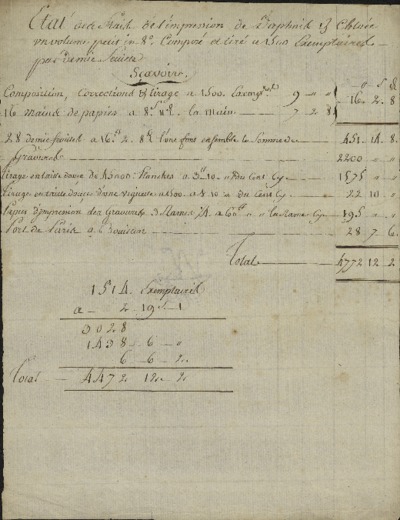 Compte d'impression de l'ouvrage d'Helvétius et de Daphnis et Chloé.
Author(s), creator(s), collaborator(s) :
Type of the represented object : Archival materials
Détails
Other title:
Fonds Weissenbruch (Farde 61)
Creation of the original object:
18th century
Modern times (1492-1789)
Original object location:
Réseau des Bibliothèques
Collection:
Fonds Weissenbruch
Identifiant(s):
Farde 61 (Fonds Weissenbruch)
Original object language:
French
Material, support of the original object:
Papier
Dimensions, weight or duration:
2 pièces
Contents, Summary of the original document:
Pièce 1 -- Compte d'impression de Helvétius.
1 feuillet.
Pièce 2 -- Compte d'impression de Daphnis et Chloé.
1 feuillet.
Keyword:
Archives Pierre Rousseau et Société Typographique; Famille de Weissenbruch; Imprimerie -- Histoire; Édition -- Histoire
CREF classification(s):
Histoire
Lettres
Classification(s):
Arts & humanities => History
Arts & humanities => Literature
Original object linked resource:
Fonds Weissenbruch
Part of:
Public domain
Permalink:
https://hdl.handle.net/2268.1/3866
Items in DONum are protected by copyright, with all rights reserved, unless otherwise indicated.