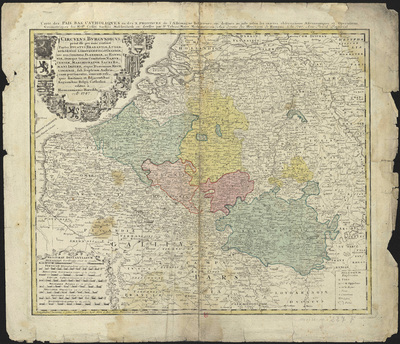 Circulus Burgundicus prout ille pro nunc continet partis ducatus Brabantiæ, Luxemburgensis, Limburgensis, et Geldriæ, nec non comitatus Flandriæ, ac Hannocensem, Marchionatum sacri romani imperii, atque dominium Mechliniense, sub sceptrum Austriacum pertinentes, unacum reliquis finitimis et adjacentibus regionibus Belgii catholici editus à Homannianis heredibus.
Author(s), creator(s), collaborator(s) : Mayer, Tobias
Type of the represented object : Map
Détails
Author(s), creator(s), collaborator(s):
Mayer, Tobias (1723-1762) (author)
Editor:
[S.l.] : [s.n.]
First publication of the original object:
1747
18th century
Modern times (1492-1789)
Original object location:
Réseau des Bibliothèques
Collection:
Maps
Identifiant(s):
227F (cote ULiège)
1804533-10 (code-barres ULiège)
Original object language:
Latin
French
Abstract:
Carte des Pais Bas catholiques ou des X provinces de l'Allemagne intérieure etc. dessinée selon les exactes observations astronomiques et opérations géométriques des Messur. Cassini, Suellius, Muschenbrok, etc. dressée par Tobias Maier, mathématicien. Aux dépens des héritiers de Homann

Echelle [1:740 000]
Material, support of the original object:
Papier
Dimensions, weight or duration:
48 x 57 cm
Physical description of the represented object :
1 carte : couleurs.
Description:
Légende reprenant les symboles utilisés pour représenter les villes, villages, monastères, forêts et les marais
CREF classification(s):
Sciences de la terre et du cosmos
Classification(s):
Physical, chemical, mathematical & earth Sciences => Earth sciences & physical geography
Part of:
Public domain
Permalink:
https://hdl.handle.net/2268.1/3793
Items in DONum are protected by copyright, with all rights reserved, unless otherwise indicated.