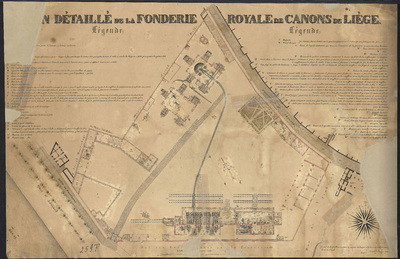 [Pla]n détaillé de la fonderie royale de canons de Liège.
Author(s), creator(s), collaborator(s) :
Type of the represented object : Plan (map)
Détails
Editor:
[S.l.] : [s.n.]
First publication of the original object:
19th century
Contemporary time (1789-20..)
Original object location:
Réseau des Bibliothèques
Collection:
Maps
Identifiant(s):
259F (cote ULiège)
700301510 (code-barres ULIège)
Original object language:
French
Abstract:
Echelle non mentionnée
Material, support of the original object:
Papier
Dimensions, weight or duration:
54 x 84 cm
Physical description of the represented object :
1 carte : couleurs ; carte en mauvais état
Description:
Légende reprenant les lettres utilisées pour désigner les différents bâtiments de la fonderie.
Geographical Location represent or evoke:
Liège (Belgique)
Keyword:
Fonderies -- Belgique -- Liège (Belgique) -- 19e siècle
CREF classification(s):
Sciences de l'ingénieur
Histoire
Classification(s):
Engineering, computing & technology => Materials science & engineering
Arts & humanities => History
Part of:
Public domain
Permalink:
https://hdl.handle.net/2268.1/3777
Items in DONum are protected by copyright, with all rights reserved, unless otherwise indicated.