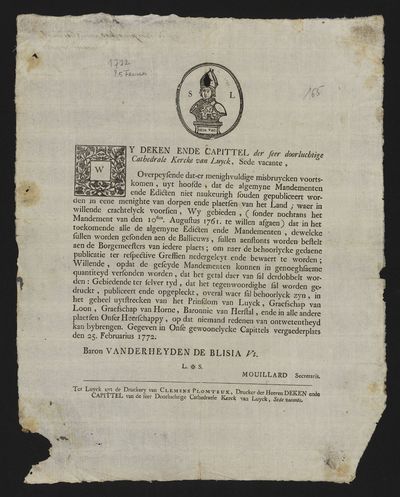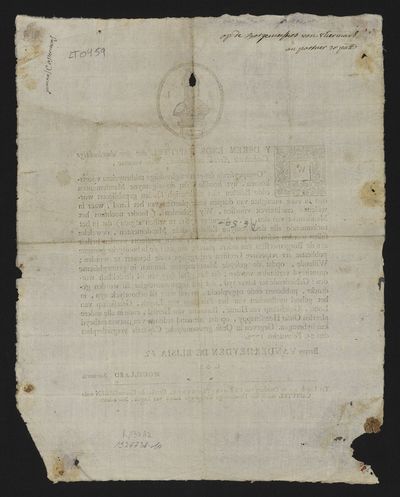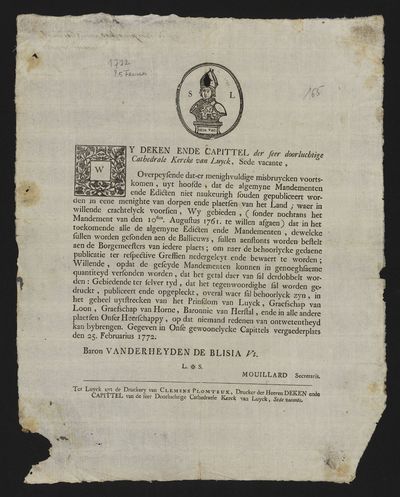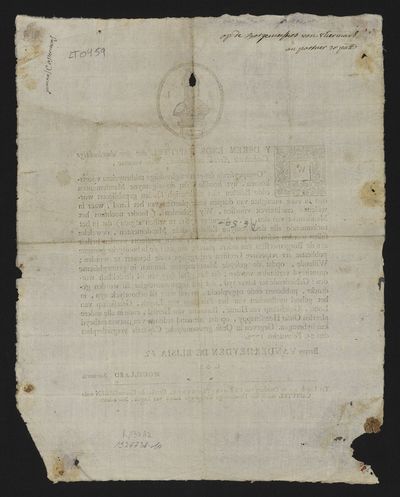 Wy deken ende capittel der seer doorluchtige Cathedrale Kercke van Luyck, sede vacante, overpeysende dat-er menighvuldige misbruycken voortskomen... Gegeven in onsen gewoonelycke capittels vergaederplats den 25 februarius 1772.
Author(s), creator(s), collaborator(s) :
Type of the represented object : Poster
Détails
Collection:
Posters
Original object location:
Réseau des Bibliothèques
Editor:
Tot Luyck, uyt de druckery van Clemens Plomteux
First publication of the original object:
1772
18th century
Modern times (1492-1789)
Place of creation of the original object:
Liège (Belgique)
Identifiant(s):
R132A2F (cote ULiège)
1926738-10 (code-barres ULiège)
Original object language:
Dutch, Flemish
Material, support of the original object :
Papier
Dimensions, weight or duration:
43 x 34 cm
Physical description of the represented object :
1 placard.
Geographical Location represent or evoke:
Liège (Principauté)
CREF classification(s):
Histoire
Classification(s):
Arts & humanities => History
Other contributor(s):
Plomteux, Clément (17..-179.?) (printer-bookseller)
Part of:
Public domain
Permalink:
http://hdl.handle.net/2268.1/3633
Items in DONum are protected by copyright, with all rights reserved, unless otherwise indicated.