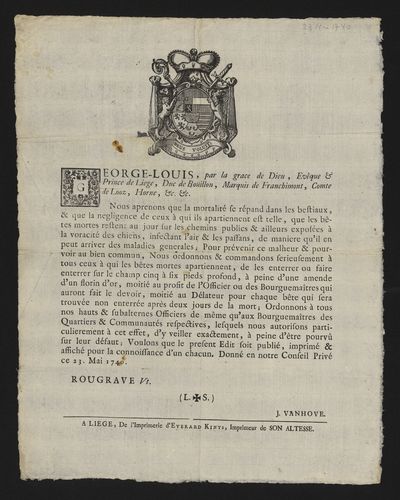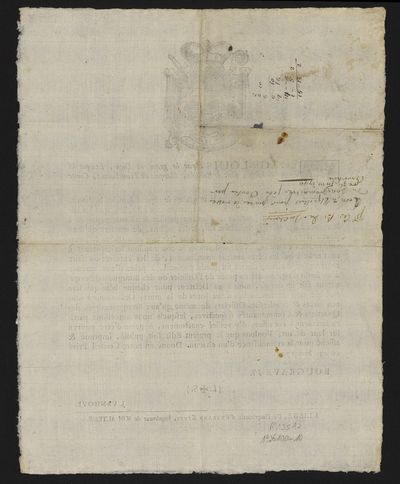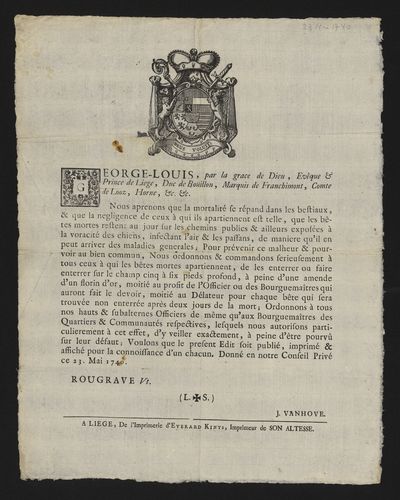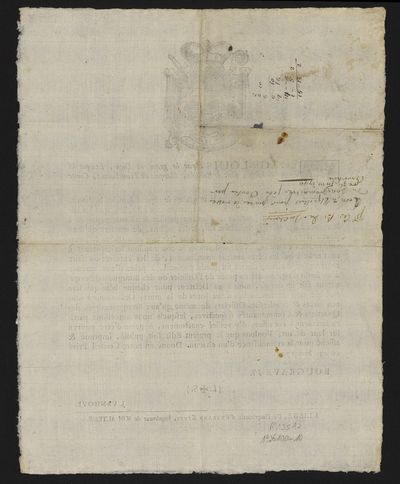 George-Louis, par la grace de Dieu, evêque & prince de Liege, duc de Bouillon, marquis de Franchimont, comte de Looz, Horne, &c. &c. Nous aprenons que la mortalité se répand dans les bestiaux... Donné en notre conseil privé ce 23 mai 1740.
Author(s), creator(s), collaborator(s) :
Type of the represented object : Poster
Détails
Editor:
A Liege, de l'imprimerie d'Everard Kints
Place of creation of the original object:
Liège (Belgique)
First publication of the original object:
1740
18th century
Modern times (1492-1789)
Original object location:
Réseau des Bibliothèques
Collection:
Posters
Identifiant(s):
R135A2F (cote ULiège)
1926100-10 (code-barres ULiège)
Original object language:
French
Material, support of the original object:
Papier
Dimensions, weight or duration:
40 x 32 cm
Physical description of the represented object :
1 placard.
Geographical Location represent or evoke:
Liège (Principauté)
Keyword:
Bovins -- Cadavres -- Aspect environnemental; Bétail -- Élevage -- Liège (Principauté) -- 18e siècle
CREF classification(s):
Histoire
Sciences biomédicales et agricoles
Classification(s):
Arts & humanities => History
Life sciences => Agriculture & agronomy
Part of:
Public domain
Permalink:
https://hdl.handle.net/2268.1/3630
Items in DONum are protected by copyright, with all rights reserved, unless otherwise indicated.