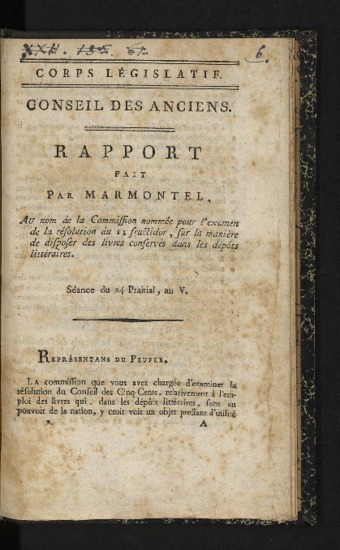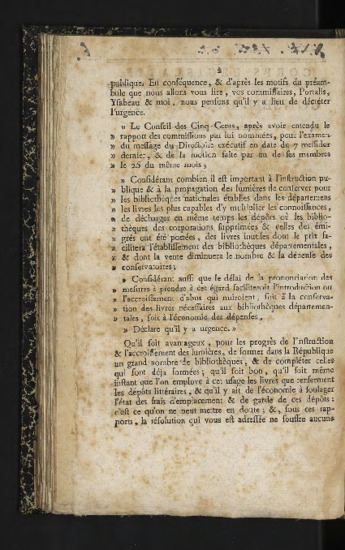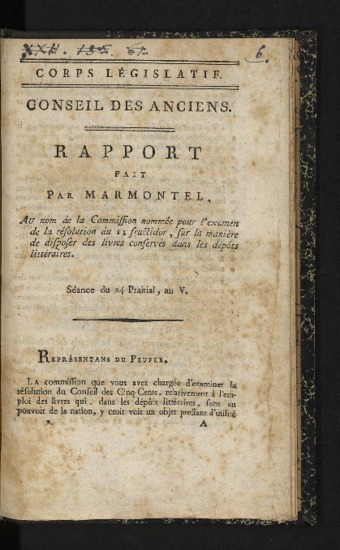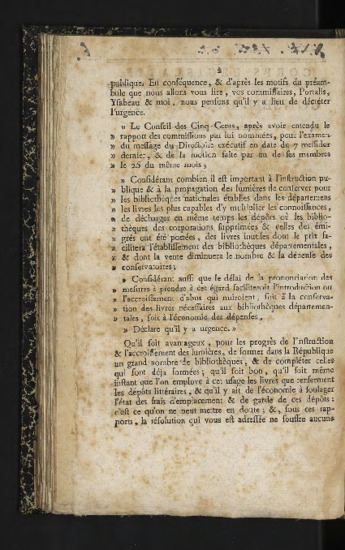 Rapport fait par Marmontel, au nom de la Commission nommée pour l'examen de la résolution du 12 fructidor, sur la manière de disposer des livres conservés dans les dépôts littéraires. Séance du 24 prairial, an V.
Author(s), creator(s), collaborator(s) : Marmontel, Jean-François
Type of the represented object : Book
Détails
Other title:
Corps législatif. Conseil des anciens.
Author(s), creator(s), collaborator(s):
Marmontel, Jean-François (1723-1799) (author)
Editor:
[Paris] : A Paris, De l'Imprimerie nationale
Place of creation of the original object:
Paris (France)
First publication of the original object:
1797
18th century
Contemporary time (1789-20..)
Original object location:
Réseau des Bibliothèques
Identifiant(s):
XXII.130.32 (cote ULiège)
ALMA151002 (code-barres ULiège)
Original object language:
French
Abstract:
Avec : L'exemplaire à la cote XXII.130.32 en ALPHA-Bibliothèque principale est relié à 5 autres brochures
Relié avec : Rapport sur les destructions opérées par le vandalisme, et sur les moyens de le réprimer. Par Grégoire, séance du 14 fructidor, l'an second de la République une et indivisible, suivi du Décret de la Convention nationale. Imprimés et envoyés par ordre de la Convention nationale aux administrations et aux sociétés populaires no : ALMA151002
Material, support of the original object:
Papier
Dimensions, weight or duration:
21 cm
Physical description of the represented object :
15 pages ; 8°
Description:
Signatures : A⁸

Provenance(s): Ex-libris "Baron Adrien Wittert. 1903" (XXII.130.32 )

Empreinte: téau é-en t,te "t"c (3) 1797 (F) (exemplaire ULg)
Keyword:
Nationalisations -- France -- 18e siècle; Livres -- Histoire -- 1789-1799 (Révolution) -- Confiscations et contributions; Dépôts littéraires
CREF classification(s):
Histoire
Classification(s):
Arts & humanities => History
Part of:
Public domain
Permalink:
https://hdl.handle.net/2268.1/3548
Items in DONum are protected by copyright, with all rights reserved, unless otherwise indicated.