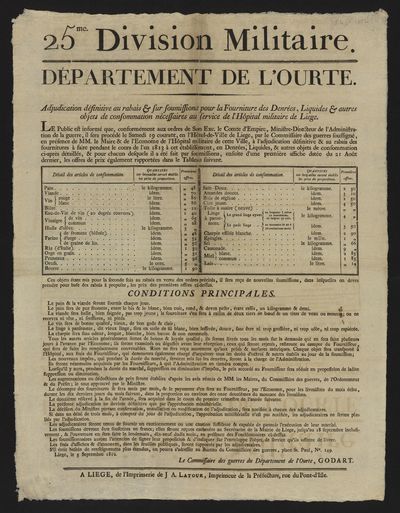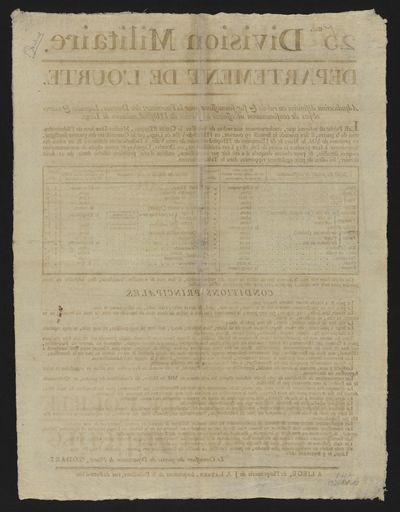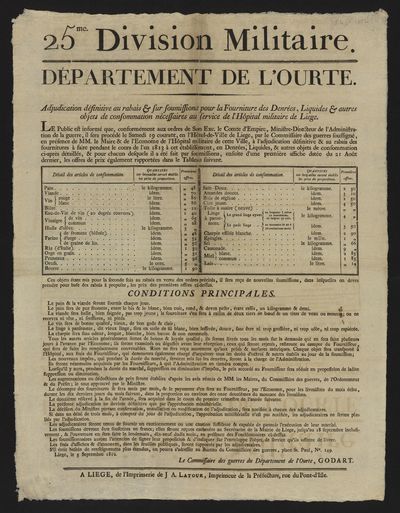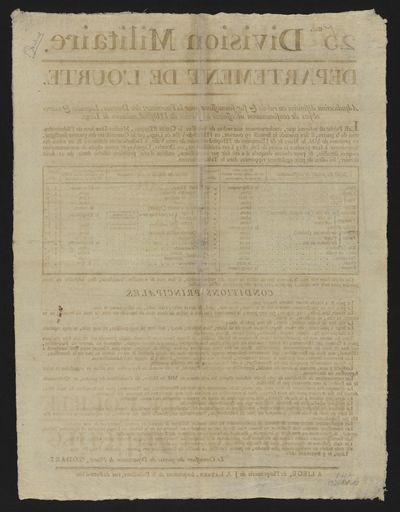 25me division militaire. Département de l'Ourte. Adjudication définitive au rabais & sur soumissions pour la fourniture des denrées, liquides & autres objets de consommation nécessaires au service de l'hôpital militaire de Liege ... Liege, le 5 septembre 1812
Author(s), creator(s), collaborator(s) :
Type of the represented object : Poster
Détails
Editor:
[Liège] : A Liége, chez J. A. Latour
Place of creation of the original object:
Belgique - Liège
Original object location:
Réseau des Bibliothèques
Collection:
Posters
Identifiant(s):
R61A1 (cote ULiège) ; 1926108-10 (code-barres ULiège)
Original object language:
French
Material, support of the original object:
Papier
Dimensions, weight or duration:
56 x 43 cm
Physical description of the represented object :
1 placard
Description:
Par: Le commissaire des guerres du Départemetn de l'Ourte, Godart
Geographical Location represent or evoke:
Liège (Principauté)
Keyword:
Armée; Économie; santé
CREF classification(s):
Economie
Médecine et pathologie humaine
Classification(s):
Human health sciences => Multidisciplinary, general & others
Business & economic sciences => Multidisciplinary, general & others
Organization that sponsored the digitization:
Université de Liège
Part of:
Public domain
Permalink:
https://hdl.handle.net/2268.1/3263
Items in DONum are protected by copyright, with all rights reserved, unless otherwise indicated.