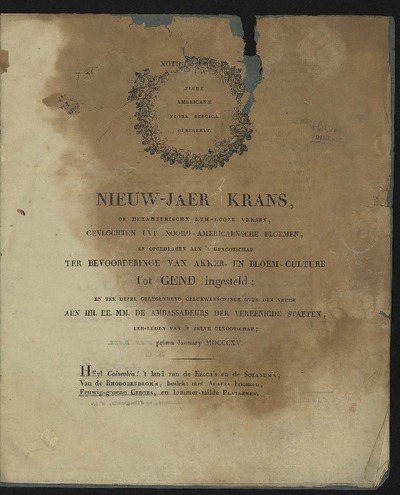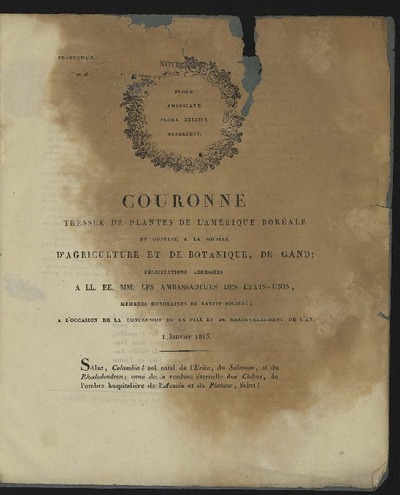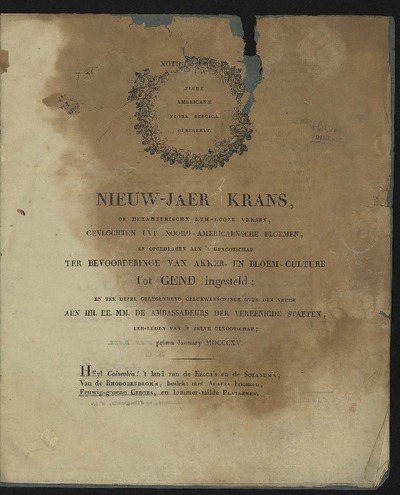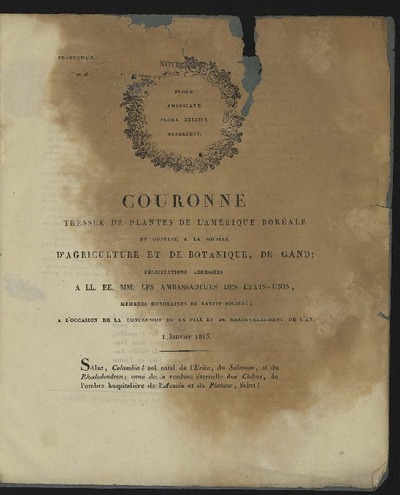 Nieuw-jarer krand, op hexametrische rym-looze versen, gevlochten uyt Noord-Americaensche bloemen, en opgedragen aen 't genootschap ter bevoorderinge van akker- en bloem-culture tot Gend ingesteld ; en ter dezer gelegenheyd gelukwenschinge over den vrede aen HH. EE. MM. de ambassadeurs der Vereenigde Staeten, eer-leden van 't zelve genootschap ; prima january MDCCCXV
Author(s), creator(s), collaborator(s) :
Type of the represented object : Book
Détails
Editor:
A Gand, de l'imprimerie de P.F. de Goesin-Verhaeghe
Place of creation of the original object:
Belgique - Gand
First publication of the original object:
1815
19th century
Contemporary time (1789-20..)
Original object location:
Réseau des Bibliothèques
Identifiant(s):
R16870B (cote ULiège)
ALMA119813 (code-barres ULiège)
Original object language:
Dutch, Flemish
Material, support of the original object:
Papier
Dimensions, weight or duration:
24 cm
4°
Physical description of the represented object :
8 pages non numérotées
Description:
Forme du document: Brochure

Empreinte: N.n, S,V. P;N, DEd; (C) 1815 (Q) (exemplaire ULiège)
CREF classification(s):
Histoire
Classification(s):
Arts & humanities => Multidisciplinary, general & others
Organization that sponsored the digitization:
Université de Liège - ULiège
Part of:
Public domain
Permalink:
https://hdl.handle.net/2268.1/3124
Items in DONum are protected by copyright, with all rights reserved, unless otherwise indicated.