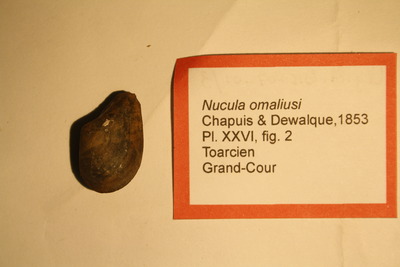 Nucula omaniusi
Author(s), creator(s), collaborator(s) :
Type of the represented object : Fossils
Détails
Place of creation of the original object:
Barré (France)
Grand-cour (France)
Creation of the original object:
Jurassic
Period:
Toarcien
Original object location:
Collection of animal paleontology
Fossil type:
Typed fossil
Identifiant(s):
Ulg.PA. 2015-07-01/3
Abstract:
Pl. XXVI, fig.2
Description:
Chapuis, M. & Dewalque, M., 1853. Description des fossiles des terrains secondaires de la province de Luxembourg. Mémoire courronné par l'Académie royale de Belgique, 295 p.
CREF classification(s):
Sciences exactes et naturelles
Classification(s):
Physical, chemical, mathematical & earth Sciences => Earth sciences & physical geography
Organization that sponsored the digitization:
Université de Liège - ULiège
Part of:
Public domain
Permalink:
https://hdl.handle.net/2268.1/2928
Items in DONum are protected by copyright, with all rights reserved, unless otherwise indicated.