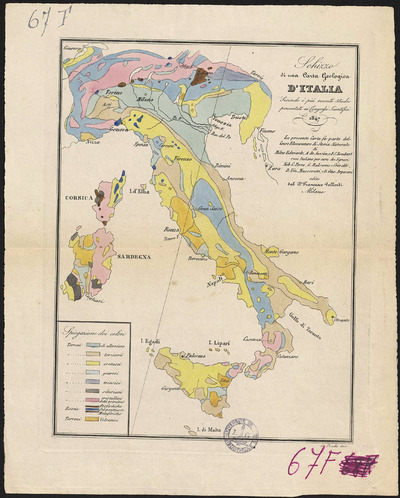 Schizzo di una carta geologica d'Italia : secondo i piu rrecenti studii presentati ai congressi scientifici 1847.
Author(s), creator(s), collaborator(s) : Omboni, G.
Type of the represented object : Map
Détails
Author(s), creator(s), collaborator(s):
Omboni, G. (author)
First publication of the original object:
1856
19th century
Contemporary time (1789-20..)
Original object location:
Réseau des Bibliothèques
Collection:
Maps
Identifiant(s):
67F (cote ULiège) ; 701100709 (cote ULiège)
Original object language:
Italian
Abstract:
Echelle non mentionnée
Material, support of the original object:
Papier
Dimensions, weight or duration:
20 x 15 cm
Physical description of the represented object :
1 carte : couleurs.
Description:
Légende représentant les symboles utilisés pour représenter les différentes couches géologiques
Ce document fait partie du Cours élémentaire d'histoire naturelle de Milne Edwards, A. de Jussieu e F. S. Beudant reso Italiano per cura dei Signori Nob. C. Porro, G. Balsamo-Crivelli, D. Vin. Masserotti, e D. Gius. Arsepani. Edito dal Dr. Francesco Vallardi, Milano
Geographical Location represent or evoke:
Italie
Keyword:
Géologie -- Italie -- Cartes
CREF classification(s):
Sciences de la terre et du cosmos
Classification(s):
Physical, chemical, mathematical & earth Sciences => Earth sciences & physical geography
Part of:
Public domain
Permalink:
https://hdl.handle.net/2268.1/2702
Items in DONum are protected by copyright, with all rights reserved, unless otherwise indicated.