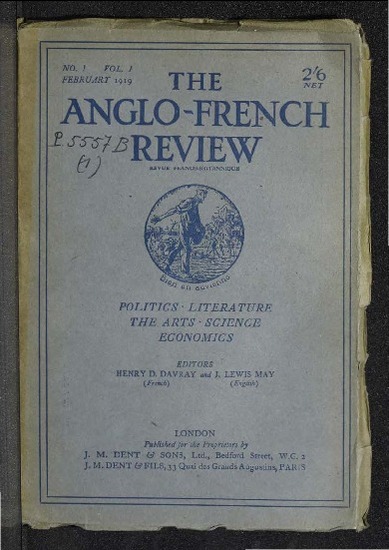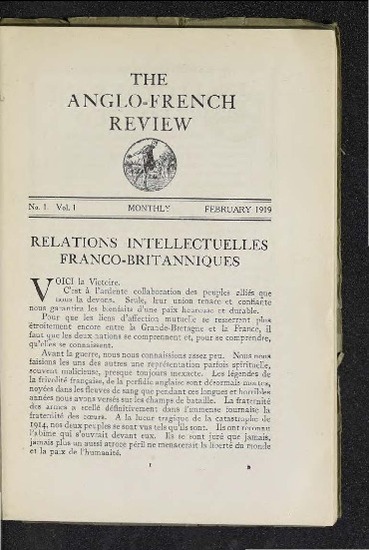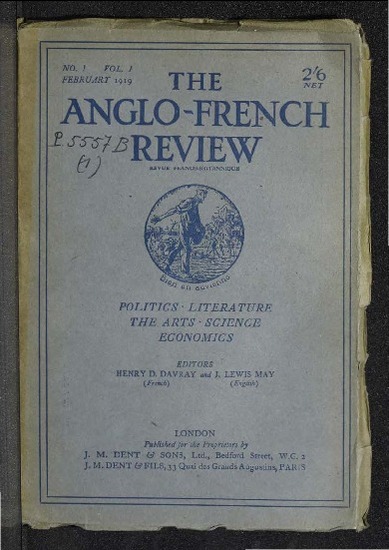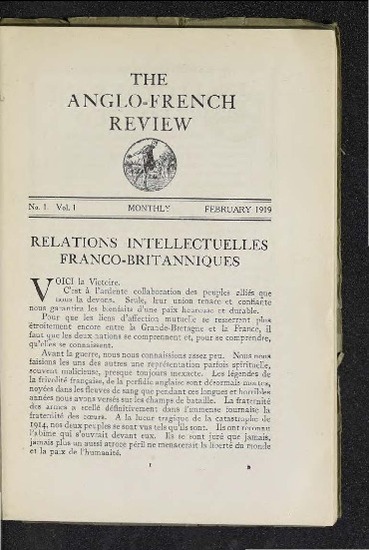 The Anglo-French review.
Author(s), creator(s), collaborator(s) :
Type of the represented object : Periodical
Détails
Translated title:
Revue franco-britannique.
Editor:
J.M. Dent & sons
Place of creation of the original object:
Londres (Royaume-Uni)
Paris (France)
First publication of the original object:
1919-1920
20th century
Contemporary time (1789-20..)
Original object location:
Réseau des Bibliothèques
Identifiant(s):
P05557B0 (cote ULiège)
Original object language:
English
French
Abstract:
Revue bilingue publiée entre 1919 et 1920 au sortir de la guerre pour renforcer la collaboration entre les alliés.
Material, support of the original object:
Papier
Contents, Summary of the original document:
Voir document en annexe.
Description:
Les numéros 4 et 5 du volume 3 et 2 et 4 du volume 4 manquent dans notre collection. Si vous en disposiez, n'hésitez pas à prendre contact avec nous.
Keyword:
Coopération internationale -- Périodiques; Guerre mondiale (1914-1918); Reconstruction d'après-guerre (1re guerre mondiale); Littérature et guerre
CREF classification(s):
Lettres
Classification(s):
Arts & humanities => Literature
Part of:
Public domain
Permalink:
https://hdl.handle.net/2268.1/2659
???org.dspace.app.webui.jsptag.ItemTag.files.adjuvant???
Items in DONum are protected by copyright, with all rights reserved, unless otherwise indicated.