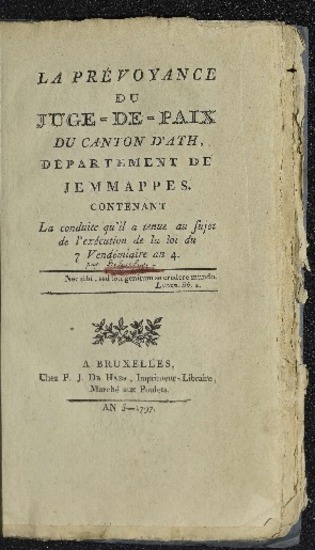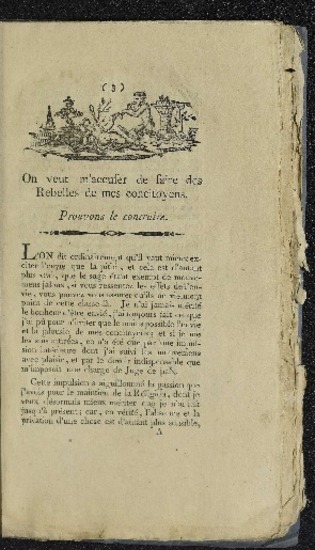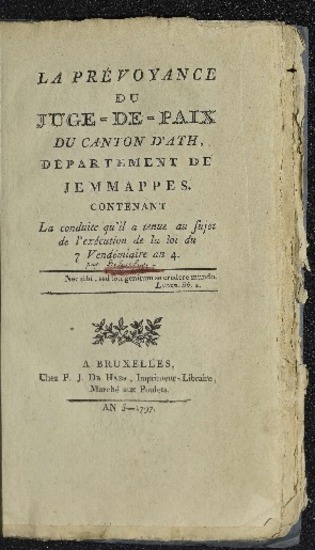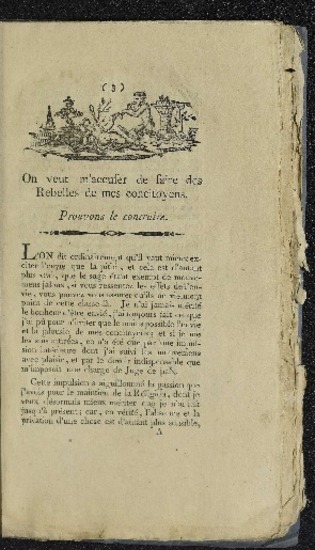 La prévoyance du juge-de-paix du canton d'Ath département de Jemmappes, contenant la conduite qu'il a tenue au sujet de l'exécution de la loi du 7 vendémiaire an 4
Author(s), creator(s), collaborator(s) :
Type of the represented object : Book
Détails
Original object location:
Réseau des Bibliothèques
Editor:
A Bruxelles, chez P J. De Haes
First publication of the original object:
1797
18th century
Contemporary time (1789-20..)
Place of creation of the original object:
Belgique - Bruxelles
Identifiant(s):
R16657B (cote ULiège)
ALMA111595 (code-barres ULiège)
Original object language:
French
Description:
Empreinte: e,la é.du uia- d'de (3) 1797 (A) (exemplaire ULiège)

Forme du document: Brochure
Material, support of the original object :
Papier
Dimensions, weight or duration:
24 cm
8°
Physical description of the represented object :
50 pages, 2 pages blanches
Brochure
Geographical Location represent or evoke:
Ath, canton de (Belgique)
Jemmapes, Département de
Keyword:
Justice
CREF classification(s):
Droit
Classification(s):
Law, criminology & political science => Civil law
Organization that sponsored the digitization:
Université de Liège - ULiège
Other contributor(s):
De Haes, P. J. (17..-18..?) (printer-bookseller)
Part of:
Public domain
Permalink:
http://hdl.handle.net/2268.1/2450
Items in DONum are protected by copyright, with all rights reserved, unless otherwise indicated.